As touched on in our West Brom match preview, this weekend's Premier League fixture will see the return of familiar faces at Old Trafford.
Darren Fletcher has already played here as a member of the opposition but for Anders Lindegaard and Jonny Evans it's a step into the unknown.
Lindegaard may not be a starter under Tony Pulis but we're sure he will get a good reception regardless… even if it's just down to the notorious nose picking.
Speaking to the press on Friday, Louis van Gaal made it clear he respects those to have moved on from United since his arrival as manager.
"To make the decision to go from United to another club is a big one, but they have made it out of ambition and I like that very much. You can also decide to stay and not play and train – a lot of players are doing that, but I have a great respect for these players."
Offer
ApolloBet have a special one-time only sign-up offer for United fans. Anybody that signs up before 3pm on Saturday afternoon, deposits and places a £10 bet on United to beat West Brom, will be paid out at odds of 5/1* – instead of roughly 3/10 with most other bookies. You will be paid out cash for the original odds (3/10) and then paid the enhancement (so roughly £50 as a FREE Bet) – you can then use this FREE Bet on any market.
Effectively, on paper (of course, nothing is played on paper in football) that looks a relatively straight forward £60 for anybody that goes directly through the link in this thread. In addition – If United fail to win, you will be refunded/given back your £10 stake..so it's virtually a no lose situation, especially if you are one of the many that do like to have an accumulator/bet of a weekend.
Of course, United aren't having the best run at the moment, but after the midweek win against CSKA Moscow, surely the enhanced odds are worth playing? Goals have been a problem in general, but as with most things in football things can quickly turn around and quite frequently you see a side that can't score suddenly get 4 or 5 in one game.
Surely this is worth a go guys?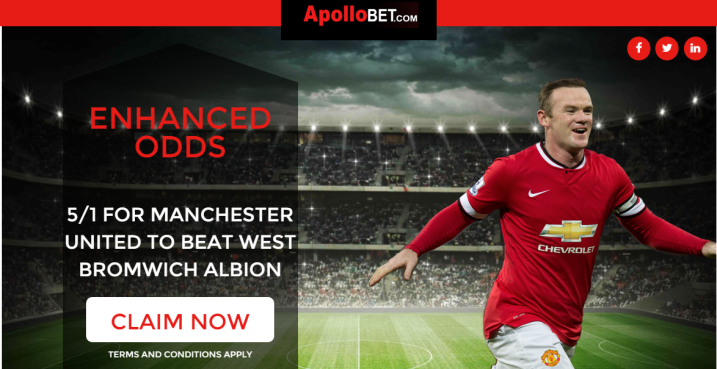 Please sign up through THIS link only >> http://bit.ly/UTDVWBA