Barclays Premier League — Saturday 7th November, 2015 (15:00) — Old Trafford
The fans have started voicing their views against Louis van Gaal's tactical setup on the terraces but whether he listens and plays a more attacking brand of football remains to be seen.
We can only hope that United will attack West Brom this weekend. At Old Trafford especially, where teams visit are happy to walk away with a single point. That's not enough for us and we'll to attack and get beyond their defence.
Juan Mata and Ander Herrera are both in and out of the team due to Jessie Lingard's regular involvement. Fair or not, the Manchester United youth graduate adds something different to the team and is always willing to throw things into the mixer, making those around him appear less pedestrian which is possibly a key element to the side being entertaining again.
Even the more optimistic Reds out there won't be expecting us to give West Brom a hammering, but it would be nice to see United put two or three goals past them on Saturday. They're sat twelfth in the Premier League table — three points behind champions Chelsea — and have aerial threats in abundance. United will dominate possession but ought to be wary of long balls from their opposition.
Tony Pulis, recently charged with improper conduct by the FA, has a reputation for setting up his side to be difficult to break down and beat which is similar to what Van Gaal has done with United. To the Dutchman's credit, we're no longer leaking stupid goals but work now needs to be done at the other end of the pitch.
Wayne Rooney scored midweek to grant United three important points against CSKA Moscow in the Champions League, so there can be no doubts over him starting again. I argued last week Rooney could do with time out of the team or alternatively be given a different role — behind Anthony Martial in a central role.
The fixture will also grant us another opportunity to welcome back Darren Fletcher again. On his first return to Old Trafford got an amazing reception and responded by giving the fans a lap of honour at full time.
It's always nice welcoming back good servants to the club but I'm unsure whether Ben Foster (out injured) fits under that bracket. Jonny Evans does however, even if he did fall out of favour at the club due to a lack of form.
Whether or not the nose picket aka Anders Lindegaard gets the nod remains to be seen. I've not watched a lot of West Brom this season but have noticed he's nowhere near the number one spot even with Foster, who he's better than, out injured. It would be great to see him in action but no pesky clean sheet, right?
United stats
United have kept a clean sheet in our last three Premier League fixtures.
We're undefeated in our last six home Premier League fixtures.
Offer
ApolloBet have a special one-time only sign-up offer for United fans. Anybody that signs up before 3pm on Saturday afternoon, deposits and places a £10 bet on United to beat West Brom, will be paid out at odds of 5/1* – instead of roughly 3/10 with most other bookies. You will be paid out cash for the original odds (3/10) and then paid the enhancement (so roughly £50 as a FREE Bet) – you can then use this FREE Bet on any market.
Effectively, on paper (of course, nothing is played on paper in football) that looks a relatively straight forward £60 for anybody that goes directly through the link in this thread. In addition – If United fail to win, you will be refunded/given back your £10 stake..so it's virtually a no lose situation, especially if you are one of the many that do like to have an accumulator/bet of a weekend.
Of course, United aren't having the best run at the moment, but after the midweek win against CSKA Moscow, surely the enhanced odds are worth playing? Goals have been a problem in general, but as with most things in football things can quickly turn around and quite frequently you see a side that can't score suddenly get 4 or 5 in one game.
Surely this is worth a go guys?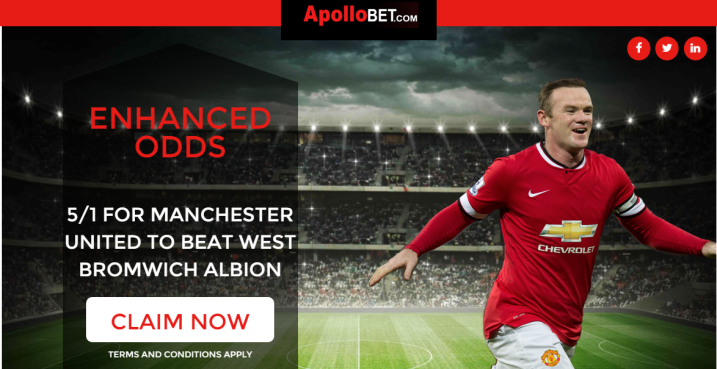 Please sign up through THIS link only >> http://bit.ly/UTDVWBA