You can't go the distance
With too much resistance
I know you have doubts
But for God's sake don't shut me out

–BJoel
Patience may be a virtue but Mahatma Gandhi and Martin Luther King Jr are nowhere to be found on the Champions League goal scoring lists. Louis van Gaal finally learned the lesson and sent his Manchester United squad out against CSKA Moscow on Match Night Four at Old Trafford with intent.
Like most United supporters–and a certain club legend–I had been begging and pleading for the Dutchman to let loose the hounds. In the first twenty minutes of the match everyone's wish was granted.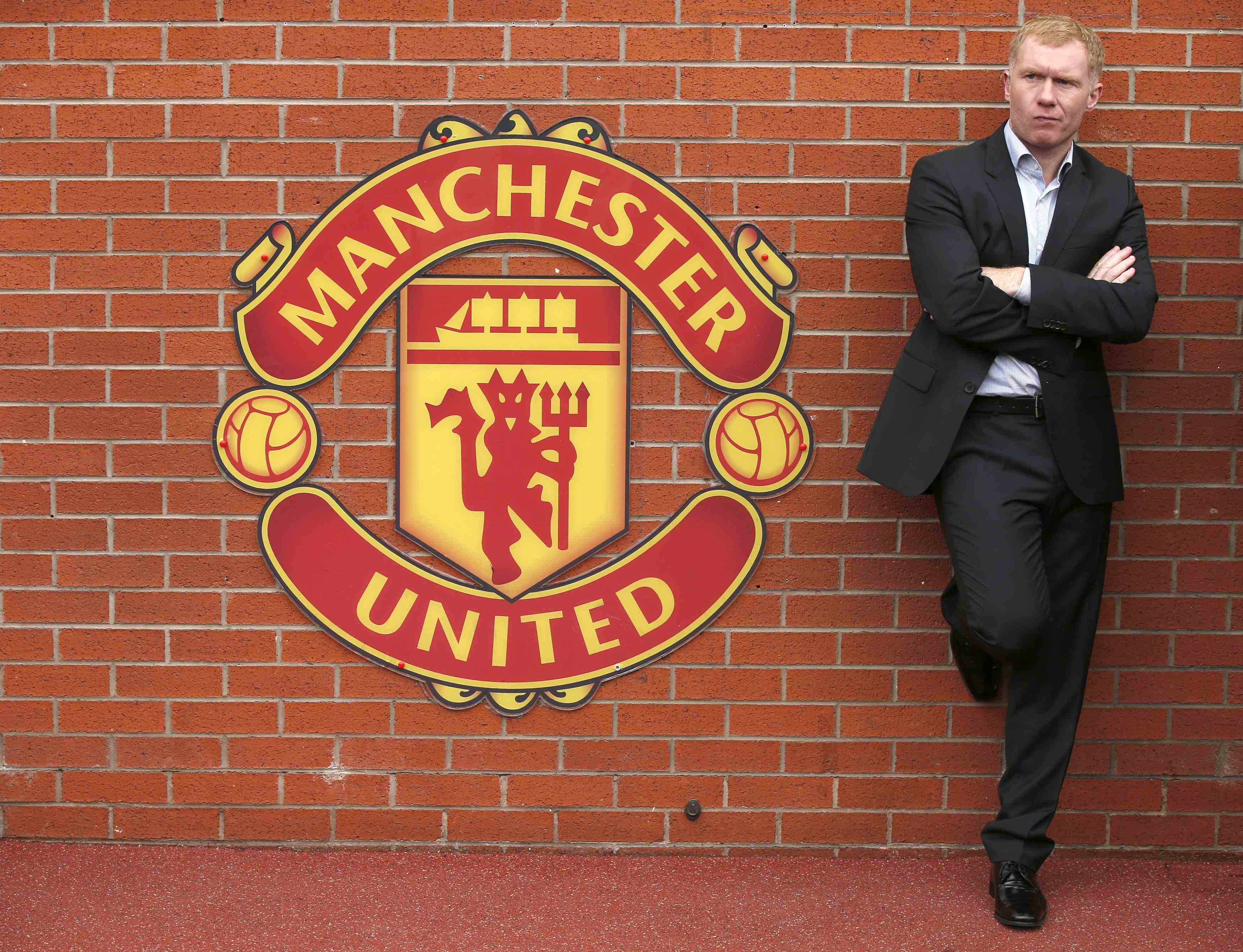 Anthony Martial and Wayne Rooney were paired up front with Jesse Lingard and Juan Mata offering support from the flanks. Fullbacks Marco Rojo and Ashley Young overlapped frequently and CSKA's back four were put under pressure. One through ball to Rooney was broken up by a desperate sliding tackle. He shot just wide on another occasion, as did Rojo from a sharp angle.
"This is more like it," I texted to Northern Loudmouth, Rowlesy, and SN's fearless leader.
Still if I thought CSKA would soon wilt under the pressure and United's three-game goal drought would quickly end with a flash flood the Russian club had other ideas. Their defense held stronger than a Dutch sea wall and even created some opportunities on the counter as the half wore on. Every time they invaded the United half of the pitch, however, Chris Smalling was there to break up the play. His play throughout, and not just in the critical moment in the final quarter hour, made him man of the match for me.
United were back at it in the opening moments after the restart but CSKA shut them down much quicker this time. They employed a high offside trap the home side struggled to break. A frustrated United–worriedly for me–reverted to the patient probing that had kept them off the score sheet for well over three hundred minutes. Ten minutes into the second half CSKA brought on Seydou Doumbia, a polished, veteran version of Anthony Martial. The twenty-seven-year-old Ivorian, fresh from the trainer's table, took time to settle into the match but when he did almost turned it on his head.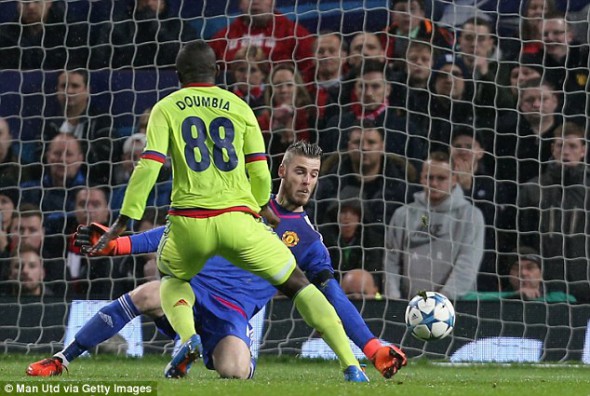 After failing to connect with one or two ambitious balls on the right flank he moved into the middle and split the United defence with a brilliant run onto a through pass. As he rushed in, David de Gea, as yet unbothered, charged out to meet him, getting his left hand to Doumbia's shot and slowing it considerably. The forward kept on and looked likely to score when Ashley Young, covering for his keeper, slipped awkwardly. Yet as Doumbia let loose a second shot Smalling flashed in from behind to block.
The moment completely changed the tenor of the match. What had devolved into a staid standoff suddenly surged with adrenaline. I felt it from my side of the ocean, as did the supporters at Old Trafford, judging from the roar which went up. Nor were the players in home red immune to the sudden flow of energy. They sped down the pitch too quickly for CSKA's defenders to form up and exploit the trap. Michael Carrick sent in a hard cross to the far side of the box where Jesse Lingard opened up and volleyed a soft lob into the path of Wayne Rooney. Although an earlier effort in the half had been deflected into his feet by a sprawling defender, leaving him unable to shoot on a helpless Igor Akinfeev, the goal-starved Scouser would not miss with a strong header on this occasion. United had finally broken their duck, going up 1-0.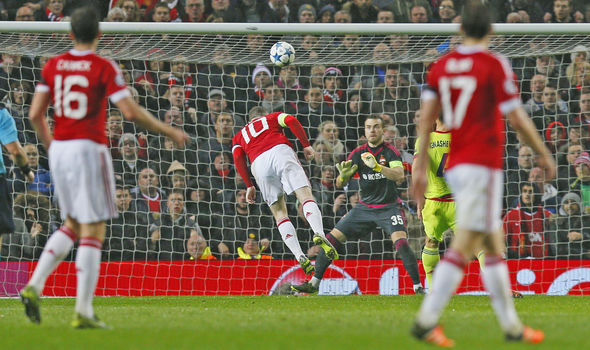 What happened next was telling and for me at least put the lie to some misconceptions about the United captain.
He's certainly been raked over the coals during his recent struggles. Surprisingly only a few have considered that harsh and lacking in class when discussing a player closing in on Sir Bobby Charlton to become United's all-time goalscorer. If there was cause for patience you would think it would be for such a player's form rather than forming a lynch mob to run him out of town because he's "done."
Where Rooney has gone wrong with many United supporters is in his negotiations with the club, rumors abounding he put in transfer requests when courted by both Chelsea and Man City. Fans think it is an honor and privilege to play for a club like United and it is. They forget, though, it's also a business. Sir Alex Ferguson and David Gill certainly didn't forget and were happy to use the supporters' sentiment to bully the club's best player into signing on the cheap.
If you are the best player on the biggest club, however, you have the right to be paid accordingly and Rooney played the backroom game as well as he does the one on the pitch. If he had truly wanted to leave he could have received the same salary if not more from City, Chelsea, or even PSG. When you look at the millions paid in the interim for Juan Mata, Ander Herrera, Bastian Schweinsteiger, Morgan Schneiderlin, Memphis Depay, and Anthony Martial, any argument Rooney's wages are hurting the club is ridiculous. They can afford him, he knew it, they knew it, and in the end were happy to pay him. Unfortunately too many supporters hold his "disrespect" for club against him.
Not all though. When he peeled off for the corner flag to celebrate after the long-awaited goal Rooney kept going, embracing the joyous fans in the first row of the stands. If there was any lingering doubt he loves the club and wants to be here, that scene should put it to bed.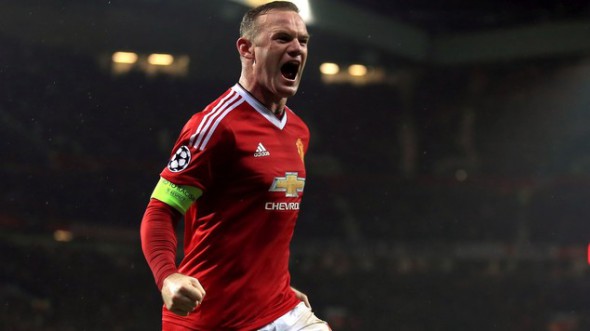 While supporters finally found reason to cheer their captain there were loud boos for the manager when LvG removed Anthony Martial from the match. Yet it was an understandable decision.
Throughout the match the young Frenchman came back, sometimes into his own half, to hold up the ball against two and three defenders until help arrived. On the other hand he too often tried to do it all himself with assistance nearby when closer to goal in the same situation. Still on the wrong side of twenty, Martial relies too much on his strength and speed and not enough on his intelligence and teammates. That will change. A seventeen-year-old Rooney was similarly inclined when he debuted at Goodison Park.
Although he had impressed in earlier substitutions Marouane Fellaini did little more than move the ball as Martial's replacement. Movement was what Van Gaal was looking for, however, and, even without the Belgian Sideshow Bob's participation, movement is what led to the winning goal.
As warming as it was to see United and Rooney finally score, the aggressive start to the match was its most promising aspect going forward. Without their early intent the response to CSKA's near smash and grab late on would never have occurred. Rather than rising to the challenge and finally overpowering a stubborn defense the United of the past few weeks would have merely closed ranks and been happy taking another point in a close Champions League group. Instead the manager trusted his players to do the job and they now find themselves top with two matches to come.
With West Brom coming to Old Trafford on Saturday it remains to be seen whether Louis van Gaal continues to give his attack free reign. For my part I'm going to stick my neck out and trust he will. It's nice to feel good about the club again.