It's a dead man's party
Who could ask for more?
Everybody's comin',
Leave your body at the door
Leave your body and soul at the door
–DElfman
I can understand why Louis van Gaal took the offensive in a recent presser, telling reporters he was tired of answering questions about Wayne Rooney's form. It's not because he's too blind to see his captain, who according to carbon dating conducted by the British Museum just turned thirty, is a dead man walking. Rooney isn't a spring chicken anymore and hasn't the pace to terrorize back lines in the manner he used. On the other hand he's not frozen in ice either.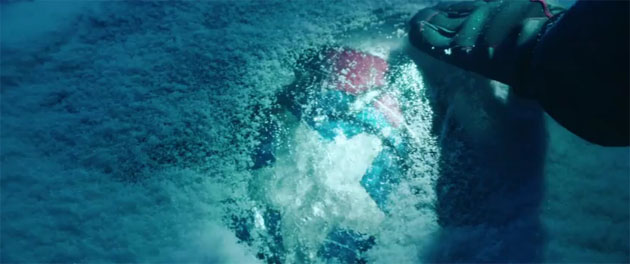 Pull out the remote for your DVR and watch a replay of the City match from the weekend. You'll see the transplanted scouser receives very little service during the match other than with his back to goal. Admittedly his first touch on many of those passes is heavy but as the lone striker he is routinely double-teamed by an otherwise untroubled central pairing of Vincent Kompany and Nicolás Otamendi. He has no time, no room to turn, and little option but to lay the ball off.
That doesn't prevent him from contributing defensively however. You'll notice that he gets back to disrupt two or three chances in his own box that otherwise would have been goals–or brilliant David de Gea saves, a phenomena strangely missing from this edition of the Manchester Derby. He is also there to clear more than one corner sent in by the sky blues.
On United's one gilded opportunity in the 84th minute, when Jesse Lingard flicks an Anthony Martial diagonal off the bar, Rooney is making the same run, slowing up only when he realizes the youngster is there as well. Elsewhere I make the point that had Lingard made a run to the far post the captain could have taken the pass then squared a ball to the twenty-two-year-old for a sitter. The opportunity is missed simply because the system in which both players have been drilled makes no room for a strike partnership or the understanding derived therein.
United fans have taken to pillorying their captain during his current slump, as they have whenever he has endured a rough patch, because they rate only the end product. They remember when he stepped up to replace the injured Robin van Persie not too many seasons gone. With those memories still fresh, and after criticizing his "misuse" in the formerly bare cupboard that was United's midfield, the expectation was he would thrive when returned to his natural forward role.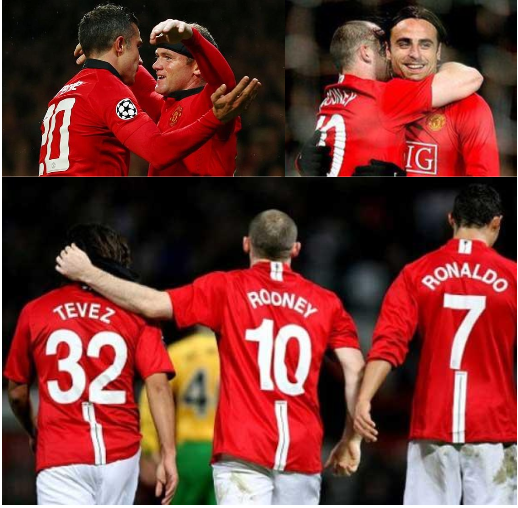 Such anticipation fails to take into account he is being asked to be the lone striker in Louis van Gaal's system, whereas all of his previous experience up front was in tandem with another forward. Formerly he has partnered with several world class players, from the aforementioned RvP, to Cristiano Ronaldo, Carlos Tevez, Ruud van Nistlerooy, and Dimitar Berbatov. Okay maybe it's a stretch to refer to the Bulgarian as world class but his sublime talents did prevent defenders from focusing solely on the England captain. When those players were unavailable or had moved on there were other distractions for center backs, Michael Owen and Chicharito foremost among them.
Operating as an isolated target is a whole other ball of wax. For Rooney large spells of the match are spent spectating. Several years ago an ad featuring Eric Cantona and Sir Alex Ferguson played up Rooney's penchant for always being in the thick of things. He is not the type of player to be relegated to the fringe. That is why it took so long for Van Gaal to rid him of the habit of drifting back to the ball and also why he is unlikely to ever tear apart defenses on his own. Wayne Rooney is not Zlatan Ibrahimovic. He needs to be part of a group to succeed.
Factor in a system which exclusively emphasizes wing play and it's difficult for even the best of central players in their prime to flourish. You don't see Ronaldo out there on his own. Karim Benzema and Gareth Bale have his back. Luis Suarez and Neymar have Lionel Messi's. Even Ibra, the ultimate individual, can rely on Edinson Cavani to draw some of the attention away from him, as jealous as that may make the Swede. Rooney is not washed up; he's just been handed a thankless task by his manager.
The blind mob is baying for Rooney to be benched, often with young Anthony Martial nominated to replace him. Maybe the Gallic sensation has the strength, pace, and imagination to thrive as a lone striker but the evidence available suggests otherwise. Watch him struggle to penetrate the double and triple teams he is subject to on the left flank. To escape the attention he has adapted his captain's habit of drifting back, which allowed the time and space to provide the perfect lob for Jesse Lingard's near match-winner on Sunday. In a central role the defensive pressure would surely be more intense.
For me the solution is for the manager to install a central partnership with Martial and Rooney playing off each other. It is his job after all to put his players in roles where they are most likely to succeed. A significant philosophical shift, playing two strikers would require another midfielder to fall out of the starting XI, perhaps two if Memphis Depay is returned to a role on the left. For me that would be one of the like-for-like Spaniards,  Juan Mata or Ander Herrera, and either Bastian Schweinsteiger or Morgan Schneiderlin. With a pair of strikers to consider, opposing managers would not be so comfortable spreading their defense, putting two or more players on United's wingers. The attack would be more balanced.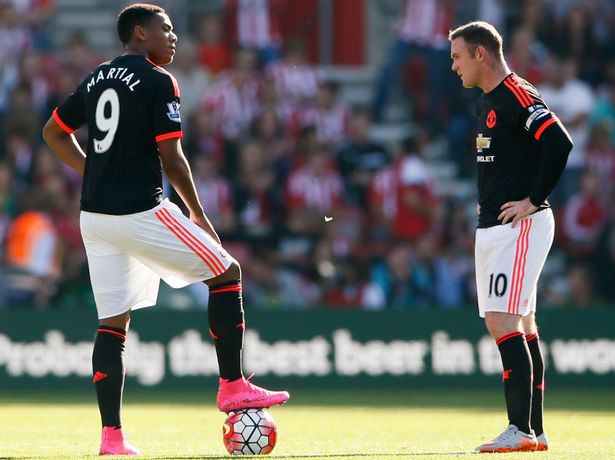 In such a formation United would become a far more dangerous side. Both Rooney and Martial would likely find the goals coming far more often. The price would have to be paid at the defensive end, but with Chris Smalling coming into his own, Phil Jones and Daley Blind proving capable partners to him, and De Gea continuing his stunning play, the potential let-up is not what I would call a butcher's bill. Against formidable rivals like Arsenal, the manager could take a page from Sir Alex Ferguson's book, playing the more conservative system the situation warrants. The question is whether Louis van Gaal has that type of flexibility in him?
Whether or not the Dutchman does, Wayne Rooney is not on his last legs. He is not ready for the rubbish heap nor to join Wes Brown and John O'Shea at the Stadium of Light. Okay, yes, those are one and the same. The point is United's captain may no longer have a full tank but neither is he running on fumes. He has more than enough in reserve to get the club where it wants to go. The manager just needs to clear the road for him.