The lads at ReDevils.ru have sent us a translation of their piece from Wednesday's draw with CSKA Moscow. A Russian Manchester United fan site worth following. We certainly enjoyed their enthusiasm.
Usually the best experiences in your life fly by quickly. Then they turn into a momentary recollection in your mind.
What does the visit of your favourite team's match mean to British supporters? For them it's something common and trivial, while for Russian folk it is a grand affair, because they live quite far from Manchester.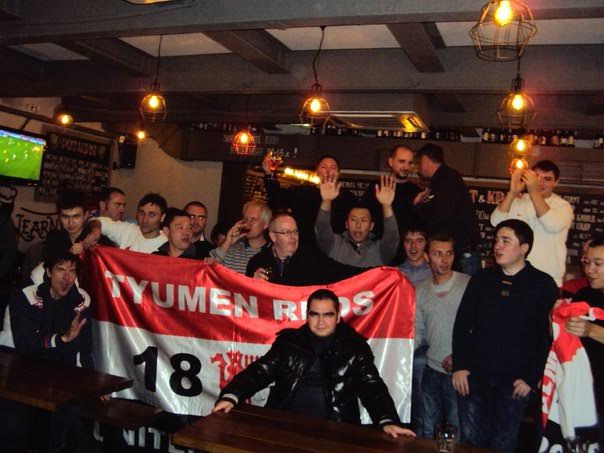 United face CSKA Moscow in the group stage. You live in Moscow, support the Reds and soon they'll arrive in your hometown. I can't even express the whole range of emotions I experienced at that moment.
It doesn't matter, that CSKA decided to sell tickets in three-match packages when United is only club that matters to you. It doesn't matter, that you will have to pay a small fortune to touts if you fail to get a ticket the official way.
I was ready to do anything for United. Bosses on your job will lose your track for a few days; you're ready to suffer a permafrost on the stadium that makes you chatter like the Nutcracker. You just pull out of your casual life becoming a Red.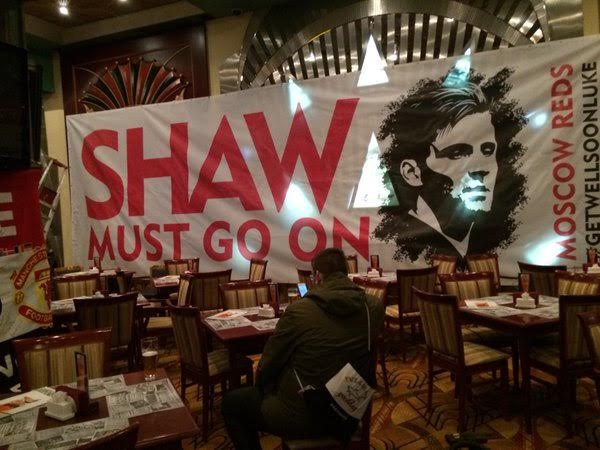 Having a ticket in the second row, you see United players running right in front of you. What used to be on TV is now very close to you. The whole matchday is a major experience. While living this day, you lock the world around you and live a dream. From time to time I wanted to pinch myself; I was like "is this real?" The support carries you on, from place to place, shots are changing very quickly, and emotions are transforming into an endless stream.
The day started at a local shopping center on the north of Moscow where Adidas arranged an autograph session with Bryan Robson and Andrei Kanchelskis. Great! Pride of the north, god damnit! At this point you're already aware of the amount of people supporting Reds throughout the CIS. People from Russia, Kazakhstan, Azerbaijan, etc united into a one big Red Army in our capital. Some of them spent 15-20 hours on airplane's board just for the sake of their beloved club. Manchester United are here and it's unbelievable.
Unfamiliar faces immediately become familiar, while divided units acting like a single entity. Here we have Almaty Reds, South Russia Reds, Rostov and Krasnodar, Moscow and Tumen, all combined.
After the autograph session the fan's amount have grown in scale. We then went on to support our youngsters in the UEFA Youth League. Who if not us? Young players also need our support, sometimes even stronger, than the first team.
On the streets there was much more United supporters than CSKA. The Reds support were not only there in bigger numbers but louder too. Whether you spoke Russian or Kazakh it did not matter. We all just got involved with the chants and had a great time supporting our team, so we had a great time.
The youth team lost but "we'll never die" was the answer from the terrace. A slight disappointment – after a fall there is always a rise. So we carried on.
Next target – "PIVBAR". According to our information, that's the place where our British friends stopped by for a pint. What could be better than a good old pub and a pint of stout with football chants being aired?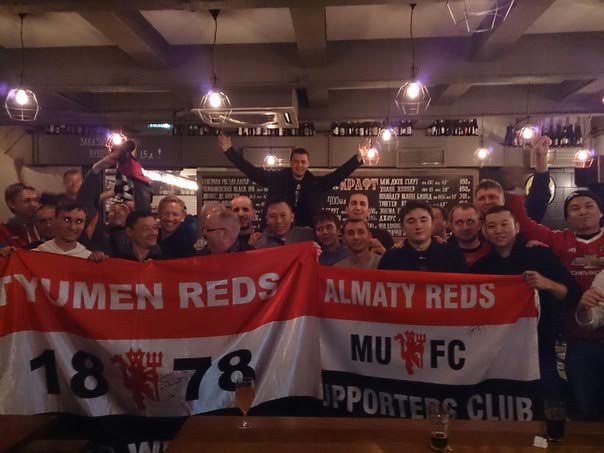 The tram, then underground. Support is moving in a coordinated way, those not joining us know the final destination. A small room, wooden tables and a lot of beer. Disagreements were left in fucking politicians offices. There are no tanks, no helicopters are bombing Tverskaya street's asphalt, and bears aren't forcing passersby to play the balalaika. To be honest, these Russian guys are quite funny and friendly. Peace and friendship! Red Army is united, from Lisbon to Vladivostok.
There's two problems with the Khimki Arena. The road to it (yes, famous Moscow traffic) and the organization of the match. Therefore we had to leave the bar two hours prior to the game while some of our friends catch a bus and others choose their own way.
I arrived on time and had a walk through the territory of stadium. Attributes from this kind of matches is something sacred for me. There were still some minor business to do. Meet someone, give away friends' tickets. Finally, as everybody gathered, we lined up and started moving.
Anticipa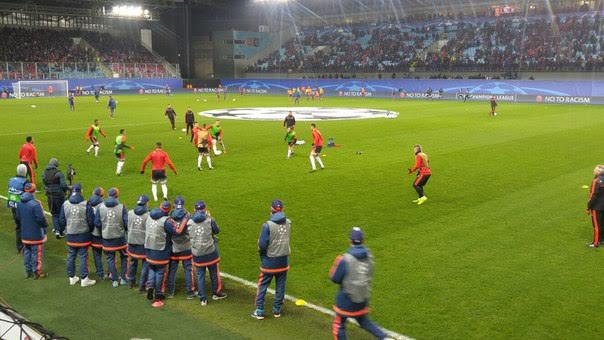 tion. I have been to this stadium before as it's not far from my house. But this is a difference experience. You feel it from the very moment of ticket purchase until you enter the stadium. The green and near-perfect pitch is whispering to you about the imminent start of the game.
The whole match passed by in one breath. Despite it being a cold night, it didn't take long for Ryan Giggs to warm up the players and ready them for the game. The Champions League anthem reminds everybody about the importance of this moment and heralds the culmination of match day. CSKA fans unfurl a huge banner with an ironic inscription – "The Exorcist" – but they must be on form because the Reds can themselves be so-called Exorcists for anyone.
The game has kicked-off. Fifteen minutes in and there's an opening goal. Martial awards CSKA a penalty through a handball, David de Gea saves, but Doumbia scores from the rebound. Unpleasant analogies with the youth's match at the back of your mind but you, as a fan, do your utmost to drive them on.
A big hooray came in the second half when Antonio Valencia crossed the ball onto Martial's head transforming the young France international to a natural hero.
As the game progresses you catch a pleasant feeling – you've touched a dream. The ball is right near your stand, players go from TV display to reality. All that was happening for real. The feeling of living ad supporting the club was pure.
After the game, a lot of fans were directed to their hotels but we wanted to delay the moment of parting with this afternoon for a few hours. No victory, but still, quite a good result. We got a lot of things to discuss over a pint at a local bar. As a result, this discussion lasted until the morning, and we arrived home at 6 AM via taxi.
Now we part, but we will definitely meet again. Next stop – Manchester.
Author: Artem Kihtev
Translate: Atabek Marhaev