Some people say the glass is half full; some say it's half empty. I say it's twice as big as it oughtta be–George Carlin.
Last season Manchester United dominated City 4-2 in the red-hosted half of the league tie. It's not a good idea to live in the past however. Believe me, I know. Yes the sky blues had several players they either don't or may not have tomorrow. Sergio Aguero is definitely out. David Silva and Samir Nasri are questionable. Vincent Kompany is in horrible form and his manager isn't as willing as United's to keep putting his captain out there hoping for a reversal in fortune.
On the face of it such news suggests City are again there for the taking. It doesn't take a more recent scoreline into account though: United 6500km-0 City. That of course is the distance traveled by Louis van Gaal's squad, there and back, to Moscow in the Champions League on Wednesday, and the corresponding distance for the Citizens, who simultaneously hosted Sevilla at the Etihad.
Optimism over City's injury woes also fails to consider the form of one player in particular. As United were trudging back to the clubhouse to change out of their kits and into traveling clothes after failing to take all three points from CSKA despite dominating possession throughout, and play overall in the second half, Kevin de Bruyne was doing what he has consistently done since arriving in the blue half of Manchester. He was scoring a decisive highlight reel goal to garner three points for his new club.
There's no reason to imagine the Belgian's powers will wane at Old Trafford. In fact United's lack of a deep-lying stopper to play in front of Chris Smalling and either Phil Jones or Daley Blind suggests De Bruyne's legend may grow. If Louis van Gaal stubbornly sticks with Bastian Schweinsteiger, who is almost as shiny an apple in his manager's eye as Wayne Rooney, expect Manuel Pellegrini's new talisman to attack at will. The German has neither the pace nor the grit to deter his youthful foe.
LvG might be better advised to give the man who sparked United's second-half fight back in Moscow, Marouane Fellaini, an opportunity. Not only does the Belgian chia pet have experience in the destroyer role, he is extensively familiar with De Bruyne, his Belgian international teammate.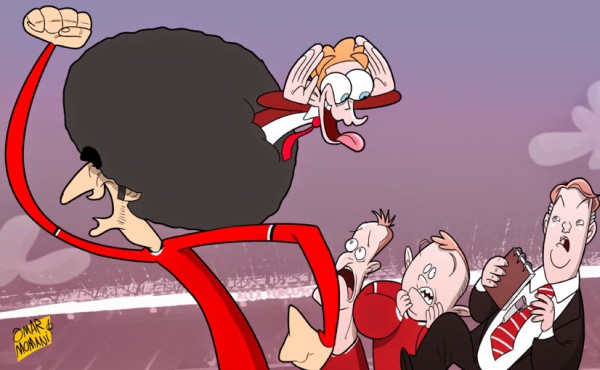 Without the skinny, floppy-coiffed ex-Toffee, or perhaps the nimble Morgan Schneiderlin, shadowing the strawberry-blonde assassin, United will be in for a long, bloody afternoon. With one of them attached to his hip United may be able to produce a result. Don't count too heavily on a pie-in-the-sky dream of victory against United's table topping rivals however. A draw would be more than acceptable, keeping the home side within two points of first place, even if Arsenal handle Everton this afternoon.
Maybe such doom and gloom sounds traitorous coming from the lips of a United supporter, but reality bites. You can bet Dennis Thatcher didn't think he was marrying a Miss Universe contestant when he proposed to his iron maiden. It's better to go into relationships like this with your eyes wide open.
Believe me, I know.