As the summer transfer window thankfully starts to wind down, it's worth reflecting on what has been a period filled with very little other than lies, speculation and click bait.
Who is to blame for all the spurious, deceptive and fraudulent stories?
Football People
Looking at the language used in these stories will often give a clue as to their origins. 'We understand' or 'sources close to the club/player' are code for 'someone with a vested interest in making this transfer happen' or 'the player wants better terms at his existing club'. Most football journalists are in someone's pocket because they have to be. Having a source inside a major club is vital – and these sources are quite often looking to use the media to indirectly manipulate a situation. This gives the clubs and player agents a convenient filter through which to conduct negotiations.
Two Manchester United examples reported in the last two weeks are David de Gea and Jonny Evans. These players are both linked to departures for different reasons. De Gea and his representatives want a move to Real Madrid and United are keen to get Evans off the books, or maybe the player wants a move to get regular football. The media know that the club's sources will be important to them in the future, and it begins.
In the world's best TV show – HBO's 'The Wire' – Detective Lester Freamon reminded us to "follow the money". This mantra should be invoked before you click or read anything.
The Media
About four years ago, my Twitter timeline began to light up with stories about the death of a prominent terrorist. An hour later, the President of the United States was on TV confirming the reports. You can rest assured that the journalists who tweeted that story wanted to be first to report it – while still maintaining their integrity for truth and accuracy. The consequences for doing otherwise would have been damaging – as legitimate news organizations value trust above all.
For some reason, sports 'journalists' are not held to anything near the same standards. Let's take a look at the numbers from the excellent footballtransferleague.co.uk.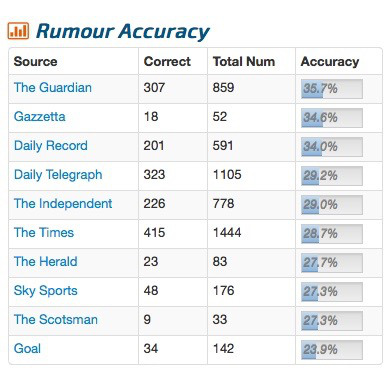 Now let's imagine that a prominent and respected newspaper or website had a proven track record of only being right 30% of the time. Or better yet, imagine if these outlets had to post their accuracy rating on their mastheads for all to see.

Would that be enough to make people stop to think about whether or not their thirst for news on their club was in the hands of trusted and respected sources?
You and I
Now for the unpopular part. A big part of the problem is us, the supporters.
We follow fake agent accounts on Twitter and retweet their nonsense.
We take everything we consume on the internet as gospel, rarely stopping for a moment to think critically about what we've just read.
And worst of all, we are the pawns in the huge, money-making internet machine every time we click on a story we know is bullshit – but that we really want to believe is true, because it's about our club and our club is more important than anything.
I understand. I do. It would be amazing if Lionel Messi were to join Manchester United.
But he's not coming.
And if you read somewhere that he is, there is a line of people who are benefitting from your interest in this most unlikely scenario – from the player, his agent, his club, the reporter, his employer and so on.
So please, think responsibly and don't click on stories that insult your intelligence as a football fan. You can believe that report when the player is holding up the shirt, but until then – follow the money.
*
This article was originally published at calgarymufc.wordpress.com. The author, Ken Frampton, gave Stretty News permission to use it.