With two wins and six points from six this home game presented Manchester United with a chance to continue winning ways and keep pace with the early season pace setters. After a much improved performance in the Champions League game United fans were looking for further signs that the entertainment value of performances is increasing as the team get into their rhythm.
Personnel
In: Schweinsteiger.
Out: Carrick.
Key points
United started well but over complicated matters. After the opening twenty minutes they gradually lost their way and despite numerous chances were never as convincing again.
Rooney is struggling, but are United playing to his strengths. All too often the option taken in the final third, the decision to run, shoot or pass is the wrong one and this does him no favours.
United effectively spent the match banging their heads against a brick wall of the Newcastle defence; deprived of a plan B by the last match of Fellaini's suspension they just continued with a method which wasn't working. Good approach play but no end product and that never looked like changing.
Mata's role is an issue. Notionally starting on the right he played much of the game inside in the half space or even in the number 10 position. Mata's delivery was poor.
In this game too many players converged on the same space around Januzaj. Mata, Memphis and Rooney all converged on one area. This meant that United's attack was narrow and so allowed Newcastle to defend the width of their area.
First Half
Van Gaal made one change from the side that faced Club Brugge in mid-week with Bastian Schweinsteiger making his first start in place of Carrick. Both sides set up as a 4-2-3-1. United started the game really well passing and moving early. They were playing at a good tempo. Schweinsteiger was positioned to the left and higher than Schneiderlin on the right. From this position he controlled play dictating the tempo of the game and the direction of United's attacking.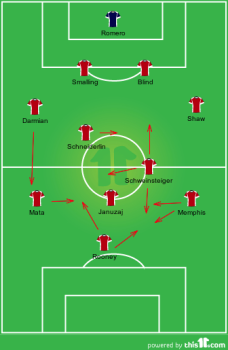 So why didn't United score. Well actually they did score after only four minutes when Januzaj played Rooney through with a straight pass through the inside left channel. Unfortunately the linesman incorrectly signalled for offside.
United shouldn't feel hard done by however as they had enough of the play in the opening half hour to have scored several times and need to look at themselves to discover why. After the game Van Gaal made the point that this was a good performance and he is right in that, but he will no doubt be working on aspects of United's attacking play to address clear issues.
The critical point we would make after this opening twenty minutes, (in fact the whole of this game) is that the problems aren't just about Rooney's poor form. Actually this was a far better performance from the player upon whom all the attention is currently focussed than we have seen previously this season. So why didn't we score and what went wrong?
Currently United are something of a schizophrenic side. Van Gaal is known to favour a 6-4 split in his side. That is he wants six outfield players who are more disciplined in terms of their positions and four to whom he gives licence, freedom to interchange. This is sometimes incorrectly viewed as six defensive minded players and four attackers. It isn't as simple as that as the six are allowed to join in attacks but in a more structured way. So full-backs can push forward but the way they do so has to be within a pattern. What we are seeing currently is that the six are playing really well and fulfilling the roles expected of them, (the six in this formation being the defenders and midfield pivots), whilst the four aren't playing that well.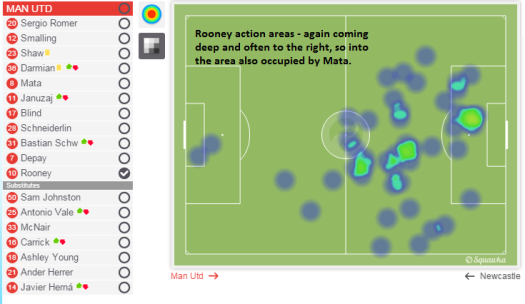 Some may disagree with this; didn't Memphis score two in mid-week? Well yes he did but it is wrong to assume that the front four have complete freedom to move as they see fit, what is required is an understanding between them resulting in co-ordinated movement.  That is where United currently have a problem. So Van Gaal is happy when a player scores, for example Januzaj at Villa but still see fit to identify faults in his game.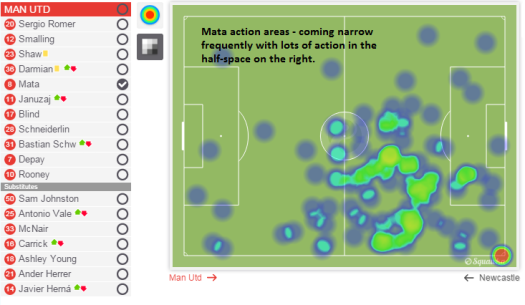 The problems in this game were two-fold. Firstly in the final third United overcomplicated their build-up play. They were two slow to shoot, over passing, running with the ball when a better option was to pass or passing when the better option was to pass or shoot.
The other big problem was congestion in the area 20-25 yards from goal in the centre of the feed. Currently Rooney is playing as the central sole striker with Januzaj as the "number 10" behind him. Mata is notionally playing as a right winger and Memphis is playing on the left. Rooney likes to drop deep and involve himself in the game, Mata likes to come narrow and in this game often took up a central position and Memphis has the option of staying wide or cutting inside. This means that three players were often converging on the space occupied by Januzaj. This created a real problem as players were too close to each other to stretch the Newcastle defence. On Wednesday United avoided this problem with the same players by regularly switching play and with Januzaj switching outside. These things didn't happen as much in this game.
After about half an hour United seemed to lose their way. They were dominating possession but moves were floundering as they entered the final third. With Rooney dropping deep and the wide payers coming inside Newcastle found it easy to defend on a narrow front and United didn't really open Newcastle up convincingly.
Halftime – goalless.
Second half
The second half started as the first had finished with United generally on top but making little impression on the Newcastle defence.
On 59 minute Van Gaal replaced Schweinsteiger with Carrick; almost certainly a planned substitution. Schneiderlin now switched to the left and Carrick took up a position on the right of the pair and in advance of his partner. Not a lot changed.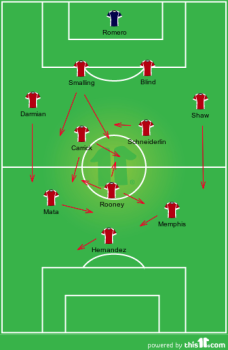 Then on 67 minutes Van Gaal replaced Januzaj with Hernandez. Rooney now dropped deeper into Januzaj's "number 10" position and Hernandez led the attack.  This helped United's attacking play as Hernandez tends to run at defenders so he pushed Newcastle back and gave the visitors centre-back pairing the problem of worrying about someone running in behind. This was a plan B of sorts but perhaps not the plan B United needed at this point. In mid-week Van Gaal had introduced Fellaini when he wished to change things, but of course he was still serving a domestic suspension. Valencia replaced Darmian in the 77th minutes and he added renewed attacking thrust on the right but there was no one central to effectively attack the crosses he or Mata delivered.
The problem was that United continued to overcomplicate they made a final push in the last fifteen minutes but lacked the height in the box to trouble Newcastle. Smalling came close late in the game but their approach hadn't changed significantly enough to make an impact. This lead to frustration amongst the crowd, which was perhaps unfair as United had dominated this game and played well up to the edge of the opposition's box.
Conclusion
After a result like this and the associated frustrations it is easy to be over critical. Even when United were consistently winning Championships under Sir Alex United did not win or play well in every game. Aspects of this performance were good, but a failure to score and a lack of goals delivered 1 point rather than 3. That is all.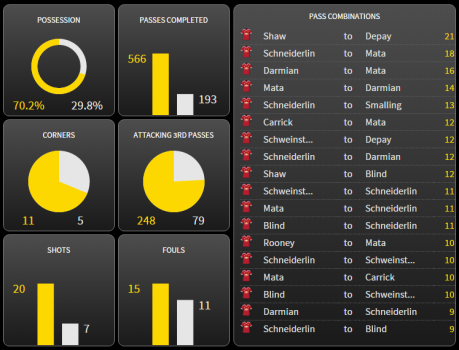 The final few minutes of the game may have frustrated many because United seemed to take so long to deliver the ball into the box. The issue was that without Fellaini they could not resort to plan B as they had done in the previous Champions League qualifying game. That however is not an ongoing problem because this is the last game of his suspension.
Plan A can work too. United need to make further develop an understanding leading to better decisions in the final third.  They need to maintain attacking width to stretch the opposition and the attacking four needs to develop a more co-ordinated way of playing. That will come with time and this is still very early in the season. The defence looks solid.