After a year on the side lines United faced a qualifying tie for the prize of a Group Stage place in the Champions League with a home leg first against last season's Belgian runners-up. On the back of two narrow domestic wins this was a much anticipated return to continental competition.
Personnel
In: None
Out: None
Key points
– A much better performance than the first two games of the season; better tempo, better movement, altogether more dynamic. United were still a bit disjointed in the final third but this was an improvement.
– United are now much more defensively solid; they were unlucky to concede to an early own goal from a free kick which was deflected off two players before beating Romero. Smalling was excellent and Bind is quietly better than people give him credit for being as a centre back.
– Going forward United's play is improving. On the right Mata, Darmian and Januzaj are developing a good understanding and showing signs of intelligent co-ordinated movement. Memphis is more individual on the left but even he is developing an understanding with Shaw.
– Shaw was excellent; Blind's role in this should not be underestimated as he tracks and covers for Shaw as the fullback surges forward. As a centre back what Blind lacks in pace and physicality he makes up for in his reading of the game.
– United's possession tired Brugge but an inability to maintain sustained pressure and poor pass selection in the final third meant that a plan B was needed at the end. Enter Fellaini with a godsend of a goal.
– Memphis was the stand out individual but honourable mentions go to Schweinsteiger and Mata. Carrick was strangely off the pace in the first half and Rooney needs a goal to take the critical focus off his game. He is however contributing more than many realise.
First Half
As in the Villa game both sides pressed each other at the start; space was at a premium. The consequence was that players were required to make instant decisions on the ball and there was little finesse in the opening exchanges. This seemed to suit United who looked more dynamic than in previous games this season, but Brugge held their own and were the first to make an impact.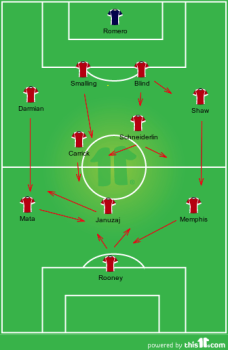 This was a fortunate goal after 8 minutes. Fortunate because what looked like a harmless free-kick was deflected off two United players, the last being Carrick, for an own goal. Time to re-group; this was not in the script.
Both teams continued to press but gradually United got the upper hand. They press high in an attempt to win the ball in the Brugge half. They were quite successful in this but having won the ball they didn't always use it well.
A number of features of United's attempts to break down the Brugge defence are worth noting, Firstly United moved the ball far more quickly than in recent games, Secondly players were far less rigid in their positioning. Carrick and Schneiderlin always stayed central with one or the other (usually Carrick) moving higher. Thirdly in the wide areas Memphis and Mata were always looking to cut inside towards Rooney who tended to drop deep leaving Brugge's central defenders unoccupied. They had to make a decision, would they follow Rooney or maintain their positions. What they needed to avoid was being drawn out towards Mata or Memphis, They avoided this but it created a problem which led to United's first two goals; if the wide players came inside who would come out to close them down and stop them shooting?
Another feature of the first half play was a constant switching of the attack via a diagonal long pass across the pitch and this stretching of the play resulted in United's most threatening moments. This swift inter-passing was regularly interspersed by either Januzaj or Memphis running with the ball diagonally at the Brugge defence. This paid dividends but United's play was usually disjointed with the final pass nearly always going astray. Brugge worked hard and retained their shape. United usually weren't doing enough to make a breakthrough.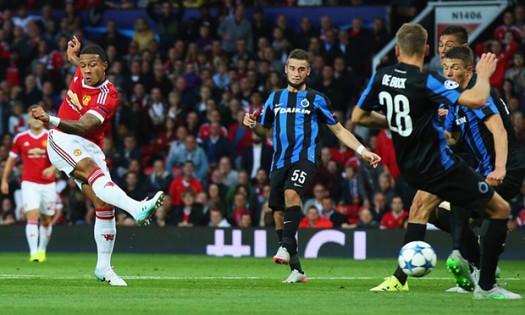 United equalized after 13 minutes when a long diagonal ball from Carrick found Memphis. He flicked it instantly over Cools, headed it on before running diagonally across the box and then shooting home beyond the keeper into the opposite side of the goal. Boom! All the salient features were here, the switch of play, the diagonal run and the problem for the Brugge central defenders.
United were now dominating possession but let the tempo of their play drop from time to time. This meant that they never built up a sustained period of pressure. Carrick was slow in his passing and Schneiderlin was often too deep to have an impact. Despite this United retained the upper hand.
Another point worth commenting upon is the contrast in United's [play between left and right side. In the first half United's play on the right was far more co-ordinated than on the left. Generally Mata moved and ran inside with the ball. This left a gap which Darmian was always eager to run into. Januzaj tended to drop and move over to the right; he combined well with the runs of Darmian. Mata fed the movement of these two once he had moved across towards the centre. He was notionally the wide player on the right but his movement meant that he was often more central from where he could pick passes to either side.
On the other side movement was far more individual with Memphis often dropping deep to then start his runs or Shaw pushing forward. Blind would carefully adjust his position to cover Shaw but the first half threat that Brugge had, (which was generally quite minimal) was against this side of United's formation. Between them United's left sided players coped however and it was Memphis's individuality that produced the second goal.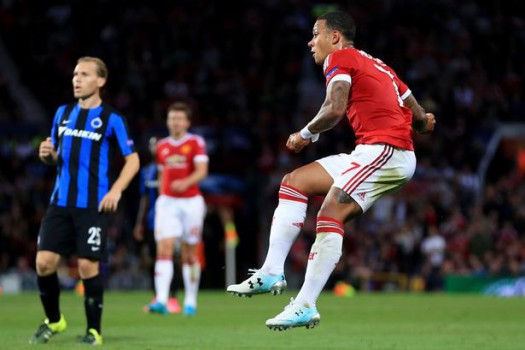 43 minutes played, another diagonal run inside Cools and a spectacular diagonal shot into the righthand corner of the goal. Boom! United's upper hand in terms of the play translated into goals.
Half time 2-1.
Second half
At half-time Van Gaal made a substitution replacing Carrick with Schweinsteiger. United continued to control the game and the pattern of play was not significantly changed. Schweinsteiger positioned himself ahead of Schneiderlin and usually to the left whereas Carrick had tended to be more right sided. But in truth Schweinsteiger was very mobile and comfortable in possession wherever he was. He controlled the play through the middle of the pitch in deep areas. His reading of the game is a beautiful thing and whilst he is perhaps not quite up to speed at this point it is clear that he is going to be a significant player in United's game plan this year.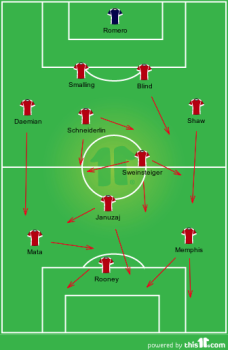 United's movement continued in a similar vein in the more advanced areas and the general features of their play remained unchanged from the first half. They also continued to misplace the final connection in the final third.
In fact they began to get a little sloppy. Ironically in the 65 minutes a moment of sloppiness almost led to a third goal for Memphis. Shaw misplaced a pass leaving him one on one at the back. Fortunately he won that one on one and surged forward on a run from a central position in his own half to a wide right position. Shaw showed excellent pace here and delivered a cross which Rooney deftly diverted into the path of Memphis. He blazed over the bar when it seemed easier to score and a hat trick opportunity went begging. This move though illustrated how the game was now becoming stretched. Brugge who had worked hard to contain United looked very tired. There for the taking? Unfortunately as at Villa United seemed to be easing off themselves. Were they also tired as a consequence of playing this game at an increased tempo?
United needed more from the game than a single goal lead with an away goal conceded, so it wasn't a surprise that Van Gaal made changes. He replaced Januzaj with Hernandez on 72 minutes and Rooney with Fellaini on 84 minutes. This second substitution came after Brugge had been reduced to ten men following the sending-off of centre back Mechele for a second bookable offence in the 80th minute. United now looked to hit Fellaini with early balls resorting to the pattern established at the end of last season. This now appears to be plan B. It didn't seem to be working until in injury time Memphis delivered a delicious cross onto Fellaini's head. Boom!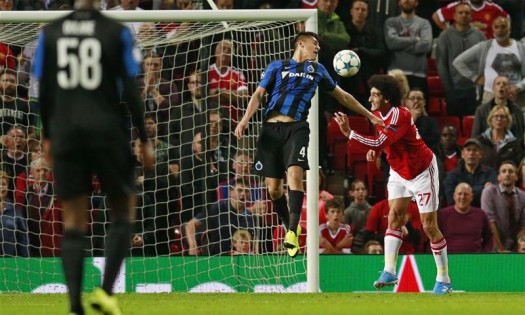 Conclusion
Formations and player positions don't matter as much as mind set and approach. What does it matter if Mata starts wide on the right if he then interchanges with Januzaj or simply moves inside creating a central threat whilst leaving space for Darmian to overlap? United were much more dynamic and adventurous here than in the season's first two games but this is as much to do with a developing understanding as attitude. Defensively solid but still a little disjointed in attack it will take some time to integrate the new players but the signs are there that when players get to know each other United will be entertaining as well as effective.
The areas to work on are the balance of the positioning and movement of the pivots, (Schweinsteiger's reading of the game can help this), a stronger physical presence in the middle in the final third, (Rooney is not as bad as people make out but he is struggling at the moment), and an ability to sustain a tempo over a longer period so maintaining pressure until opponents are overwhelmed.
For Van Gaal's methods to work the team enjoying the majority of possession, (United had 64% here), need to ask questions. Sterile possession is not only dull but it doesn't put the opposition under pressure enough. What is needed is urgent patience; playing at pace with passes and movement which constantly as questions that will eventually hurt the opposition. To do this you need to be really fit to maintain that tempo and have a high level of team understanding. United are getting there but aren't quite there yet.