Friday night football presented United with an opportunity to take a usually historically rich picking for an away ground and sit top of the table.
Personnel
In: Januzaj
Out: Young
Key Points
4 games of pre season. Is this a way for United to build up and finish stronger this season? Seasons last 9 months not 9 games.
Did Januzaj connect with Rooney? It was great that Januzaj scored but Rooney cannot play in isolation. He needs the team as much as the team needs him.
United's defence played well and a clean sheet with Romero only taxed by the 54th minute header by Agbonlahor was pleasing.
Darmian is becoming a bit of a cult hero already and he played very well. 5 interceptions and 7/8 tackles won. Topping both charts!
However, getting to the top of the take ons chart needs a lot of work!
First Half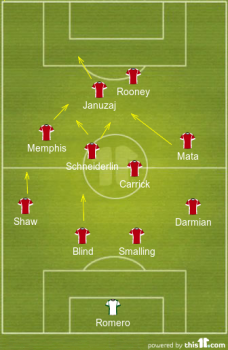 First Half v Villa
As teams seem to be able to these days against United, Villa pressed high and closed United down quickly. This was OK though as the reds kept the ball well but also as is again usual these days, United didn't create much. The tempo is going to be missing if the passing is slow and the double pivots of Carrick and Schneiderlin are passing sideways.
United's shape was more of a 4-3-3, consisting of the aforementioned double pivots with Januzaj as the 10 and Memphis wide left. Compared to the game versus Spurs in the same role, Januzaj was deeper than Memphis so it appeared that the shape through the spine was better. Yet this had a knock on effect with the performance of Rooney but more on that later.
United showed a tendency to try and beat the Villa press by pushing the full backs on and getting the ball wide. In carrying out this task both Shaw and Darmian were excellent but their end product is an area for their development.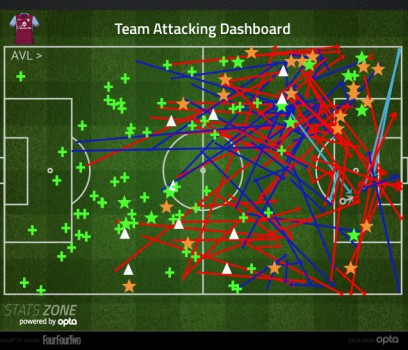 See the pressure Darmian was placed under but managed magnificently
The forwards also need to do their bit and one thing you feel United's game is missing is strength so it was frustrating to see Januzaj and Memphis both getting knocked off ball easily.
BOOM. Around the 25th minute mark Villa were noticeably dropping off and allowing United a touch more room. Take the chance…1-0 United. A lovely interchange between the impressive Mata, Depay and Januzaj led to the goal as Januzaj switched play across the face of the box. Memphis and Mata exchange, Mata offers a slide rule pass to Januzaj who made a smart run off the defender. Cool on the ball and sticking former Bertie Micah Richards on his arse, Januzaj stuck it into the far corner.
United started to pass quicker but then slowed down again just as the high tempo would of allowed United to stamp on Villa's throat. Instead in the last fifteen minutes of the half United's passing was like a Fairfield Street brass, slow and sloppy. Villa looked there for taking, United didn't exploit this. This happens far too often.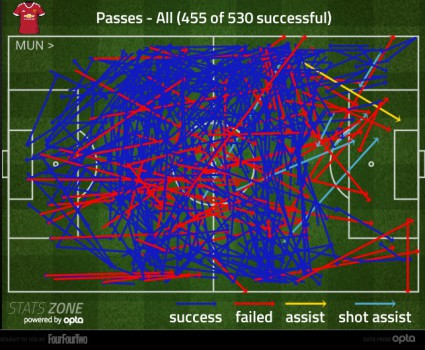 United passing map – close to the 18 yard box but not penetrating enough and lack of activity out wide
Second Half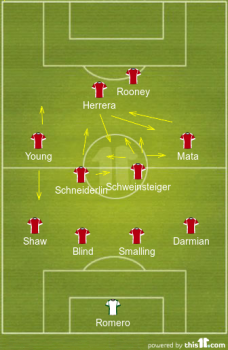 Second Half v Villa
United started the half the same as they had finished the first and this allowed Villa the opportunity to assert themselves but no it transpired to be no more than titivating approach play. There were no real chances as Rooney, Januzaj and Memphis gave the ball away too often. United's players were getting caught in possession and guilty of not getting the pass away quickly.
58 mins Villa bring Gestede on, go for long balls to him. This substitution had really is a negative reaction on their play as noted by Sheerwood, "I think when Rudy came on we got a bit obsessed with lumping the ball up to him," Sherwood conveniently omitted the main reason for this ineffectiveness was that Smalling won all the high balls and Romero didn't have much to do but looked confident and commanded his area. Compared to the game against Spurs he wasn't as afraid to kick long and clear his lines.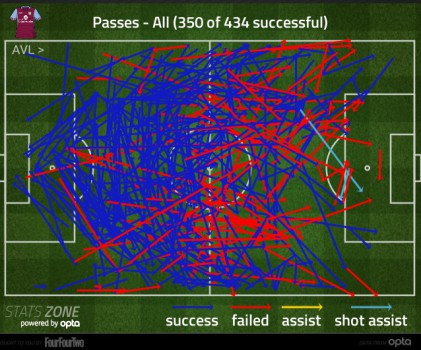 Villa passing shows how deep they played and how well United's defence di
Van Gaal choose to shift personnel in the 59th minutes, on came Herrera for Januzaj as the 10 and Carrick was replaced by Schweinsteiger. This changed the game giving United a much more comfortable appearance. Scweinsteiger is so cool and composed, controlling the passing and tempo and never looks flustered. Herrera is busy but gives away a lot of fouls.
To chase the game Villa pushed high as expected and United found chances in behind. Memphis missed one when he was clean through. His time will come.
On 82 minutes Young came on for Memphis as United were in control but like the first half the final passes weren't working too well, particularly around the box and loss of the ball happened too often.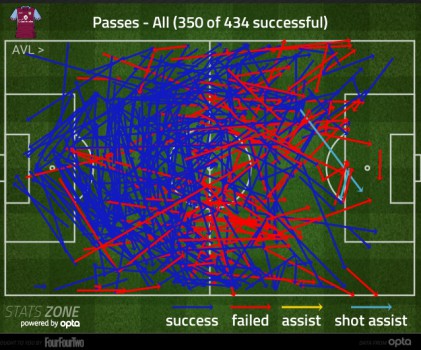 United passing map – close to the 18 yard box but not penetrating enough and lack of activity out wide
Conclusion
Darmian and Shaw both played well, in fact the whole defence did as a unit and with sterner tests ahead we should enjoy the two clean sheets and the success of the goalkeeper amidst the backdrop of the De Gea situation.
A notable standout was Mata who came inside throughout game, even switching wings, played really well but looks awkwardly positined. He's our most creative passing option in high areas and Van Gaal must try him centrally, which might help Rooney who had a really, really poor game.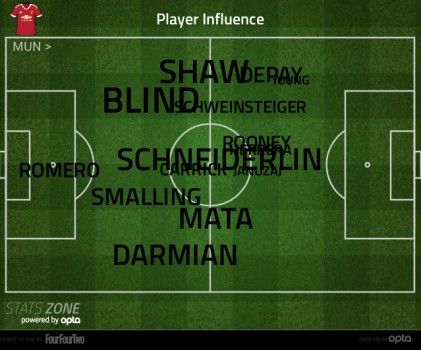 Overall Player Positioning
Despite this it was three points in an unspectacular but solid performance.
Making his first club start in more than six months, Januzaj scored the only goal and it will hopefully do his confidence some good and let's see him become more decisive and spontaneous.
We can always rely on our manager to provide a succinct soundbite. "We had too many unnecessary ball losses, that was not only Adnan Januzaj, also Memphis Depay and also Wayne Rooney, So we have to improve that,"  Van Gaal said.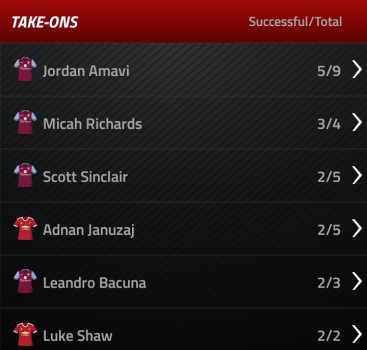 Take Ons Chart
True.
See you at OT for the Brugge game. We've missed you Europe!