When you arrive at Old Trafford on match day look up at the stadium and think about our club Manchester United and what it has become. The 650 Million World wide fans, the stadium, players, Carrington and sponsorship deals. It is an enormous institution.
It is a club that has produced National treasures, hero's, legends and even knights.
We all have our favorite memories at the club, whether with family, friends and even total strangers. We have debates about who were our best players with names such as Bobby Charlton, Denis Law, George Best, Duncan Edwards, Ryan Giggs, Eric Cantona, Cristiano Ronaldo, Dwight Yorke, Billy Meredith, Mark Hughes, Steve Coppell, David Beckham, Paul Scholes, Bryan Robson, Roy Keane etc. It's a long list and the debates go on and on because our club brings us together in so many ways.
You can go anywhere in the world and somehow you will bump into a Manchester United fan. I met one in Venezuela and he knew all the history, his favorite player was George Best and the best player he saw live was Dwight Yorke and we talked for hours over a couple of beers.
I think we are all lucky to be supporting Manchester United and vice versa; both club and fans have created a history that we can be proud of. The Trophies, youth academy, how we as a club handled Munich in '58 and the loss of the Busby babes, Sir Matt Busby's reign, Sir Alex Ferguson's reign and even down to beating Liverpool twice last season.
But the fact is, if it wasn't for a St Bernard called Major who went to the pub, Manchester United wouldn't have existed…
Our history would have ended at Newton Heath in 1901 and your guess is as good as mine as to what would have happened from that point on. Could you imagine Trafford Park without Old Trafford? Maybe having to support Manchester City? We could have been a Bertie and all those memories we have amassed would be something else.
So that fund-raising bazaar in 1901 to raise £2,670 to avoid bankruptcy, which at the time only really affected a few thousand local fans and some small businesses, not 650 million people world wide, was a defining moment in our history.
The bazaar in those tough times was a bit of a joke in truth; it completely failed, we raised, pardon my french "fuck all". However, this was no stain on the fans of that day – you think life is bad now, study what life was like in 1901 and I'm sure you would have nothing but sympathy.
Then with the club needing a hero, a dog decides to come to the rescue! That dog was Major and he belonged to our club captain Harry Stafford and Major's role was to walk amongst fans with a collection box attached to his collar. In those days the fans were less than enthusiastic, due to the shockingly crap football that was on display, so I guess his job obviously seemed fruitless to Major on this day, because Major decided he would go to the pub instead.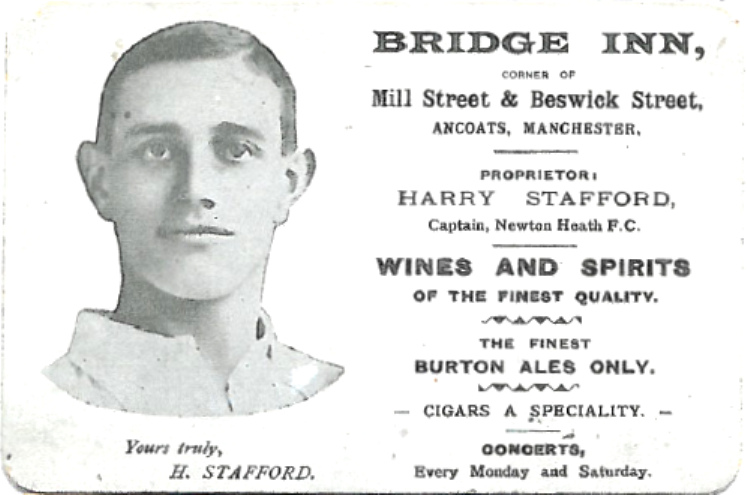 Harry Stafford, now worried out of his mind searched everywhere for Major, his club was closing and now his prized St Bernard was missing.
Harry in all circumstances was having a rather bad day so he also went to the pub. Feeling downtrodden, he looked to the heavens when out of the corner of his eye, there he was, he would panic no more, he was reunited with Major. The dog wondering what the fuss was all about, was already happy and in the company of John Henry Davies who clearly gave him treats.
Now, John was doing rather well and I'm pretty sure Major knew this, anyway long story short, this man was convinced by Harry to invest in the club and he found three other local business men to invest £500 and in return have a direct interest in running the club.
John Henry Davies then became our Chairman, guaranteeing the club's financial security for the immediate future and he took Harry Stafford's Dog who became a loyal pet to John's daughter.
Davies eventually renamed the club as Manchester United F.C. in 1902, changing the club colors to red and white.
So what happened to Major? Well he retired as the clubs Mascot in 1905-1906 season because, well, he'd done his bit and thanks to that, well, all I can say, you're a Red.
So does he deserve a statue? Well he deserves something…