English clubs have been voted as having the worst manager, individual player and squad to win the Champions League, by football writers from around the world.
Research by MatchPint, the UK's leading sports pub finder app, found that cult Liverpool legend ,Djimi Traoré, with 31% of the journalist's vote, pipped Manchester United's Jonathan Greening and Anfield teammate Scott Carson to the unfortunate title of 'worst player to win the Champions League'.
Traoré's Liverpool team in 2005 were voted the poorest side to lift club football's greatest prize, whilst former Chelsea boss Roberto Di Matteo was singled out by 70% of the sports writers surveyed as the worst dugout dweller to ever mastermind a victory.
Elsewhere in the study, Ronaldo (the fat one), with over half the vote, was elected as the greatest ever player to miss out on Europe's top prize ahead of two men still in with a chance of winning it, Zlatan Ibrahimovic and captain of Juventus, Gigi Buffon.
MatchPint surveyed 118 sports writers from 17 different countries around the world to find out their expert views on the Champions League since 1992. The results of their History of The Champions League survey have been published as an infographic.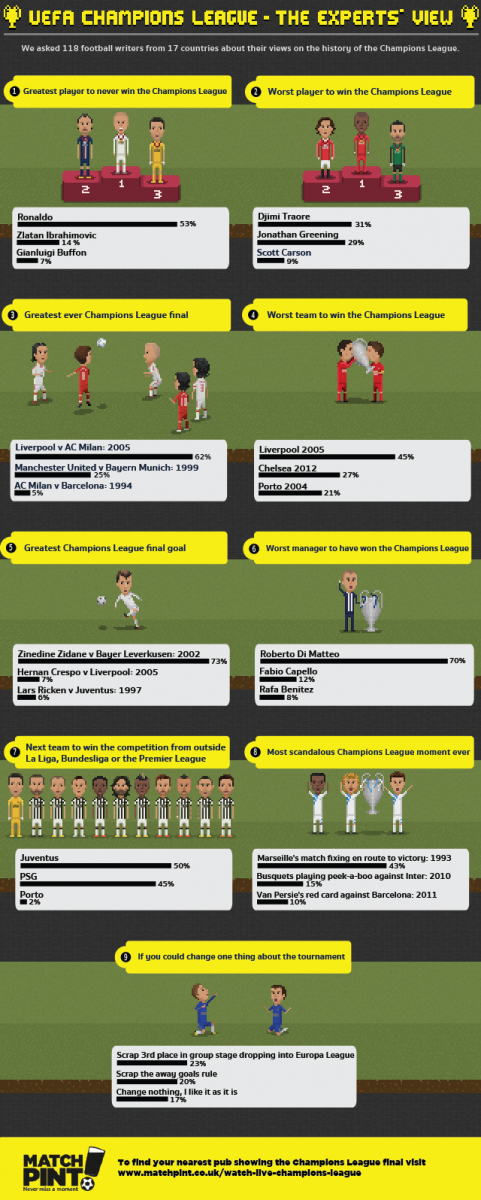 Key findings from the survey
Jonathan Greening second worst player to pick up a winners medal.
1999 – second greatest final of all time… er, think there's a little error there.
Ruud van Nistelrooy and Eric Cantona voted joint 7th greatest players to never win the Champions League.
Ole Gunnar Solskjaer's goal 6th best goal in final… Lol.
MatchPint surveyed 117 sports writers from Argentina, Australia, Brazil, El Salvador, England, Finland, France, Germany, Ireland, Israel, Italy, Norway Scotland, Spain, Turkey, USA and Wales.
_