After successive defeats on their travels United were looking for some home comforts as they welcomed West Bromwich Albion to Old Trafford. The Reds haven't got a good recent record against the visitors but going into this game found themselves two wins away from Champions League qualification.
Possession alone is not enough
This was a disappointing performance; predictable football lacking dynamism and creativity. United dominated possession, enjoying 81.1%, but they were slow to move the ball forward making it easy for the visitors to maintain their defensive shape. West Bromwich Albion always looked comfortable.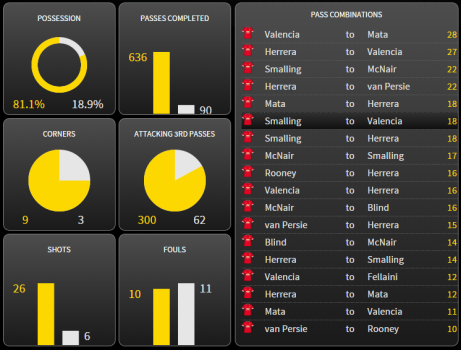 As West Brom sat back the play became compressed in the visitors defensive third. United lacked the creativity to break through and so repeatedly recycled the ball to and fro across the pitch with repeated square passing. They looked at their most dangerous when they switched the ball quickly but they rarely did this, but even when they did the space created wasn't used that well allowing enough time for the visitors to get across and close down. United then had to start again. Too much of their passing was safe.
Reshuffling positions
United started this game using roughly the same shape used in all their recent matches, although again Van Gaal shuffled personnel around to accommodate injury. With Shaw dropping out Blind dropped into the left back position and with Carrick still absent this necessitated Herrera moving to the defensive midfield position. In turn that saw Rooney drop into midfield with Van Persie returning to the side as the central striker. What all this meant was that Rooney and Herrera were being not being utilised in their preferred or best position and this had consequences on both the performance and result. Neither player played particularly well.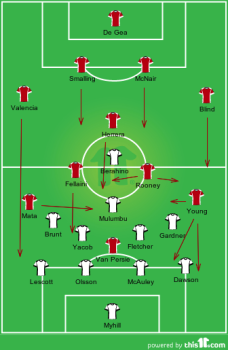 Van Gaal chose to further shuffle his pack at halftime and this was a bit of a surprise. Van Persie dropped into midfield and swapped with Fellaini who became the centre forward. I can't remember Van Persie ever playing in midfield for United? One can only speculate as to the thinking here. Perhaps the manager thought that Fellaini would hold a high position and disturb the West Brom back line, perhaps he felt that Van Persie would offer more in midfield, perhaps he thought that West Brom's central defenders would follow Van Persie into a deeper position leaving holes at the back. Whatever the thinking behind this experiment it didn't work. West Brom handled Fellaini well and Van Persie offered very little in terms of creativity in midfield.
An alternative to Carrick?
This game exposed Herrera's limitations as a defensive midfield player. We have commented before that Herrera is a busy player who makes things happen, his subtle changes of position, pressing and intelligent passes hurt the opposition in the final third. Unfortunately he does not have the range of passing that Carrick has. Most of his passes are over 10-25 yards and it is rare that he passes long than this. In this game the consequence was that the early ball away from our defensive third and particularly towards Fellaini was rare and United's ability to switch the ball quickly was limited. Generally United switched the ball quickly only when Rooney dropped deeper to do so.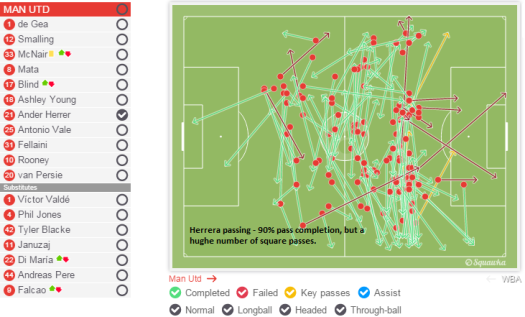 So when Carrick is absent we do not appear to have a suitable replacement for the defensive midfield role. Last week at Everton Blind struggled in this role, Herrera had a mixed game in this role previously at Chelsea, (where critically he gave the ball away twice to enable dangerous Chelsea break outs). Surely Van Gaal will address this issue in the summer because this position is so crucial to his plans.
Midfield creativity
 Rooney and Fellaini offered very little movement in midfield. They kept their shape and Fellaini was a bit of a physical handful, although West Brom coped well with that, but their lack of movement meant that they created few passing options. As a consequence the passing was in lines rather than triangles with the ball being passed across the pitch. When Van Persie moved to midfield in the second half this did not change.
This problem goes back to the issue of Carrick's absence. Carrick links the team front to back though its spine. He passes short and into feet to Herrera (with whom he has very quickly developed an excellent understanding) or longer towards the chest of Fellaini. This in and out rather than side to side passing probes at the oppositions defensive shape making it harder for them to maintain that shape. They have to do more running and constantly adjust their position laterally as well as vertically. When the passing is all square they only have to adjust their shape laterally.
Poor delivery from wide areas
United's wide play and crossing was poor in this game. On the left Young looked dangerous, he stayed wide and was direct. On a couple of occasions he cut inside to shoot but his delivery of crosses was poor. On the right Mata started wide but often cut inside running across the pitch with the ball. This created space behind him for Valencia who did look to advance into it. Valencia's delivery was also poor.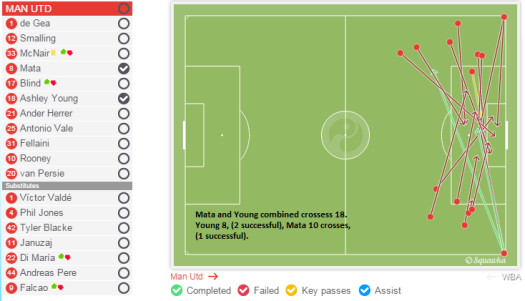 When introduced for the last 25 minutes Di Maria was no better. Again a re-shuffle but this time a little more logical perhaps. Young moved to left back and Di Maria took up position on the left hand side of the attack. Unfortunately Di Maria now looks a shadow of the player who joined United in the summer. His passing was poor, his crosses were over hit or failed to beat the first man and his general link play was ineffective. He hasn't played many minutes lately and perhaps he is missing Van Gaal's now famous "match-rhythm" but on the other hand one could also read the performance as that of someone who didn't really want to be out there.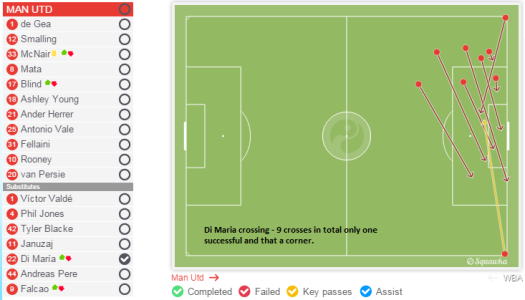 Squeaky ass time
This was frustrating game. Earlier in the season Van Gaal experimented, regularly changing tactics and team shape in an attempt to get the most out of the players available. Some of those experiments worked, others didn't. More recently he has settled on what is roughly a 4-3-3 shape and has looked to fit the component parts into that shape. For a while this worked with a run of six wins in a row but United have now lost three games in a row and this suggests that when key players are missing the squad is not suitable to be to accommodate reshuffling of the parts. Van Gaal has talked all season about the need for balance and this is applies to the squad as much as it does to the team; without a balanced squad when injuries and suspensions restrict your selection options it is more difficult to maintain a balanced team. United need a big summer transfer window.
In this game United missed Carrick and they do not have an adequate alternative in the squad. But it would be lazy and wrong to suggest that this is the only problem. In this game United lacked creativity in the centre of the pitch and pace and movement in attack. They also lacked a collective sense of adventure. Much of their football was too safe. United need a midfield "can-opener" to open up a tight disciplined defence and at the moment they don't have one.
Squeaky ass time is upon us. United now have three games to secure six points ensuring the seasons objective is achieved. No margin for error.