Following defeat at Chelsea, United's bubble had been pricked and the key was to restoring momentum against an Everton team that have gained a degree of confidence lately with some good results.
Personnel
In: Blind
Out: Falcao
Key Points
In the first half United lacked any speed about their play, if there was any chance of making the most of their nice build-up play then this needed to change.
United's crossing was poor, 9 successful out of 32 was not a great return.
De Gea's starting position was often too deep in his own box, a couple of instances with McNair and Smalling saw him to be far too deep and reluctant in his contribution to the general play.
Blind's positioning was poor; he was regularly too high asking too much of himself – up and down and playing into the hands of Everton's counter attacks. He should have been more restrained sitting deeper. This leads to the question as to whether we dependtoo much on Carrick? Do we have an alternative?
We could make the same criticisms as we have throughout this season and particularly in matches before the Tottenham game; a lack of speed, penetration and invention. There was a lack of quality in the final third and this means we often struggle against teams who sit back. Everton defended fantastically.
United need to start winning games first as this will give the dominance and control that Van Gaal craves, dominating possession thereafter.
Let's feel confident that United will finish in the top four, hopefully above City and this defeat will give the reality check needed for the close season. A loss to Chelsea is one thing but a loss to Everton in this manner is another.
Van Gaal was correct in his assertion that the team were complacent and perhaps believed of their own hype going into this game.
Rooney's away form is poor – he has scored once in his last 17 Premier League away games yet he has 15 scored in 17 at home.
First Half
Everton were set up looking to continue the approach Chelsea took last week. Their 4-3-2-1 formation had the intention of forcing United out wide except United wanted to come inside, particularly Mata. Understandably, when United had the ball Everton defended deep In the box and limited United to half chances only, their first chance not coming round until the 15 minute mark.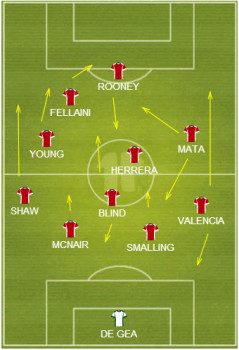 United fell into Everton's trap! The opening counter attacking goal was sickening as a set piece broke down outside Everton's box, quite typical from United at the moment and quickly Everton launched an attack which saw Blind struggling to keep up with the pace. Blind was up and down and this left United short when Everton countered. When he had managed to regain his positioning, both he and McNair should have been stronger and more decisive in the tackle, but even further up the pitch earlier in the move Valencia against Lukaku was a mismatch in the battle over the header with the United man allowing himself to be muscled out. United were 0-1 down after only 4 minutes.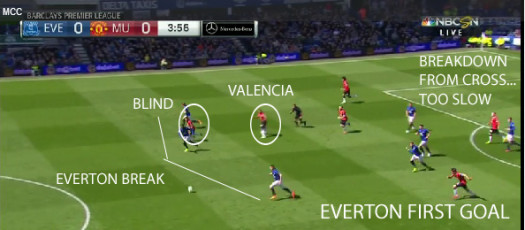 Our right back just prior to the goal, did excellently and showed a glimpse of how to open up the deep lying central focused defensive Everton mindset. This glimpse showed that United were enjoying possession and at times this was great to watch but it was without any real threat. As usual more directness and pace was needed to exploit the channels, an area where United looked strong.
Despite Valencia's predominance in United's play it was the left that seemed to be a strong possibility for United's success. Shaw was playing higher than Valencia and he had a couple of neat interchanges with Rooney who was dropping deep and Young filled that pocket of space that Fellaini has been taking in recent games.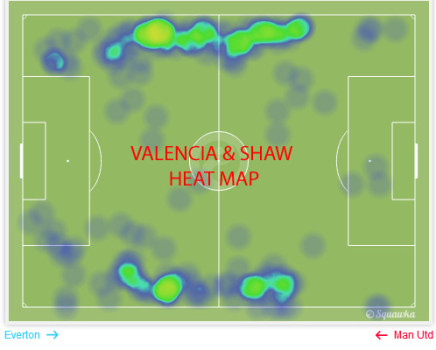 The fact that Everton paid little attention when United's central defenders brought the ball out speaks volumes; they were comfortable with those players having the ball. They needed to be bolder when they were coming forward. The opportunities this presented were similar to those seen against City. United didn't make the most of them.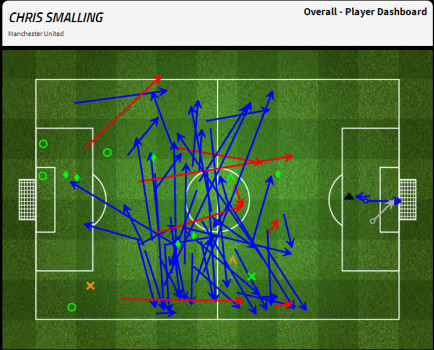 As part of the build-up and defending from United De Gea needs to reassess his positioning as currently he's always too deep in his starting position and doesn't dominate the defensive third as goalkeepers in his quality bracket should; Neuer for example.

Patience was the watchword for United as they were carefully man marked in midfield as Barry, Barkley and McCarthy bossed things, this had a knock on effect of Rooney wanting to drop deep, yet ended up very isolated and out of the game.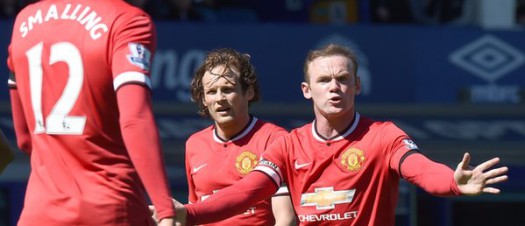 United should have done much better with Everton's second goal, following a third consecutive corner, with Valencia again beaten to a header from Stones who evaded him well and finished even better. As an aside to this putting Fellaini on the post with Young seemed a strange choice. Everton have a habit of scoring goals at the near post from headers but defending the corner first and foremost Fellaini would surely be best served in the middle of the goal (he came off the near post) with Young positioned out wide ready to play on the break.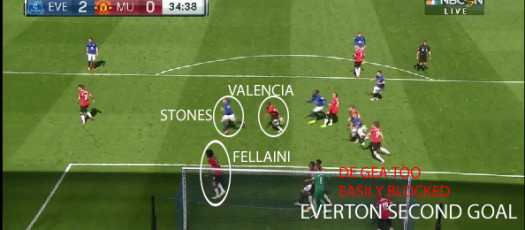 As half time approached it was clear that United would struggle to come back from 0-2 down and Van Gaal's mind was made up over Fellaini who was substituted at the break after being cautioned early in the first half. Targeted by Everton who tried to draw a second booking his play had been inhibited and ineffectual.
Second Half
Falcao came on for Fellaini; supporters weren't filled with optimism. This was a striker with no shots on target in his last eight appearances! It was hoped that this substitution would bring Rooney into the game after his natural regression into the middle of the pitch during the first half. United would need to be more inventive and play with greater speed to get back into the game as there's no doubt that Everton would continue with their tactics of playing on the counter whilst stifling midfield.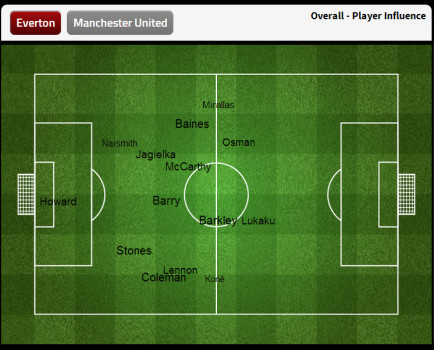 It became clear that United were now playing with more width but the lack of speed wasn't addressed. Compared to Everton, United were reverting to what we were used to prior to the recent run of victories. Van Gaal then made another substitution, bringing Mata off for Di Maria on 62 minutes. Mata had been drifting inside too often and couldn't adjust to the pace of the game.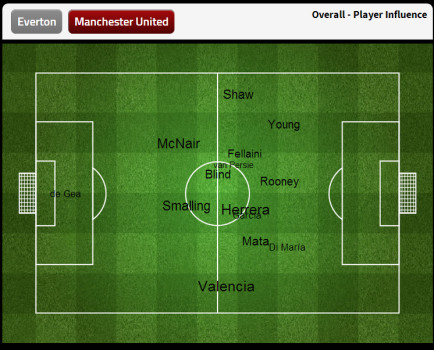 Even though United were ineffective they also presented Everton with many opportunities to win the ball back which no doubt led to Everton enjoying a good number of blocks and tackles.
Game over. 0-3 after 73 minutes, an embarrassing goal to concede particularly in terms of communication and positioning; De Gea's was really poor on both fronts. What United need to be thinking about is how Lukaku laid a simple ball off and was looking for a return over the top, then again United's defenders were playing very high and it's against the teams that sit deep that this is the issue for the Reds.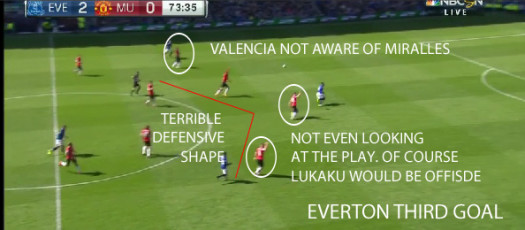 A positive! Even though we're scraping the bottom of the barrel Falcao showed what he can finish like despite being offside. As we said, we're scraping the barrel.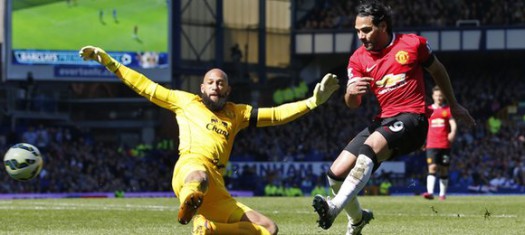 Another positive! A great save by De Gea from a Miralles shot. In the 88th minute Rooney came off for Van Persie.
Conclusion
United reverted to type in this game; perhaps it was simply down to the lack of fighting spirit as Van Gaal stated. This is an accusation that is often levelled at this United team. Perhaps Van Gaal will use this and many other lessons that games in the Premier League have dished out to him to cultivate a backbone and an aggressive streak in his team.
This team really needs an injection of speed and creativity. Sure van Gaal will go out and get players of such quality but what about the players we have now? Januzaj is too lightweight and not inventive enough in the final third. How about Di Maria? This is a player with great speed but he needs to cut out the ridiculous crosses and long range attempts. If the plan is for him to cut inside then the options outside and inside need to be positive ones with further options to pass and move from those players nearby.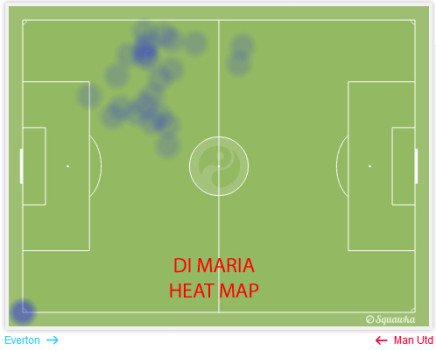 It points to the fact that United are good at getting the ball to a certain point but are unable to do anything beyond that point.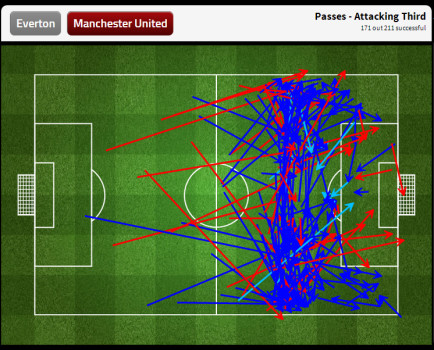 Do United have issues with a defined style? Against teams like Liverpool, City and Tottenham there's an ambition from the other team to attack as well, be that due to their position in the league at the time, rivalries or playing methods. The Arsenal game is on the horizon and with the defeat to them in the FA Cup still fresh, it has now turned from being a game where a positive performance was envisaged it suddenly becomes a more difficult challenge. Currently Arsenal can play two ways, can United?