United needed to be confident approaching a game against the League's top team but after recent impressive performances why would they not be? Having to deal with a number of injuries meant that Van Gaal had to change his team. Would this put the continuation of United's successful run in jeopardy?
Personnel
In: McNair, Shaw and Falcao.
Out: Jones, Blind and Carrick.
Key Points
Injuries forced Van Gaal into changes which reduced United's threat up front.
The formation although offering width was predominantly focused inwards. Tough then to make inroads against the solid Chelsea defence and midfield two.
Falcao cut a lonely figure up front. He failed to test the Chelsea defence and was culpable for their goal; El Tigre's days at United appear to be numbered.
McNair and Shaw were more than capable replacements for the injured players; McNair was fantastic bringing the ball from the back whilst Shaw was pacey down the left. Does McNair need to be considered ahead of Jones?
Fellaini was well marked by Zouma and/or Matic. Chelsea's 4-2 in their formation kept things very well marshalled. Could Van Gaal's omission of Fellaini from the starting eleven have been a surprise alternative option and something that would have called Mourinho's bluff?
In addition, Young struggled against Ivanovic; a defensive master class. Chelsea was saved by the class of Hazard in combination with a neat piece of play by Oscar.
First Half
The 4-1-4-1 formation Van Gaal choose had two clear objectives, one, reduce the opportunities for Chelsea's fullbacks to go forward and two, deal with the front elements of their usual 4-2-3-1 system.
Arguments could be made that without the injuries he would have taken to United's usual 4-3-3 but his new formation dealt with the injuries and also to deal with powerful teams and maintain a midfield triangle, so much so that United looked at times to playing a diamond.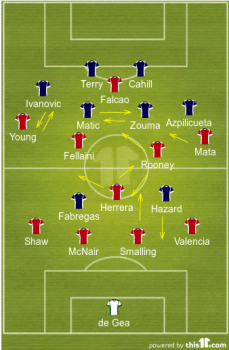 The performance of Herrera developed into a real bonus of the game and in him they have someone who may be capable of developing into Carrick's position but it meant his usual right sided role needed filling. In stepped Rooney, who in early parts of the game showed real duality in his positioning, this is ironic after talk lately about his street footballer upbringing and how Van Gaal has tamed this.
Falcao took Rooney's slot yet it was the Captain that had United's first great chance. The excellent Shaw worked the space on the outside left well and cut a pass back to him on the 18 yard line. The shot looked like a goal but this only made it harder to take as a missed opportunity. Falcao's running drew the defence deep into their box; well done! Shaw must be credited on reading the play to pick him out and also for getting to the by-line.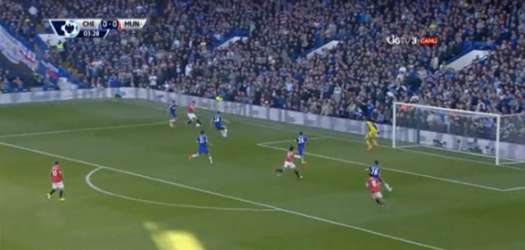 United's play was delightful, a dominance that not many Reds would have expected. There was great tempo and quality of passing as Chelsea afforded lots of space sitting deep and with United's positioning causing them issues. Chelsea's handling of Fellaini became clear,  Zouma kept very close and if he was ever absent Matic did the job. This served to highlight that Fellaini has his limitations and if United are to progress then he is certainly likely to be option B rather than A in the fuure.
Further forward Fabregas dropped off Drogba and this sat uncomfortably with the 4-2-3-1. The fillip to this moribund formation was Hazard, the Belgian was a signing that got away from Ferguson, and he is Chelsea's shining light. He drove the ball on and took others with him. Henry Winter of The Telegraph was right when he stated that Hazard, "is the brilliant riposte to claims Jose Mourinho simply parks the bus"; he is exactly that and Chelsea did exactly that with an ever present back 6.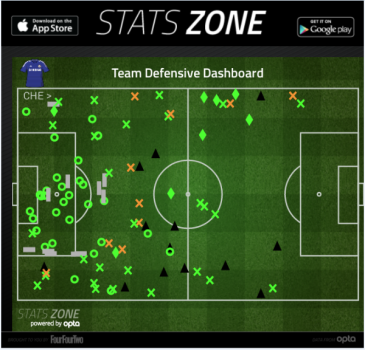 United had no option but to show plenty of progress to get through the wall of Chelsea's defence. Herrera in Carrick 's role with Mata and Rooney showed massive amounts of intrigue, pressing and movement. 63% possession was not a surprising statistic by the 30 minute mark.
Then the game shifted slightly as Chelsea moved to close the space between the lines and this shouldn't have happened had Falcao been busier getting more involved and stretching the defence and opening up the space for midfielders to operate in. He did this in the earlier Rooney chance but otherwise not enough following.
Congestion in the middle saw United's best outlet down the left with the man dropping off to the 18 yard line proving to be the best option. Chelsea were worried about the ball into Fellaini or to the back post and as such dropped right into the 6 yard box whenever United got past Ivanovic.
Chelsea's were entirely predictable – out ball to Drogba, he moves up, flicks ball on, obvious. McNair and Smalling did well to read this, in fact both defenders played very well throughout the game, McNair showing great style in coming out with the ball.
With Herrera noticeably sitting deeper between the centre backs Chelsea began to creep into the game as the fluidity of United's play reduced and Chelsea became more compact with Fabregas dropping slightly deeper. Chelsea made this count.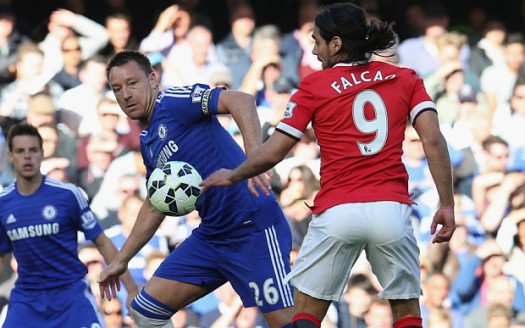 It was disappointing that Falcao failed to resist the challenge from Terry thus resulting in clustering of United players on the right and with the ball at his feet Oscar was allowed to back heel the ball into Hazard's path from deep; Herrera couldn't match the Belgian's run. Hazard did to De Gea what Mata did to Hart last week.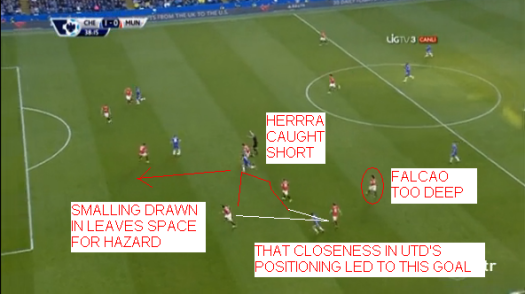 That was the only Chelsea attempt on goal thus far, clinical yes, deserving, no.
It hurt as it showed that for all United's possession and great build up play they had lacked that cutting edge.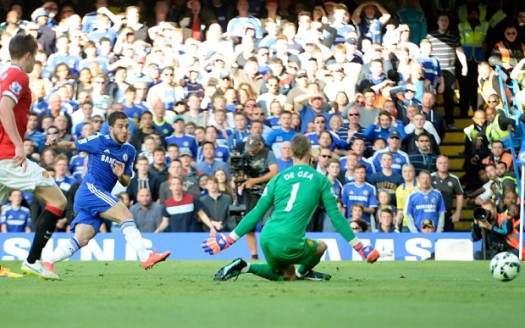 Second Half
The second half saw United adopt a more cautious approach as they sat deeper with Rooney becoming more withdrawn and Mata kept a much more narrow position, often coming inside; this led to the substitution later on by Van Gaal as United's passing was too often to the side thus not being incisive enough. The edge was lost from the first half and United temporarily lulled into their drab earlier season pattern.
Whilst Shaw was playing very well, he and Young didn't quite enjoy the same understanding Young and Blind have had recently and this saw fewer opportunities for Fellaini who was finding it difficult against players equal in size and strength; Chelsea are physically a big side.
The substitution was coming and Van Gaal was looking for width to get beyond the congested middle, Di Maria for Young and Januzaj for Mata. Although they made few inroads they did help push Chelsea back and create much more space in between the lines.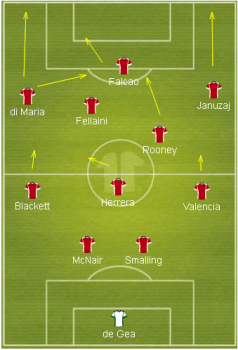 United got back into the game and were passing and dragging the Chelsea defence around, this was pleasing, United were dominant and looked menacing yet couldn't quite breakthrough.
Falcao continued in his struggle and he had an opportunity to break that rearguard and with a reputation likes his it was a great chance that should have been taken. It came about in the passage of play as the spaces became more apparent with Januzaj in particular forcing the defence back.
Conclusion
The first 30 minutes were very positive for United but resulted in no real threat on the Chelsea goal.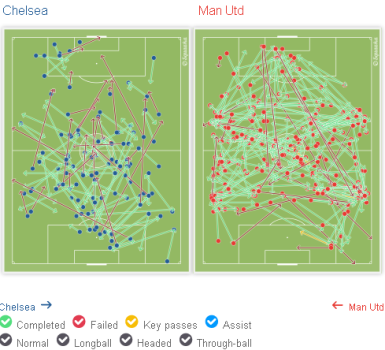 Incisiveness plus possession will lift this team to greater heights. Falcao, however is not the answer and he as a singular option up front didn't work. As we've highlighted before, he plays better when not playing with his back to goal and when working with a more mobile partner. He was unable to get beyond Chelsea's defence and with Fellaini struggling against the big guys it didn't help Falcao who showed glimpses of improvement but needs more game time (which he won't get) or to take his chances (which he doesn't).
The fact that one of the other best chances went to Rooney serves only to show Falcao's travails. That chance for Rooney was at a time when United were incredibly dominant; if it had gone in would it have presented Chelsea and Mourinho with questions they may not have been able to answer? One thing was for sure if it wasn't for Hazard Chelsea certainly would have had no reply.
Rooney had to drop deep to adjust for the injuries in advance of this game, but this robbed United of a significant threat. This was summed up when Terry confessed that Chelsea were relieved to see Rooney not up front. The Captain did well but on too many occasions was too close to Herrera. Due to these injuries Van Gaal was forced to shuffle his pack, regardless of Rooney's display the positive was Herrera who showed his adaptability in playing the Carrick role.
You felt before the game that Mourinho would figure out how to play Fellaini and to a degree they did, he was saying, "Control the direct ball to Marouane Fellaini and stop the wingers from making crosses on the inside foot." Certainly the passing combinations varied from those against City. Using Fellaini as the Plan B would have been a better ploy and we may see him used that way more often next season.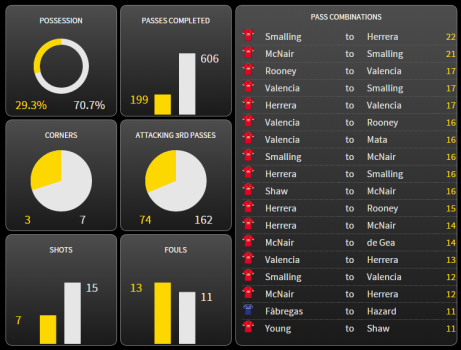 The substitutions by Van Gaal had a positive effect in that they stretched the play, and at a time when United were playing well. Yet, the individual performances of the substitutes weren't particularly good.
Nonetheless, the positives highlighted should be reasons for optimism as Van Gaal, the players and the supporters prepare to challenge Chelsea and others next season. That can't come soon enough; next season should start here.