Having gone above City after the previous weekends games, United went into this game looking to stretch that advantage and put another nail in the coffin of their title defence.
City's strong start
Ironically United started this game well given that since the final whistle everyone has praised City for their excellent start. United pressed City from the kick-off and City looked flustered. Unfortunately this only lasted for a couple of minutes. Then City took control.
United started in the now default shape, but City changed their shape going to a 4-2-3-1. Pellegrini's new found tactical flexibility paid dividends with City taking the lead in the 8th minute. This shape was effective because Milner was positioned in the middle of the three and was detailed to sit on top of Carrick minimising the United mans opportunity to get on the ball and dictate tempo. Augero dropped deep into the space on Carrick's left and City relied on their wide players, Navas and Silva to make forward runs. This led to the goal with Silva feeding a square ball into the path of Augero who scored easily from close range. Smalling and Jones had lost Augero; ball watching and seemingly mesmerised by City's quick passing and movement.
But then the whole match changed in one moment when United scored.
City Wilt
United now seemed to grow immediately after having scored the goal.City have developed a reputation for a lack of discipline and application and if this match is anything to go by it is well deserved. The tactical plan at the start was sound but they didn't stick to it. Milner left Carrick and Aguero pushed higher. This left Toure and Fernandinho in the middle of the pitch surrounded by Carrick, Herrera, Fellaini and Mata. Mata was playing very narrow and deep in the United right.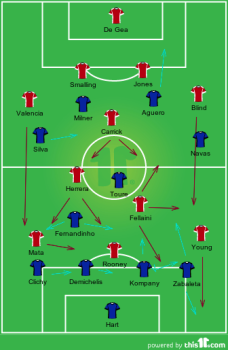 They were outnumbered and overwhelmed. Toure was too high and often caught out of position. Since the game Rooney has gone public with United's strategic plan; isolate the central midfield players, run beyond them as they have no appetite to do the yard yards to cover space and track runners. It worked and United were in total control from the first goal onwards.
The inside left channel
Returning to the goal it illustrates a couple of key points about United's play in this game. Firstly United had a huge amount of success in the inside left channel; in fact all United's goals came from moves generated from this area of the pitch. Blind, Young and Fellaini were excellent with Fellaini and Young vying for man of the match in many people's views.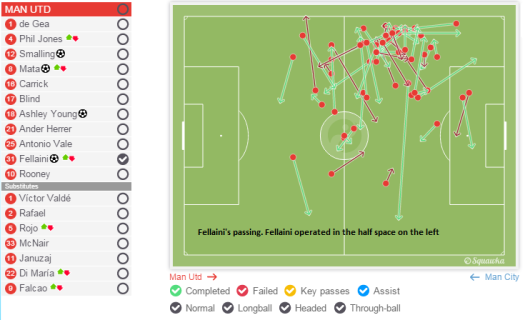 Secondly Fellaini in particular had a great game. He dropped deep at times and at other times played high. When he went high Kompany picked him up but never looked comfortable. Fellaini was always prepared to take the pass even in the tightest of spaces and he usually retained possession. Dropping deep he occupied the space to the side of Toure and in front of Zabaleta. Toure was too high and did not seem to have the appetite to compete with Fellaini's physicality. When United hit a high pass towards Fellaini Zabaleta was never sure whether to come or stay and looked decidedly uncomfortable in the air. He always seemed concerned about the ball beating him and dropping behind him, with Young and Blind pressing high and looking to surge into that space. When he dropped deep Fellaini was too far from Kompany and so caused havoc and Rooney stayed high to occupy the centre backs. Rooney didn't touch the ball much but his presence did an important job. City never squared this circle; it was Fellaini's use of space as much as his physicality (usually considered one of his main strengths) that hurt City.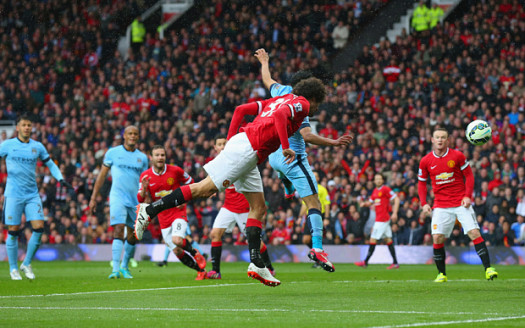 Square passing
This has been a feature of United's play this year. At times they have over done this by a significant margin and you can always expect some square passing when you play a possession based game. The balance has been better of late and is one of the key reasons why United have improved, but in this game we overdid it a bit for our taste.
United could and should have scored more from here. That they did not was largely because they often delayed their pass forward choosing instead to play a square ball. Carrick, Mata, Herrera and Fellaini were all guilty of this in the first half which was especially galling when a forward pass was on. What this did though was to ensure United retained possession and this in turn seemed to demoralise City who rapidly lost a belief that they could compete. The other side of this issue though is that when United did deliver an early forward pass they had great success with their first three goals all coming from a move involving an early forward pass which stretched the game and put the spotlight on City's defence. When United asked the questions it looked like City did not have the answers.
Psychological boost
This was a big win. United earned local bragging rights for sure, but it was significant psychologically and not only in the battle for Champions League qualification. It puts down a marker for next year and seasons ahead. United are only going to get better from here.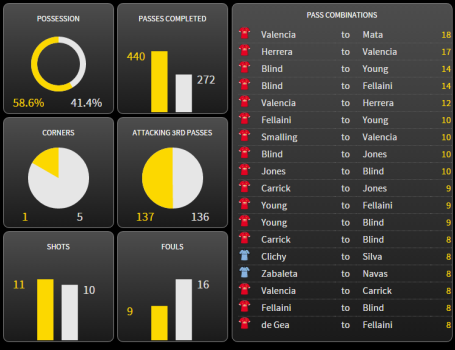 City had a clear strategic game plan which they executed well for the first fifteen minutes. United however were not deterred, they stuck to their task and City were discouraged by United's first goal. They lacked belief and application; United didn't. What was doubly pleasing about this was that United came back from an early setback to take control of the game. They showed determination, bravery, energy and élan. City showed their trademark lack of discipline and application. United's midfield dominated City's midfield and demonstrated that they now have the collective belief in the Van Gaal method and a growing ability to use his strategies in any circumstance so making themselves a significant domestic force.