Manchester United head into the Derby against city at Old Trafford on Sunday as arguable favourites for the first time for a few years, something entirely unthinkable last season (with that lot taking the spoils in May and United missing out on Europe altogether) and a few months ago (United trailed city by double figures in February).
Louis Van Gaal's men seemed to have timed their run of form impeccably, while the top 4 aspirants have hit the buffers United have hit top gear with emphatic wins over Spurs, Liverpool and Aston Villa. A win against city would have them looking over their shoulder and a four point gap for good measure.
How should United approach the game? Do you meddle with a winning formula or the old adage 'if it ain't broke'? Van Gaal has some welcome selection dilemmas for the weekend- does Chris Smalling come back into the fold, looking to make amends for those moments of madness in the away fixture? Will Angel Di Maria's lively cameo against Villa be rewarded with a start, given the magnitude of the fixture?
Stretty News founder Dale O'Donnell, columnist the Northern Loudmouth and myself have put ourselves in the Dutchman's shoes and selected our teams to get at city.
Dale's XI: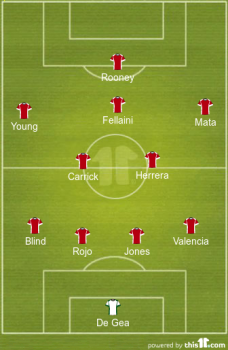 My only worry about the defence is I have chosen is Phil Jones. At times he's brilliant but at the same time can be a danger to everyone including himself. Chris Smalling, unfortunately, remains a doubt which is a real shame for such a big fixture. Their attacking options could cause us problems.
The midfield picks itself on recent form. Nemanja Matic aside, Ander Herrera is the best midfielder in England at the moment. Michael Carrick is our Rolls Royce and Marouane Fellaini is a new man. If United win the midfield battle on Sunday, we will walk away with 3 points.
Juan Mata, Ashley Young and Wayne Rooney as attacking options will deliver if opportunities arise. City defender Vincent Kompany is a doubt which could go against us given his dire performances over the last 2 years, although defensively, they're nothing to worry about.
Without question this is the best time to play our noisy neighbours. They're cracking as United gain momentum and a win would put us 4 points clear, another pull away from the famous rat race.
Paul's XI: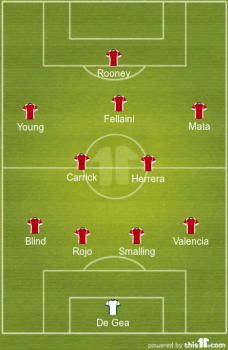 Antonio Valencia had a poor game against Villa, so it was tempting to put Rafael into my team- he has the passion and commitment needed for this fixture and is not a makeshift full-back, however that desire to win and thunder into every tackle breeds a rashness that is not welcome, as Smalling at the Etihad showed. You need cool heads, so it is likely Valencia will retain his place. Rashness is the reason I have gone for Smalling in this game: Jones could/should have gone at Anfield for two reckless moments. Before the international break and illness, Smalling was having his best spell as a United player, and he will be looking to atone for said abomination in November.
The midfield, on current form, picks itself. Ander Herrera has galvanised and transformed our midfield ills, Michael Carrick continues to ooze class and bring a coolness and incisiveness to our midfield, and Marouane Fellaini is our most improved player and 'undroppable' in Van Gaal's words. di Maria's cameo against Villa was encouraging, but another impact off the bench is the likely outcome- his pace in the second half will be very useful.
The performances and confidence levels of both teams are at opposite ends of the spectrum, and for the first time in years we are relishing a game against city. It is a great time to play them. Bring it on!
Loudmouth's XI: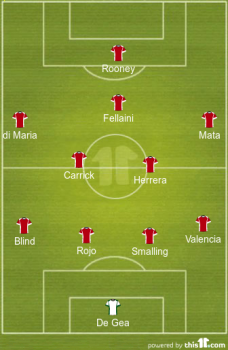 This is probably one of the easiest team selections ourselves and Van Gaal may have and didn't take me long at all. At least nine of these players pick themselves considering the cohesiveness and quality of the team's approach of late. It seems finally Van Gaal's ideas are sinking in if not in the way we all and maybe even the man himself expected. Only around 6 weeks ago the likes of Mata and Herrera were persona non grata at the club and possible candidates for the exit door this summer. However, given the opportunity to play together they have shown their class and formed a pretty formidable working relationship with gigantic troll pencil topper Marouane Fellaini; whose physicality and underrated first touch dovetail well the pocket sized, happy-go-lucky Spaniards.
The adjustments I have made from the previous game seem minor in number but do alter the team significantly. With Smalling back in good health he has to come in for Phil Jones. Smalling has improved considerably since his red card in the reverse fixture earlier in the season, taking that indignity as motivation to improve rather than sulk. That hard work has seen him start to develop into the classy successor to Rio Ferdinand we know he is capable of and he is far more composed and controlled, than the blundering Jones.
I decided to plump for Di Maria over Young further forward in my second and final change but this was a tremendously difficult choice. Young has been excellent this season, showing menace in attack and a staggeringly high work rate which has developed under Van Gaal's tutelage. On the other hand, Di Maria has far more goals and assists this season and isn't as shy of hard graft as is often said and believed. If Van Gaal went for Young I certainly wouldn't argue but I feel a big game at the business end of the season is exactly the kind of game Di Maria would thrive in. Furthermore, such a vote of confidence by the manager may persuade him to stay on for next season.
The 'experts' have had their say. Who do you agree with? Give us your feedback and put yourself in Van Gaal's shoes.