After the international break United got back to business with a home game against Aston Villa looking for a fifth league win in a row. United controlled this game without reaching the heights of their performances against Tottenham Hotspur and Liverpool. Generally United's passing and movement was slower and more deliberate than of late; when they did quicken the pace they enjoyed their better moments. They did enough though having 76% of possession and having 20 shots on goal. They made 664 successful passes compared to the visitors 162.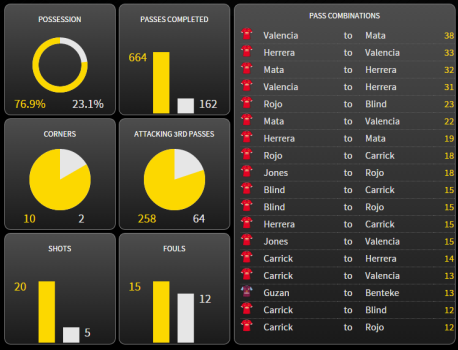 It is a worry though that entering injury time they were leading by only one goal. Despite scoring plenty United need to be more clinical especially against more accomplished opponents where chances may be fewer.
Subtle Changes
United started this game in roughly the same shape as in recent games, 4-3-3 in attack and 4-1-4-1 in defence. There were a number of subtle strategic changes from the last two games; Mata was wider, hugging the touchline, Herrera was deeper and wider and Fellaini was higher, often level or ahead of Rooney.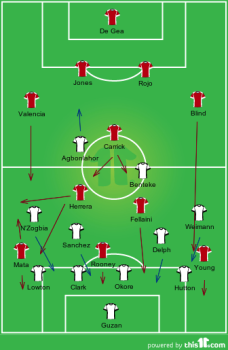 Villa were very defensive in a 4-4-2 shape; they sat deep looking to hit United on the break through the pace of Benteke and Agbonlahor. United's general strategy was to attack with width. Mata stayed very wide on the right, Young stayed wide on the left. Rooney stayed high in the middle and Fellaini pushed up alongside Rooney. What this meant was that United's shape often resembled a 4-2-4 with the four front players pushing onto the Villa back four and attacking on a wide front. To compensate Villa midfield sat deep often forming a back line of seven rather than two banks of four.
When Villa did occasionally push forward United looked to catch them quickly by hitting a ball over the top behind the Villa central defenders. This tactic never quite came off, but the denied penalty chance was an early example of this tactic.
Too Press or Not to Press
One significant change in this game was that United did not press Aston Villa. One has become used to United players pressing high and aggressively. They did not do that here, perhaps because in the light of Villa's strategy they were concerned that they might get caught on the break by Villa's pacey forwards. If so this was over cautious. Villa rarely had the ball and were unambitious throughout the game. United could have put their defence under more pressure when they had the ball. With the exception of Hutton Villa defended fairly well, but these players aren't known for their ability on the ball.
Space behind
United's first goal illustrated a key feature of the game which United. With United pushing four against four on the Villa defensive line there was often space behind around the edge of the Villa box. United had rarely exploited this with Herrera spending a lot of time wide combining with Valencia and Mata. When he arrived in this area he had time and space to control and shoot. This would happen again later in the game.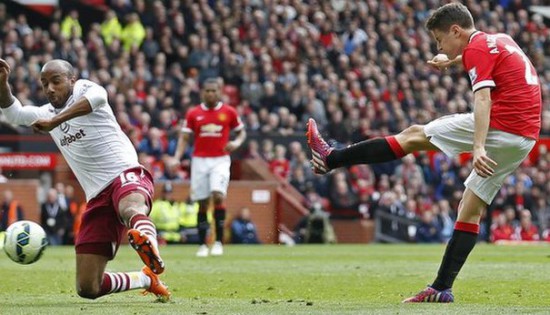 All three United goals were scored by midfield players, (Rooney had switched to a midfield role by the time he scored), and all were as a consequence of a wide delivery towards a midfield player arriving late into the box. With Villa defending deeply and with United's forwards proving a handful this left space around the edge of the Villa box. United could have done more to exploit this, but when they did make us of this space they scored.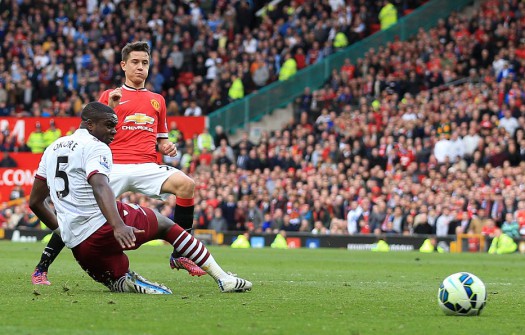 Differences Right to Left
The contrast between United's wide play between left and right was stark. On the left United were much more direct via Young's direct running, supported by Blind. Blind was often slow to get the ball to Young but when he did Young consistently threatened the space behind Hutton who had such a difficult time he was replaced at half-time. On the right Mata played far wider than we have become used to. He does not have the pace of Young and so was not inclined to run at his fullback. He often received the ball stood right on the touchline with his back to the direction in which United were playing. He was supported by Valencia who seemed disinclined to push on and Herrera who moved wide. They played in triangles in an attempt to create space, but Villa looked more comfortable with this than Young's running.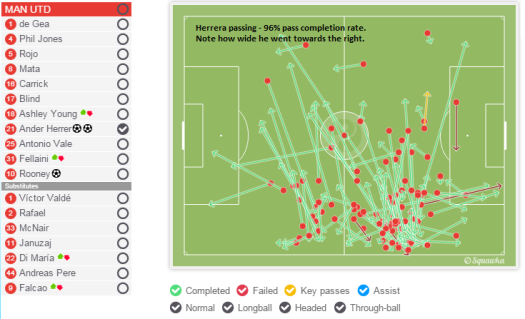 This pattern was much the same after the half-time break, although Herrera was higher now and Valencia seemed more inclined to push forward, often beyond Mata. The quality of delivery from both wings was a disappointment however. These changes in the second-half however meant that United's attack was more balanced.
Fellaini
Fellaini had been less effective in this game than in recent performances. When United released a long ball forward it tended to be directed behind the Villa defence rather than being directed at Fellaini in a shorter position. Fellaini joined the forward line in this game and with Villa defending deep both he and United's other forward players had little time and space.
Villa handled Fellaini well. Whenever United delivered a high ball into the box they positioned a man in front of Fellaini to cut out the chest down and another man behind and/or goal side. Just before the ball was delivered the man behind would give Fellaini a nudge in the back. This was highly effective. To achieve this doubling up on Fellaini Villa relied on midfield players dropping into the defensive line to pick up other United players.
Onwards and Upwards
United climbed a place with this win and set themselves up for the derby with a fifth straight league win. Prior to the game Van Gaal commenting on United's chances of finishing in the top four pointed out that we still have to face the top three sides.
Not so Mr Van Gaal.