After defeat in the FA Cup quarter final in their previous fixture United returned to league action looking to earn three valuable points in pursuit of a top four finish.  This was the first of several games over the coming weeks against teams at the higher end of the table.
"Play-style"
This is a word that Van Gaal has used on many occasions this season. Who knows what it means? It seems to be a cross between philosophy and tactical strategy. In this game the tactical strategy was based on a 4-3-3 but the "play-style" also embodied most of the characteristics of van Gaal's philosophical approach to the game.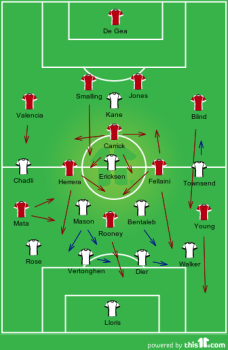 As a consequence this was perhaps the first real glimpse of what van Gaal is trying to achieve. United played high tempo, possession based football with early passing and width, When United had the ball they moved it quickly spreading the play and stretching out across the width of the pitch; making the pitch big. When they lost the ball they pressed Tottenham in a co-ordinated way led by Herrera and Fellaini with Carrick closing the space and leading the defence with him into a high position; making the pitch small. The defining factors here were tempo and bravery, but above all United's football was brave. This is what van Gaal has been trying to achieve all season whatever the team shape he has employed. Let's hope this offers a glimpse of the future.
Midfield Balance
United fielded a central midfield three, not quite the classical three most usual in a 4-3-3 but an approximation of it. Carrick sat in front of the back four as the defensive midfield player, but actually fulfilling a role closer to a "regista", a deep lying playmaker. Herrera was notionally the box to box player and Fellaini the number 10. Fellaini did tend to be more advanced than Herrera but he wasn't the classical advanced playmaker, the creative hub if you like. Instead he carried out a similar role to Herrera but whenever possible got forward to act as a target for diagonal crosses or early forward passes from others, the first goal was an example of this. When he ran forward he supplemented Rooney as an auxiliary striker.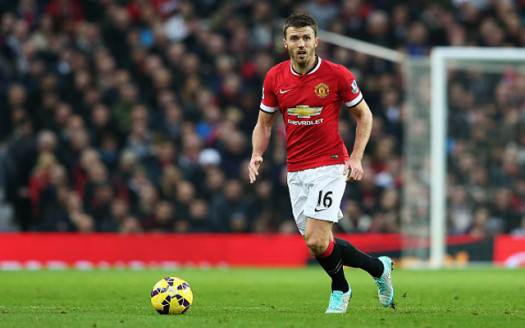 The key to this was Carrick. Amongst United fans opinion has always been divided about Carrick, but he is van Gaal's type of player. We commented in our review of the Arsenal game that when introduced in the second half Carrick tended to move the ball quicker than others had done in the first half and that importantly he moved the ball forward rather than sideways. The down side in that game was that partnered with Blind United's central midfield sat deep and surrendered space to Arsenal. This didn't happen here because ahead of Carrick Fellaini and Herrera pressed Tottenham constantly. In this they were ably assisted by Mata dropping deep and narrow from the right and Rooney dropping deep from the centre. Carrick's passing was excellent in the first half and set the tone for the whole team, calm under pressure, moving the ball quickly forward or switching the play.
Tempo and Width
One of the reasons United were so successful in the first half was the pace of their passing. Too often this season United's passing has been slow, safe and deliberate. As stated above Carrick set the pace of the passing from the back, but all across the pitch United players passed early and well with a greater level of precision. If you look at the statistics the average level of pass accuracy across the team was slightly lower than we have come to expect this season, (83%) and this resulted in a lower than usual possession percentage, (52%, but this was in part due to the possession Tottenham enjoyed in the second half when United, with a three goal lead, turned their attention to controlling space rather than possession). But if you look at the number of attacking passes in the final third you see that this fast early one touch football moved the ball forward far quicker than has been the norm this season. To do this of course United had to take a few risks, be braver.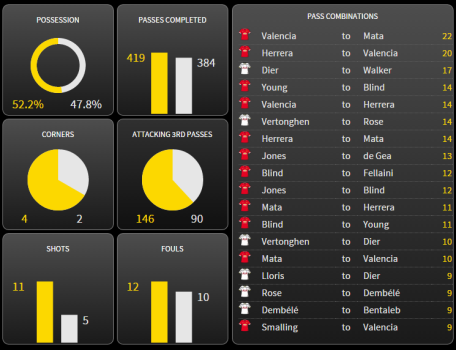 The most impotent factor in United's success here was the tempo of their passing. For the first time in months there were passages of play where it seemed almost instinctive. As a consequence United's possession was threatening.
But United also used width well, particularly on the left hand side. On that side Young's incisive running had a new urgency that resulted in genuine menace and in this he was ably assisted by Fellaini and Blind. Mata played in a narrower position on the right and constantly worked the ball inside to and from Herrera. Valencia tended to stay deeper and was more cautious. This was no bad thing as Mata is not the most defensively minded player.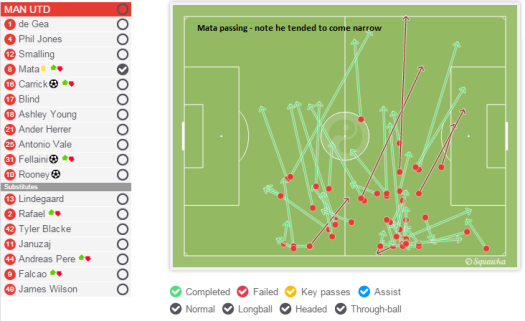 This meant that United's play was a little lob sided, something which was encouraged by the fact that Tottenhams' right was truly awful with Dier and Walker both having first half nightmares, (Townsend also on the Tottenham right appeared totally disinclined to track back and was removed as early as the 30th minute point).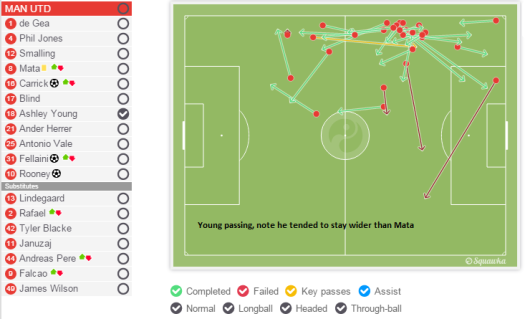 This use of width allowed United to make the pitch big when they attacked making the lack of a lightening quick forward seem less important.
Herrera
Herrera is a player who has proved very popular among United fans in his short time so far at the club and there was considerable disquiet when he struggled to secure a starting position for a while. In our review of the Arsenal game we touched upon a flaw in his game and if you take a step back and look at things dispassionately one wonders whether his performances to date have merited the adulation he has received.
This performance merited every ounce of praise it has received since the game. His statistics were exceptional, (93% pass completion, 4 interceptions, two shots, x tackles and acres of ground covered in leading a high press). The problem in the Arsenal game was that his lack of speed left him vulnerable as part of a double pivot alongside Blind, (another player who lacks pace), here positioned alongside Fellaini and with Carrick watching his back that didn't matter, van Gaal had found a way of using his busyness which played to his strengths and masked his weaknesses. Where Carrick set the tempo of passing in the deep Herrera set the tempo of passing in the high areas. When United didn't have the ball he pressed and pressed and pressed. Exceptional!
Rooney
Rooney worked tirelessly at the front. This was an exhibition of solo centre forward play. He ran the channels, dropped deep to help direct the play, spread the ball wide and was a constant threat to the Tottenham back line.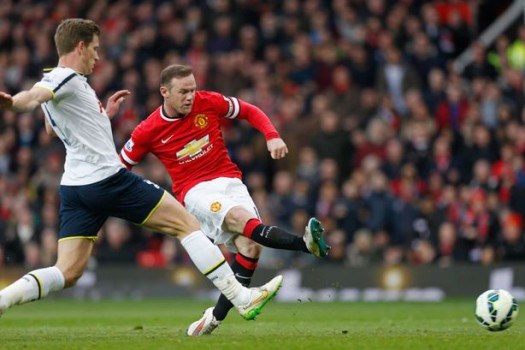 But it is his energy and determination to make things happen that is priceless. It has been reported that the night before the match he gave an inspirational captains speech to his teammates and he led by example here. Perhaps "newspaper revelations" about off-field fun and games focused his mind on achieving the must win. His goal was an example of this spirit. He seized on a poor pass, beat two men and with others in attendance wriggled free, ran on and fired home. This was a throwback to his younger days when his explosiveness was a sight to behold. United's front line has missed this direct determination this year, when all too often opposition defences have been comfortable, untroubled by movement or aggression.
Van Gaal's Philosophy
There is a school of thought that Louis van Gaal doesn't know what he is doing and that his way of playing is too slow and cautions for United fans tastes. There is another school of thought that he cannot play the way his teams traditionally play, that he cannot embrace his usual tactical approach because his squad is unbalanced and uneven in quality. In other words the squad isn't good enough. Whilst there is some truth in the latter assertion that the squad is unbalanced and uneven this match gives the lie to both of these views. This performance illustrates the key tenants of Van Gaal's "philosophy"; attacking possession based football played with width making the pitch big when you have the ball, pressing the opposition to make the pitch small when you don't have the ball, high tempo early passing stretching the opposition.
There are plenty of people talking about "the penny dropping" with Van Gaal after this game. This is nonsense; if the penny has dropped with anyone it is the players who perhaps are finally adjusting to his methods and requirements. Let's hope they have got it now and can execute it again in the matches to come. There will be stiffer tests than this, but this was a step in the right direction.