With United and Arsenal both vying for a top fourth finish this game could be seen as having double significance. A win here would be a psychological boost to the winner. Ultimately however it was a chance to for the winners reach the FA Cup Semi-final.
There is a temptation to be overly negative after a result like this. This was a tight game until Arsenal got the upper hand. The game was decided by several key moments when United shot themselves in the foot. Up until the sending-off United were competitive and the game could easily have gone either way, (although we were losing by this point). After the sending-off we really had little chance against a side as accomplished as Arsenal, with a strong game plan and something to hold onto.
Formations
A 4-1-4-1 formation for United, as in our previous game, with width and a high tempo gave United fans what they have been wanting. Arsenal played a standard 4-2-3-1 with a mobile and fast front four of Welbeck ahead of Chamberlain, Ozil and Sanchez. Both United and Arsenal created early chances and this was an open game. Arsenal sat deep generally waiting to try and catch United in a similar fashion to their strategy when they won at Manchester City. The problem for United was that they often looked wide open down the spine of the side in the first period; vulnerable to Arsenal's quick counter thrusts. Why was this?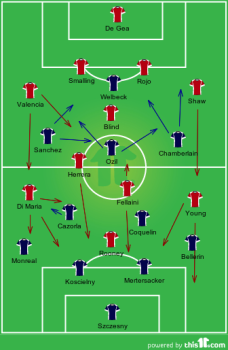 In simple terms Blind sat in front of the back four, Herrera was more mobile and played higher. The plan might have been for Fellaini to play alongside Herrera but he was often as high as Rooney leading the line. This created a problem. Herrera tended to press Arsenal in an attempt to win the ball high up the field but with Fellaini also pushing on Arsenal were all too often able to pass around Herrera and get at an isolated Blind. It didn't help that Valencia was having a poor game tortured by Sanchez pace and movement; was Van Gaal's post match comment about how well he had played an attempt to take attention away from a poor display?
The problems were all illustrated by Arsenal's opening goal. Valencia followed Sanchez as he ran deep with the ball. This left Herrera isolated and out of position too high in the channel on the United right. Arsenal played around Herrera in this position and played a simple pass across to Chamberlain. Blind was caught out of position, not goal side of the Arsenal man who ran pst him and across the face of the central defence without an effective challenge to set up an overlap for Monreal who calmly shot home. Valencia was still out of position.
The other aspect here that is a concern is that once Arsenal had got behind Herrera and Blind their lack of pace prevented them from recovering. In part this was because of the speed of Arsenal's front four but also because both these players lack pace. Herrera is a positive player who does things quickly, but he is not quick over the ground.
Half time substitutions
Since the game a lot of people have asked why van Gaal made his half time substitutions. It has since been reported that Jones was introduced in place of Shaw because it was felt that on his return to the side from injury Shaw was not match sharp enough to stay the pace. The removal of Herrera and his replacement with Carrick appears less easy to explain until you consider the issue raised in the previous paragraphs. It appear that van Gaal has concerns about Herrera who doesn't appear to suit his requirements. In the second half Carrick sat deep with Blind slightly further forward. Van Gaal was clearly concerned about the lack of pace in the middle of the pitch and wanted two players who would sit deeper and be less mobile. One of Carrick's great strengths is his positional sense and perhaps the manager felt that this would mean that this would compensate. Carrick wouldn't have to recover his position if he didn't get caught out.
Perhaps Herrera was also the player removed as van Gaal tried to stiffen up the spine because he was booked late in the first half.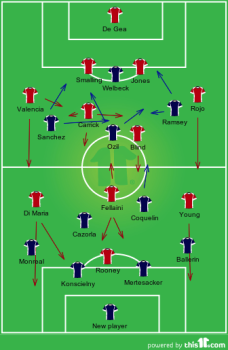 In one sense this worked in that United didn't look as open down the middle. In another sense it didn't work because Arsenal had much more time and space in the middle of the pitch.
Despite this United looked more threatening in the first fifteen minutes of the second half and this was in no small part due to Carrick. Carrick played well, often in tight areas, he kept the ball well and passed forward more often and quickly. He also switched the play more directly with a number of long diagonal passes to ward the wings where before half time United had contented themselves with a series of square passes across from player to player to switch play.
Then it all fell apart with Valencia as under hit a back pass which was seized on by Welbeck.
Angel di Maria
Di Maria has struggled in recent weeks but was much brighter here. That was up until his moment of madness. You can't say he lost the game as we were already behind by that point but he clearly denied United the chance of getting back into it.
Before that point Di Maria had been bright and mobile, often cutting in from the right and delivering a series of diagonal crosses toward Rooney or Fellaini. He created real problems for Monreal. The problem in the first half was that his understanding with Valencia is not sufficiently developed. To play wide in this formation he needs a fullback on his wavelength who knows when to overlap, when to stay deep and when to feed him. He didn't have this in this game.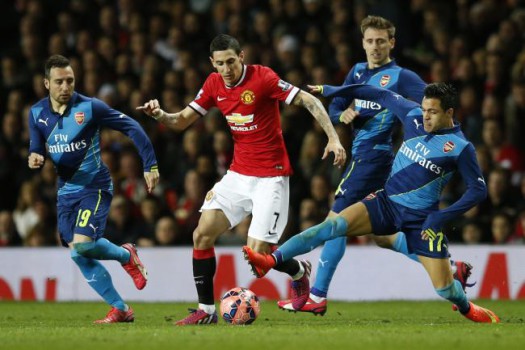 The downside of di Maria was seen before the sending-off incident when he went down and curled up in a ball like a hedgehog before getting up to carry on when the play moved on without the award of a foul. United players shouldn't do that. Then he dived in the box, was booked for this and in protesting tugged at the referees shirt. That was always going to be a red card. Di Maria has to curb these instincts immediately. United were never going to rescue the game from this point on.
Marouane Fellaini
Fellaini is a player who can delight and frustrate in equal measure; he had a very mixed game here. Playing behind Rooney as the number 10 he dropped deep to help retain possession and develop build up play but often pushed on into a very high position alongside Rooney. He did this notably whenever the ball went wide to Young or Di Maria. When Di Maria cut insode most of his crosses were aimed diagonally towards Fellaini who had positioned himself on the far opposite side of the penalty area. From here he attempted to return the ball back across goal changing the angle of the attack. Arsenal struggled with this and with a little more luck this could have been a very productive strategy for United in the first half.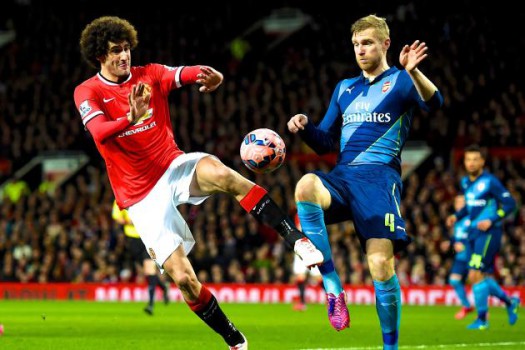 The downside is that Fellaini is a little too clumsy. He isn't a nasty, dirty player but he legitimately tries to use his size and physicality to unsettle the opposition, but because he is clumsy he often concedes fouls as we saw several times here in quick succession culminating in a booking. In the first half his clumsiness saw a good chance go begging when he found himself with space in the area. In that moment it was as though his legs didn't quite hear what his brain was telling them to do in time.
Wayne Rooney
Rooney is thriving under Van Gaal and had an excellent game here, undermined ultimately by the mistakes and misdemeanours of other. He isn't every fans cup of tea after submitting two transfer requests. However having effectively "taken one for the team" by playing out of position in midfield, something he had previously complained about under Sir Alex, he is looking our best bet as a forward now he has been returned to the front line.
He worked very hard for the team here throughout the game. His movement in and around the box was excellent, exemplified by his goal. He found the space in the box between the Arsenal centre-backs with clever movement and Di Maria picked him out with a superb cross, (Di Maria's high point in the game). These two players are quietly developing a very good understanding with the Argentine reading Rooney's runs expertly. Di Maria's radar isn't quite right at the moment, (other than for the goal), but it will come in time. Perhaps Rooney is the only player on Di Maria's wavelength and vice-versa.  The important point is that Rooney had to play ahead of Di Maria.
Learning about our team
Pressure games like this are the sought of matches where you probably learn most about your team and individual players. The game up until the sending-off suggested that United aren't that far away. On the other hand United lost out in key moments and the mark of a really good side is that this is when they step up.
So there is still plenty of room for improvement still. The spine of the team is a problem; weakened by the use of width. United fans need to decide whether they want the thrills and spills that come with width or a more solid pedestrian approach which controls the centre. Things will change next season when we have new players in the group, but the signs are there that this season the thrills and spills approach might work against lesser teams but against those towards the top of the league it might not.