Gutted.
Conceding a goal scored by a former player to knock you out of the FA Cup is a bitter pill to swallow. Especially when your club brought in a better player on loan but for some reason has failed to deliver.
Gutting as it was, Danny Welbeck rightly celebrated his goal. I never understood people that feel footballers should be apologetic when they move to other clubs. We loved it when Robin van Persie celebrated in front of the Arsenal fans but you can be sure they fuckin' loved it last night.
Speaking to the press after the game, Welbeck said:
"Once the emotion takes over it's kind of difficult to keep it in. I obviously tried to be respectful because this was a club that meant so much to me and still does.

"I'm a Man United fan and it's quite hard to knock them out of the FA Cup.

"I'll always respect the fans. It was a lovely reception from them and I'm very thankful for that."
There was a section of United fans that booed Welbeck when he was replaced by Olivier Giroud but it appeared as though many clapped him off.
Moving on to United and our performance, questions have to be asked of Louis van Gaal for his double substitution at half time. Ok, maybe Luke Shaw picked up a slight knock and was being run into the ground by Alex Oxlade-Chamberlain, but replacing Ander Herrera with Michael Carrick was a tactical mishap.
As a result of the substitutions after the interval, Marcos Rojo slotted in at left back with Phil Jones taking the more central role of defence. Carrick and Blind were too deep to even try look our encouraging selves as seen in the first half.
The most notable difference from the midfield switch was how little risks were being taken going forward. Herrera may not have had the best first half performance but he was at least throwing it into the mixer and United looked more dangerous, less predictable.
Both goals we conceded were easily avoidable too. Arsenal cut us wide open for the first with Antonio Valencia miles out of position. Then, unfortunately for the Ecuador international, he was at fault with a silly backpass for their second too.
Our own goal was one of few real positives to take from the night. A fantastic in-swinging ball by Angel Di Maria finds Wayne Rooney, who heads home without a defender near him.
However, looking back at both halves it almost concluded the story of United's season. Rarely have we looked impressive for an entire 90 minutes but there have been decent halves here and there.
Arsenal deserved to go through but Michael Oliver will make plenty of headlines in today's newspapers. Looking back at the game for a second time – yes, I put myself through it again – it was not the worst referee display of the season, but United fans have every right to be pissed at a few things.
Does Di Maria deserve the first booking? How does Hector Bellerin stay on the pitch?
In regards to the Argentine, he should have known better than to lay hands on the referee. Alternatively a headbutt would have done the job.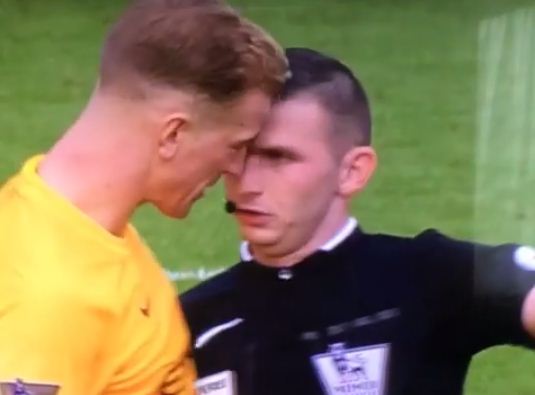 But I'm not one to point the finger of blame at officials when things don't go our way. United lost the game with only themselves to blame.
Louis van Gaal's only chance of winning something in his first season is gone but we need to move on quickly now and do all we can to secure a top four finish in the league.
Spurs on Sunday won't be easy but we are at home. Liverpool are in good form again and Arsenal have now received a much needed boost in confidence after a miserable Champions League first leg versus Monaco.
We stick together. Louis van Gaal's red and white army!