Following a defeat at Swansea, United returned to Old Trafford for a home fixture against Sunderland keen to record a home win as the race for a top four spot becomes ever fiercer. With van Persie missing through injury the burning question was who would feature up front?
A Change of Shape
The answer was Falcao with Rooney in behind. Having played a flat 4-4-2 or a 4-4-2 with a diamond recently Van Gaal switched to a 4-4-1-1/4-2-3-1 shape for this match. In many ways this is a reversion to the tactical shape often favoured by Sir Alex in his later years and illustrates that Van Gaal is not as stubborn as people like to think. Are we seeing his pragmatism as we get to the business end of the season?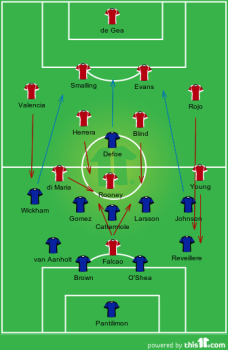 Consider many of the changes he has made recently and a stubborn man would not have made them. Fans chanted for 4 at the back, fans begged for Herrera to play, fans questioned whether Rooney should play in a forward position and fans begged for 4-4-2. Van Gaal has done all these things in recent weeks and here we saw them all, (even this team shape is a variant of 4-4-2). None of these things however solved United's problems as they again started poorly.
Balance between caution and risk
"Attack, Attack……Attack, Attack, Attack!" was the cry of the crowd after one passage of play which resulted in a back pass and this seemed to wake the team up. Immediately after this United increased the tempo of their play took a few calculated risks and as such asked a few difficult questions resulting in a number of half chances. Smalling, Blind, Rojo and Rooney were all "guilty" in this respect and this has to be welcomed. United's play was better for it. On this basis Gary Neville has a point; United have to take a few risks.
Van Gaal has talked a lot this season about the need for balance. One aspect of a teams play is the relationship between safety and risk. In that relationship the balance hasn't been right for most of the season. Neville made the point that Sir Alex Ferguson always asked his team to take a few risks. Van Gaal's approach appears to be naturally more risk averse. He aims to control a game by controlling possession and as such many of United's passing moves take the easy option and don't go anywhere. We don't believe that this is van Gaal's aim but that is what is happening in a season where the tempo of the teams play is far too slow. This is causing some frustration amongst United fans.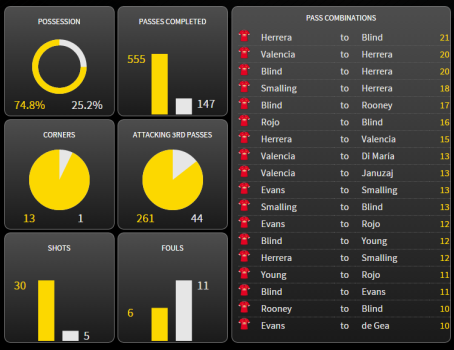 An increase in tempo will help as it did in many passages of play here. Equally a willingness to take a calculated risk will help. That will almost always have to be in areas of the pitch where any damage from a loss of the ball can be minimized but safety first football in the opponents final third resulting in a period of play dominated by endless cross field passes isn't working. To be clear a team of 11 risk takers is likely to lose more than it wins, but a team of 11 water carriers is likely to draw more than it wins.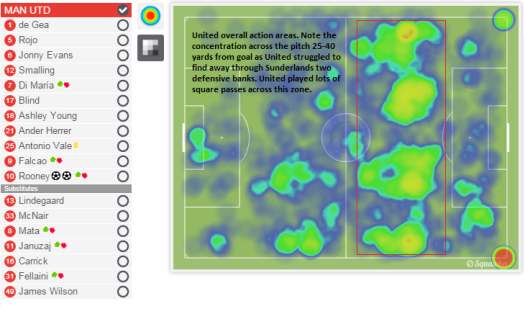 Having said all this United enjoyed 74.8% possession in this game so taking a greater amount of risk did not compromise United's control of the game.
Di Maria and Januzaj
Angel di Maria had a very poor game and was replaced by Januzaj at half time. His statistics from the first half tell a story and as Januzaj played the second half in his place a direct comparison is possible.
Di Maria had two shots neither of which was on target; Januzaj had four shots of which three were on target. Di Maria attempted 3 take-ons, (dribbles), none were successful; Januzaj attempted 3 take-ons, of which one was successful. Di Maria's pass completion average was 71% whilst Januzaj's was 91%. The overall team average was 89% meaning that despite being adventurous on the ball Januzaj was on average less likely to lose possession than the team as a whole.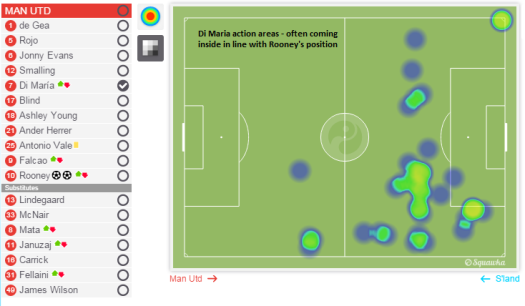 The most telling comparison however is illustrated by the player's heat maps. Di Maria's indicates that he often cut inside in a deep position. That means that he ran into the area where Rooney and the advancing midfield players, (most commonly Herrera on his side), were trying to create space. He helped to compress space here doing the opposite of what an attacking team would want, (when you have the ball make the pitch big by spreading out is the orthodoxy). Januzaj's heat map shows him staying wide and attacking the dead ball line. This helped to stretch the Sunderland team across the width of the pitch creating space in the middle by increasing the space between each Sunderland player. Januzaj did come inside but generally this was when he was in a far higher position than Di Maria had been.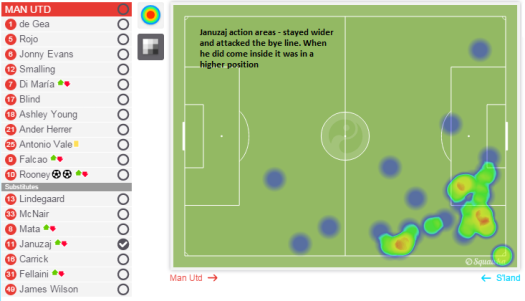 That is not to say that there isn't room for improvement in Januzaj's game. One aspect of his game which did not compare favourbly with di Maria was his crossing. Di Maria achieved a 28.6% cross success rate whilst Januzaj's was 16.6%. The majority of Januzaj's attacking thrusts resulted in corners or crosses that were over hit. He was however a player whose willingness to take a risk made life uncomfortable for the opposition.
Falcao
Falcao was another player who had a poor game. With this team shape he was given the opportunity to lead the line as a solo striker with Rooney dropping in behind. That is an opportunity he hasn't had this season but instead of leading the line he dropped deep to involve himself in the play and like Di Maria coming inside he clogged up that area where Rooney was trying to operate both with his own presence and by attracting Sunderland bodies to that area. He needed to stay higher and occupy the oppositions centre backs, pushing them deeper leaving space behind for Rooney and others to exploit.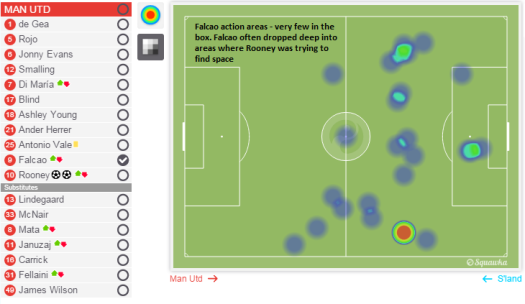 It is worth noting that all four of Falcao's goals this season have come from first time strikes, (including a bullet header), in the box when he has met a ball fired in from a wide position. United aren't delivering many balls like that across the face of the goal. They delivered one in this game late in the first half. Falcao was nowhere to be seen as he had dropped deep to involve himself in build up play.
Tweaky Ass Time
To summarize United's play looked much brighter in this game whenever they played at a higher tempo and took a few risks. Safety first football may not be to the liking of the Old Trafford crowd but whatever the formation or personnel chosen the principle that you have to play quicker and take a risk to take the opposition out of their comfort zone applies. This might mean that you have to take a step out of your own comfort zone to do this of course. Tweaky Ass time Mr van Gaal?