StrettyNews.com has teamed up with Art of Football to give one lucky reader a chance of winning a t-shirt design featuring Ryan Giggs' spectacular goal against Arsenal in the '99 FA Cup semi-final.
Art of Football's hand crafted designs try to emulate the beauty of those split second moments, the moments you never forget, as we look to capture the energy, passion and euphoria that erupts from that one magical kick of a football. They only produce a limited number of each design, so your t-shirts, like any good piece of art, are exclusive and completely original.
To enter the competition, you must like the official Stretty News Facebook page and answer the following question correctly:
Who scored the winning goal in the 99′ FA Cup Final between Manchester United and Newcastle?
Send the answer to this question via email (dale@strettynews.com) with the subject line 'Giggs Competition' along with your full name and address.
_
Art of Football describe the Giggs t-shirt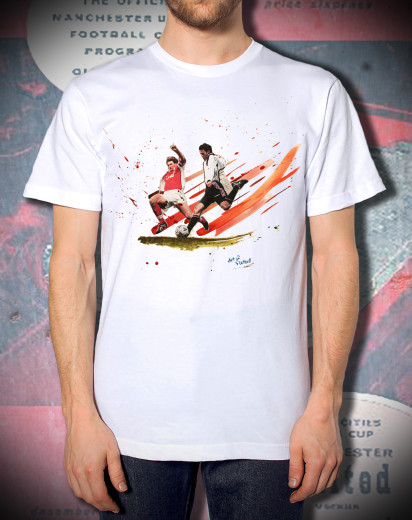 The FA Cup semi-final between fierce modern rivals Arsenal and Manchester United was precociously poised at 1-1 in extra-time. The Red Devils were on the back foot, down to ten men and running on empty – their Treble dream was hanging by a thread. But one man hadn't read the Script.
Enter the Welsh Wizard, picking the ball up in his own half, he danced and slalomed his way in to the Arsenal box at a blur, humiliating all who stood in his path before rocketing the ball in to the roof of the net. United went on to win the Treble, and he went on to be the most decorated player in the Premier League. Giggsy, your genius will be missed.
_
Art of Football have also set up a 20% discount code for StrettyNews.com readers. The code is STRETTY. Click here and claim your discount.