Post Fergie and in the short United careers of Moyes and Van Gaal games against Swansea have been quite defining; the Moyes 4-1, the FA Cup exit and the home defeat for Van Gaal.
With the race for the third and fourth league positions becoming ever closer it was hoped that this game wouldn't be so defining.
Personnel
In: McNair, Jones
Out: Valencia, Smalling
Key Points
Swansea matched United's formation, diamond for diamond. Man-marked the players struggled.
The space in front of the right fullback was where Swansea took the initiative, mainly through Selby.
United piled the pressure in the final third but didn't make it count – 202 v 79 final passes
The poor form of United's strikers is a concern – take the chances things will improve.
Was United's goal a glimpse of the type of play Van Gaal wants? If so, next season can't come quick enough!
Swansea's play was focused on their right with plenty of long passes into the area of Shaw
2nd loss in 20 matches
First Half
First Half
This game was notable for the identical formations, a diamond versus a diamond.
What made this interesting was how it nullified much of United's early play but it also saw Swansea take the initiative by utilising the space in front of United's right fullback position. In addition to Sigurdsson pulling off Gomis with the livewire Routledge, the key player was Selby who was often seen operating in far too much space, contribution from the defenders, Jones in particular, who were out of position.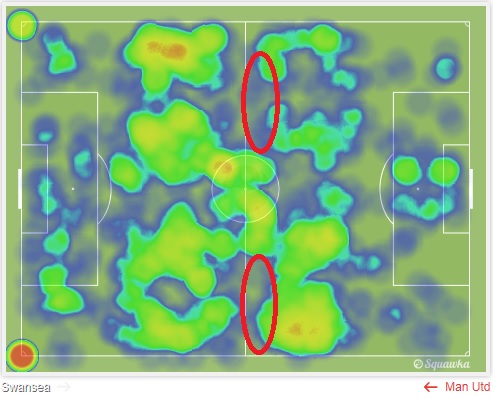 United Heat Map – space behind diamond and in front of defenders
Gomis' height was an issue and it was concerning to see how often he wasn't picked up on set pieces. As well as defenders who can carry and play with the ball United also need more commanding defenders.
Whilst such concerns persist at the back it is the front line which is in most of a boost. Uring the game the following stats were provided from the duo of Rooney and Van Persie:-
Van Persie – 7 shots / 5 off target / 1 saved / 1 hitting the woodwork
Rooney – 3 shots / 1 off target / 1 saved / 1 blocked  / 3 chances created
This simply isn't good enough. The need for clinical finishing is obvious and whilst such statistics persist then results will still be hard to come by; confidence must be low.
BOOM! That somber forecast aside, United did score a goal which gives hope for the future. It was a perfect goal in terms of tempo, speed, clinical passing which destroyed the Swansea formation.  This was not an easy chance for Herrera to take but the buildup play was a joy to behold.
The joy didn't last long as two minutes later Ki Sung-yueng scored after that space in between the diamond and the defence was used for Shelvey to cross into Ki who found it too easy to get in front of Shaw and knick it past De Gea.
Shelvey space – too much space was offered to Swansea in this area
Despite having 64% possession United showed really poor ball retention.
Second Half
Van Gaal brought Valencia on for McNair perhaps in an attempt to arrest this deep mindset in the right back position and push on to Shelvey who had enjoyed lots of time in possession. Ironically this may have led to the space Shelvey had for the second goal where he'd switched over to the United left.
Valencia on for McNair
Near the hour mark Young was brought on for Shaw to deliver greater attacking intent. With him and Valencia pushing on we saw Blind take up a much deeper role.  Also, Shaw was struggling to deal with the long passes and the runs across him by Ki, we saw Blind's reaction to one instance as evidence of this.
Swansea heat map and long passes chart
The second goal was scored on the 73rd minute which was saw a repeat of the space (although even greater) afforded on the first goal. Who was marking Shelvey?
Swansea's second goal saw a repeat of Shelvey not being picked up
Mata on for Di Maria yet he played too deep to be effective.
When Amat came on for Shelvey he sat a lot deeper and screened the defence.
United overall player positions
Conclusion
With Van Persie's injury does Van Gaal opt for a new frontline combination? Would a Wilson and Rooney partnership see greater attacking intent, movement and space creation?
What next up front? A Wilson and Rooney combination?
The diamond was exposed in a defensive sense and this explains why Van Gaal has played Rooney there, deeper, in previous games as he has the nous to assess danger better than others.
United's away form an issue and without speedy forwards who can take chances then it may be difficult to see this improving.
The defence, not just Shaw, showed poor positioning however it was Shaw's positioning which led to goals and near misses for Swansea.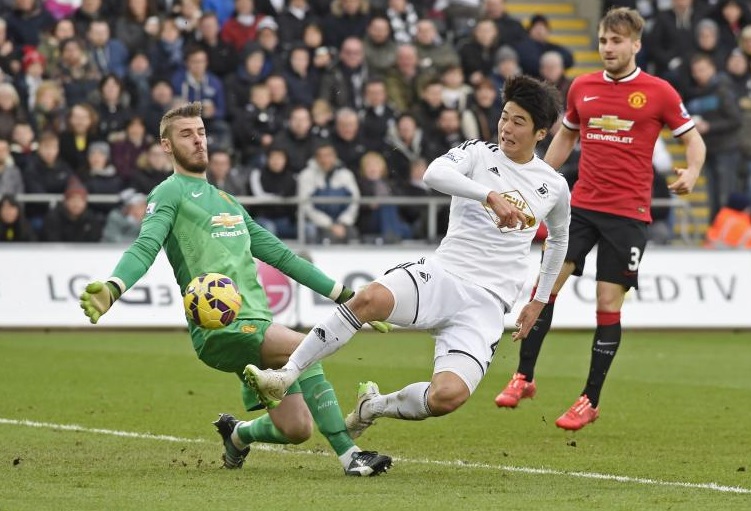 Shaw letting go of his player
Post-match Rooney talked of the need for an improved performance in the next game. No doubt but time has come for the talking to stop and the action to begin!