Another encounter for United against lower league opposition in the FA Cup represents their only tangible opportunity for silverware this season.
This desire for a trophy was against the backdrop of Van Gaal's use of Rooney in midfield with the "composition" of the team key. With Falcao and van Persie up front van Gaal has a point in that
Personnel
In: Valencia, Smalling, Shaw, Fellaini, Herrera
Out: McNair, Jones, Evans, Januzaj, Van Persie
Key Points
The first half was rather turgid for United but had elements of hope within it
Rooney up front saw much more movement from the forward line than usual
Di Maria aside there were not enough runs from midfield to create space for the forwards
Herrera played well and substantiated his claim for more starts
Falcao substitution saw a big change – United went for width and directness
United's defenders did enough but didn't cover themselves in glory
First Half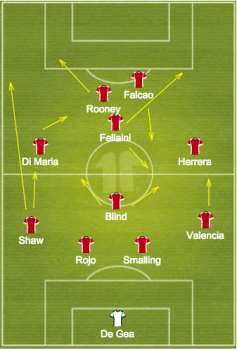 First Half formation
In the early going United were in a clear diamond formation with Rooney shifted up front to partner Falcao whilst Fellaini dropped behind; United were mobile as positions and formation changed. There was great promise.
In the early going United's fullbacks pushed on, Preston's conversely weren't, with much of the play trying to take advantage of the space on the left hand side with most of the play starting through Blind. Di Maria was guilty of a few wasteful passes.
United defenders enjoyed a useful tussle, with pressure chiefly coming from Davies who played on his own up top with Garner dropping off. Preston were overcoming United's early promise noticeably frustrating Fellaini.
During the half there was conflict in the Belgian's role, he dropped deep and ran with it yet without zip, he wasn't alone in this, and then he would be pulling out wide of the 18 yard box. Again there was a lack of cohesion throughout the United team. For example, Rooney was more alive to passes and runs than Falcao or Fellaini who were regularly marked by an organised Preston defence.
As the game came to an end we saw the rise of Preston's fullbacks Laird and Humphreys yet De Dea was not troubled in any way.
Second Half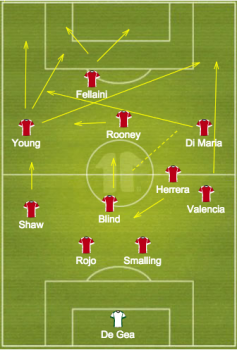 Second Half formation
The warning signs should have been there for United after Humphreys sailed a cross over to Garner and the space that Laird nearly found himself in was clear.
Preston took the lead soon after when a mis-kicked ball from Blind was headed unchallenged by the Preston defence.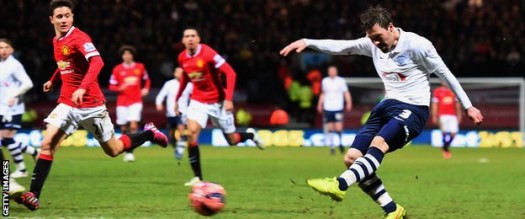 Laird striking
This then came to Davies who bullied Rojo far too easily in the header but it was the positioning of Valencia that gave the scorer Laird room to strike. Valencia moved over to fill the space left as the defence moved over too much to the left. That area presented a few opportunites for Preston in the next ten minutes.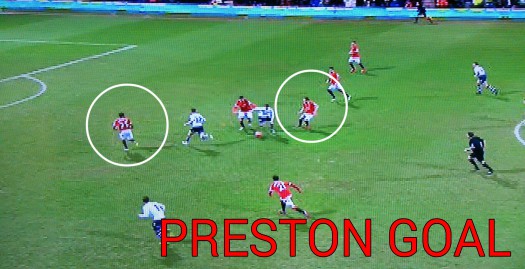 See Valencia's positioning allowing space for Laird to attack
United's diamond remained as Preston went from 3-4-3 in attack to 4-5-1 in defence and on the 60th minute Van Gaal saw fit to change things with Young who came on for Falcao; another frustrating evening for the Columbian. The shift saw Young left, Di Maria right and Fellaini up with Rooney.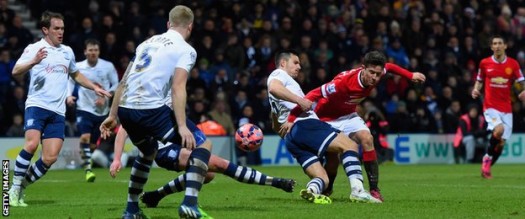 Herrera scores
BOOM! Then United spared their blushes through Herrera who scored his second FA Cup goal following a pass from Young who found himself on the right hand side, creating an overload.
BOOM! Valencia did really well but was allowed a lot of space to attack to get his cross in. The cross was great as it found the right man in Fellaini who headed at Stuckmann then prodded home the second ball….desire! 2-1 as Valencia had become much more involved.
The shift in Preston's mood was clear as Grayson rolled the dice with three changes going to a 4-4-2; The United mood was reflected in the supporters mood, bouncing.
Then Rooney bagged a penalty after being tripped by Stuckmann. 3-1. The build up was key in this as it was one if the only instances in which Smalling attacked the ball decisively.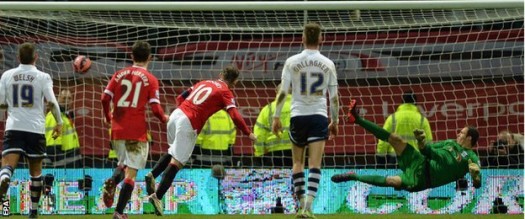 Rooney penalty
Conclusion
United came to life when they went behind but it was also influenced by the introduction of Young. This stretched the pitch increasing the spaces between the defenders, Van Gaal must be applauded for the change.
The tempo was a big omission up until this substitution and we saw speed paired with directness; Valencia's crossing, Fellaini's heading, Young's movement and Rooney's overall performance were tremendous and a lift from the insipid forward play of late.  Van Gaal's point about including Rooney in midfield due to personnel matters has a point but with Herrera in the team the question of advantages and disadvantages of Rooney's position is answered, he must go up front.
Arsenal beckon.