This was another poor ponderous performance from United. Burnley came to compete and seized the initiative, they were positive whilst United forgot to compete in the first half. At least United woke up to the fact they were in a contest after the break.
Van Gaal wants his sides to play a high tempo possession game, but the question remains, how many of the current squad are technically proficient enough to play this way?
A Game of Two Halves
This game was a case of a game of two halves, two formations; both 4-4-2, one with a diamond, one a flatter version. The switch seemed to be as a consequence of the injury to Blind. In The first half the diamond consisted of Blind as the defensive player, di Maria and Rooney as the two outside players, (di Maria to the left and Rooney to the right), and Januzaj at the tip. With Herrera replacing Blind late in the first half United changed to a flatter shape after the interval with Rooney and Herrera both sitting fairly deep and Januzaj and di Maria playing much wider.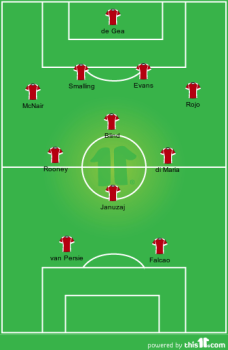 You Always have to Compete
United were especially poor in the first half and only slightly better after the break. Burnley was excellent throughout; full of energy and purpose. They were positive in possession and alert when United had the ball. They outfought United and it seemed a long time before United realized they were in a contest.
After conceding an early goal one might have expected Burnley to collapse. But they steadied themselves and played with purpose. They set up as a basic 4-4-2 but they pressed United and when they got the ball they pushed wide, constantly trying to get at and behind United's full backs. From there they looked to either push inside or put over a cross. They played with purpose and at a tempo and seized the initiative.
Herrera and Rooney
In his after match press conference van Gaal explained that whilst he recognizes that Rooney is a better forward than midfield player, he feels it necessary to play him in midfield at the moment for the sake of the balance of the team. We have felt that this was the case for some time. Rooney can give the side a physical presence and robustness that we are lacking without a box-to-box midfield player and he watches the space behind the likes of di Maria and Januzaj.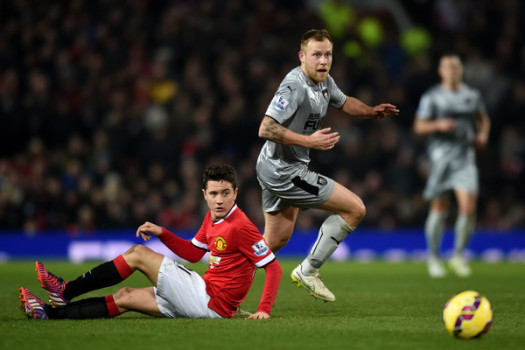 Many fans have been asking why van Gaal has rarely selected Herrera. Herrera did okay when he came on here but he did not excel. He was busy and always showed for the ball, being prepared to take a pass in the tightest of spaces. Ironically these are qualities that van Gaal needs if he is to make a success of his possession based game plans. He kept the ball moving and was well suited to the task at hand after the woeful first half as he competes. He is rather the terrier to Rooney's bulldog however and perhaps that is why he hasn't been getting the games; does van Gaal think he is a little too lightweight.
A Flat Back Four
As already described Burnely looked to attack United's fullback, McNair and Rojo. It was fortunate then that they were probably United's two best performers over the full match. United's defence looked shaky, but it was in the central areas that their defensive problems were manifest. Whenever the ball reached the middle panic seemed to set in. Putting aside Jones, (who only lasted 5 minutes before being withdrawn with injury), Smalling and Evans were woeful. They were indecisive, and inattentive, (although Smalling was alert enough to grab two goals in the opposition's box). All too often they failed to track forwards and allowed them to get goal side. They were seemingly second to everything. Only the excellence of de Gea and some luck saved United, especially in the first half.
A Flat 4-4-2
The change to a flatter shape was a move back towards the traditional United approach, but the problem of a lack of tempo persisted and was joined with a lack of movement. This resulted in a preponderance to push the ball square to Januzaj and di Maria. It appears inconceivable that van Gaal will embrace this approach because it will not in itself address the underlying problems and it will make it harder for his side to dominate possession with only two players in central midfield.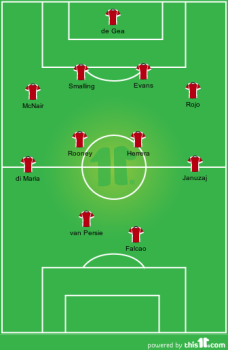 A lack of tempo in their passing is still United's biggest problem; this is a common theme whatever team and whatever shape they field. Ultimately set pieces saved the day.
Falcao and van Persie
Falcao and van Persie are both struggling at the moment. Van Persie improved in the second half when he played as the forward dropping deeper in the flatter 4-4-2. As a consequence he became more involved in the game. He was still providing very little movement off the ball but starting deeper he tended to see more of the ball and when he got it he then collected, moved with the ball and brought others in to play. He generally followed the trend of pushing the ball wide.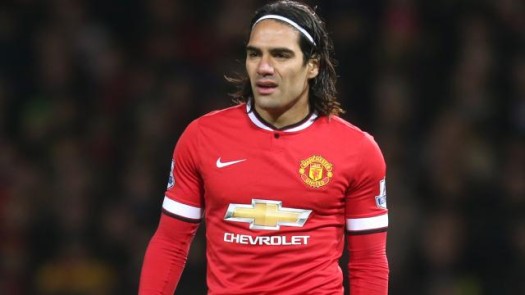 Falcao looks low on confidence. He tends to move back towards the ball but for much of this game he didn't do that. His first touch was also poor so if a ball was pushed up to him he tended to lose possession because of poor close control.
Is it time to give James Wilson a run in the side, rather than the cameo substitutes role he had here. When introduced he injected some energy into our forward play and his pace made Burnley take a step back.