Historically United have done well against West Ham and club captain, Rooney, has an equally impressive goalscoring record. Yet, it remained doubtful whether he would be able to add to that as van Gaal has recently taken to playing him deeper than he is used to and there was no suggestion in the build up to this game that there would be a change in that.
Key Points
Allardyce's point about United's long ball tactics was invalid; the stats showed West Ham played in 28 long passes from inside their half compared to United's 21, with a third of clearances from headers in the box.
West Ham targeted Shaw with their long balls, he won 8 of 9 headers and he was called into making a number of deceptions.
United's corners need to improve. This holding up of two hands when taking them can only signal, crap corner coming in.
Falcao and van Persie were largely ineffective and made little impact in the 18/6 yard box.
Van Gaal changed it with the Fellaini substitution. This pressed West Ham back and United took the game further up the pitch.
An opponent fearful of you being able score till the end must not be underestimated but there's a difference between being unbeaten and undefeated.
Top performers were United's defence, de Gea included.
Personnel
In: Valencia, Jones, Shaw, Falcao, Januzaj
Out: McNair, Smalling, Evans, Mata, Fellaini
First Half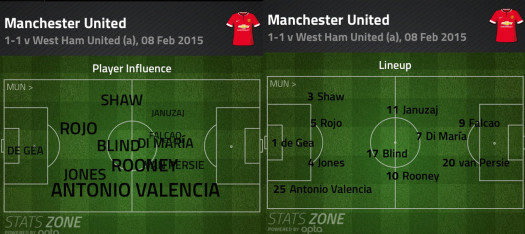 United player influence over the course of the game versus first half line up
As a 4-4-2 diamond, albeit with Shaw and Valencia booming on, United encountered a lively West Ham side whose formation was less obvious; changing depending on whether they were attacking or defending.
As expected without Carroll they were narrow with the pacey E. Valencia and Sakho up front in a formation that changed from 4-4-2 to a 4-3-1-2 with Noble tucking in, sat in front of their defence.
Despite not having Carroll, West Ham still threw a number of crosses into the box which de Gea, United's standout player, deal with well. The supply came down the left with Downing (who cut in) and Cresswell; this may explain why van Persie was often seen out wide closing down the left back.
Falcao and van Persie were out of it. Three concerns were the lack of pace, the ability to retain possession and poor combination work. Compare this to the opponents strikers who were livelier and better balance in their positioning. Falcao and van Persie played better vertically than horizontally.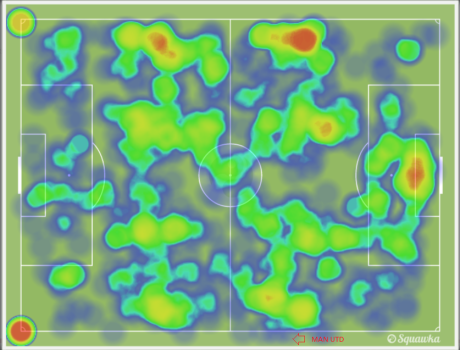 United heat map – note the forward area
Their effectiveness on the counter is summed up by the fact that they are stationed on the posts at corners and not up front awaiting the counter.
The first 15 minutes saw West Ham take a 4-1 lead in the corner stake. As an expected outlet, Di Maria was too deep to be effective and not able to extend the pitch.
United had a poor half and the only element of joy came down the left which, only lasted no more than 5 minutes, was a little light relief but with Noble coming more central it left a degree of space that wasn't taken advantage of.
The half ended with United taking their first shot on target through di Maria and as a double positive also equalled the number of corners taken, 5-5!
Second Half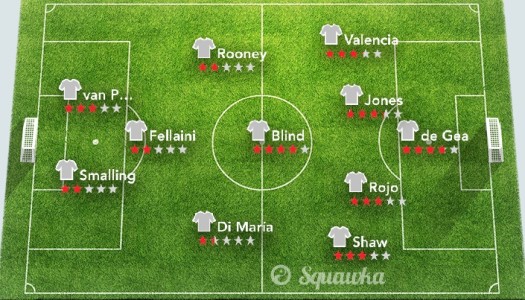 Line up second half
It had to happen, a corner led to West Ham taking the lead, Rooney was bullied and de Gea unsighted as Kouyate showed great skill, albeit in acres of space, to score following a deflection off Blind.
In this half you wanted more bite from Rooney. He was all over, stats showed him very much involved but despite this he appeared ineffective and often badly positioned in relation to Blind. After the goal West Ham assumed a flatter formation and as a result Rooney relied on his long range passing.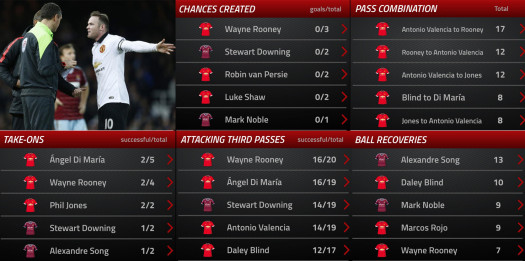 Rooney performance
United had to up the pace, a common theme of this season, and when they did the positions they took up, usually through the wingbacks, would have benefited with an overlapping run with the wingbacks or the wide players in the diamond.
Then the much needed change came on 71 minutes when Fellaini came on for Januzaj.
The tempo changed as United became more direct and the first neat bit of play between van Persie and Falcao saw the Columbian miss a great chance. You obviously want him to score but he's struggling to take chances when they come.
Comparison of shots – first half v second half
This directness came about because Fellaini pitched up behind front two, shifting di Maria as a result. It was interesting to note his positioning on set pieces which was always at the back spot of the line of play, opposite to the kicker.
With ten minutes to go West Ham retreated into a 4-5-1 and Allardyce seemed surprised that United went long? The truth is, West Ham played 7 more long balls than United.

Blind Positioning
BOOM! All seemed in vain though as West Ham kept compact but then in the 91st minute Rojo crossed a ball in which was dealt with badly by Jenkinson and Blind was there to pick up the second ball, something United didn't do enough of, and score.
Blind found the space after the impressive Song failed to track him.
The game ended on a mute note when Shaw was sent off for what looked like a good challenge!
It was indicative of applied tactic by West Ham to occupy that space.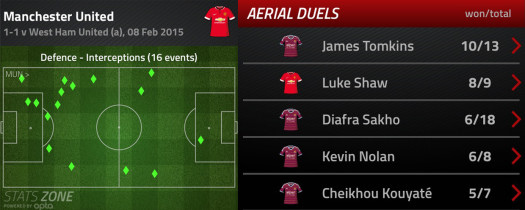 Shaw defensive duties
1-1.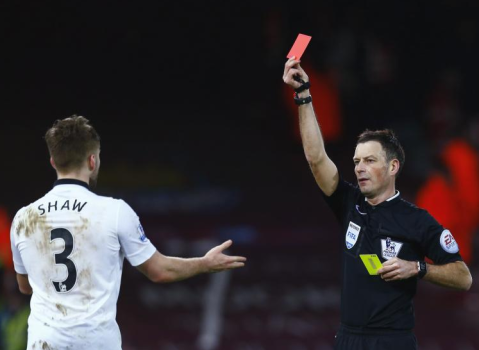 Shaw off
Conclusion
A victory after going behind still eludes van Gaal and yet the fighting spirit and Fellaini change was a positive despite a poor performance by United.
Despite being third in the goals scored column United's play is weak. Even though Falcao and van Persie showed that strength is important, speed is needed to create space for others to attack and occupy.
United sparked into life after West Ham scored yet the dominance that van Gaal craves needs to be backed up by a degree of menace; menace and fear are required for total dominance.
Although it was through a cross and a header by a West Ham defender the space that Blind had to strike was due to the pressure created in the zones that mattered. Pressure will bring about change.
A change in philosophy after the sub saw United become more direct and lose their sense of shape.
There was a silver lining in the maintenance of the belief that United never give up and that is important with the opposition's positioning as the game winds down. An opponent fearful of you being able score till the end must not be underestimated.
Is Rooney in midfield to accommodate and at the sake of van Persie and Falcao?  It feels like a waste and West Ham's tactic of sitting on him just make him frustrated and useless.Talk of how van Gaal modified de Boer's and David's game is about improving them as they are, i.e.,  as a midfielder but Rooney is a striker.
As such the front two must be given a new agenda, one that works to their strengths. Whilst they are both similar –  dropping deep, strong on the ball they also have differences – type of runs and build up play. These need to be utilised if they want to stay together and Rooney isn't reinstated.
Overlapping and outnumbering was missing, be that with the wingback or the wide midfielder interchanging there simply wasn't enough movement to trouble Jenkinson or Cresswell.
This was a poor performance yet it is one that has to be looked at in a positive light. The provocative post match comments by Allardyce about United's long ball desperation only highlighted how frustrating it may have been to see his team throw away a deserved victory. Yet what is no doubt clear to van Gaal, is the stats that he uses to riposte his defensive critics don't seem as credible as the stats of his strikers, despite the run of games with only one loss.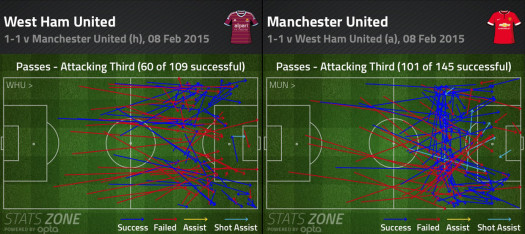 Long balls comparison
There's a difference between being unbeaten and undefeated.