United returned to league action with a home game against Leicester City and were looking to avenge defeat against this opponent earlier in the season. Then United had raced into a 3-1 lead before capitulating in the last twenty minutes. Could United demonstrate an improvement and control the whole game this time?
Van Gaal opted for 4-4-2 Diamond with di Maria at the head and Blind at the base. Both players made important contributions and were probably United's best performers.
Tempo
Whilst this was an improved performance with United again dominating possession, (72%), the tempo of United's passing was still generally too slow. When they quickened the pace they created space and chances. This is frustrating because on several occasions United player's were forced to pass early and quickly when in tight situations. They did this well and this change of pace often opened up space. When they had time on the ball United's passing was slower and as a consequence did not ask questions of the opposition.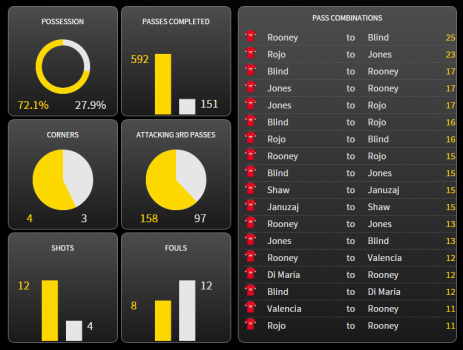 One is tempted to ask whether van Gaal's possession based philosophy inhibits players making them overly concerned to not give the ball away and so to take the easy passing option. It was notable here that all three goals came when United quickened the pace of their passing.
Width
Width remains an issue. It is a feature of all the team shapes favoured by van Gaal this season that the fullbacks or wing backs are the players relied upon to provide width. In this game Valencia and Shaw rarely got forward and as a consequence play was narrow. Di Maria with a seemingly free role provided width on a number of occasions in the first half, (including on the occasion of Falcao's goal), whilst Januzaj moved wider in the second half and delivered a number of low crosses.
Width is important, especially against teams who defend in depth. It is far easier to defend on a narrow front as both Southampton and Cambridge have demonstrated recently. The use of width to stretch a defending team across the pitch is vital to create space and isolate defenders. United aren't getting this right at the moment. We never thought we would say this but we are missing Ashley Young whose play as a wingback has stretched teams. It appears to be no coincidence that we have created fewer chances since his injury.
Daley Blind and Wayne Rooney
We have noted on social media a number of fans identifying that Wayne Rooney had a subdued game and was generally too deep. We disagree. Rooney had a very good game. On more than one occasion he could be seen directing players to maintain the team shape. The point is that Rooney's subdued game and relatively deep position provided a security blanket which allowed di Maria to be more adventurous in his play.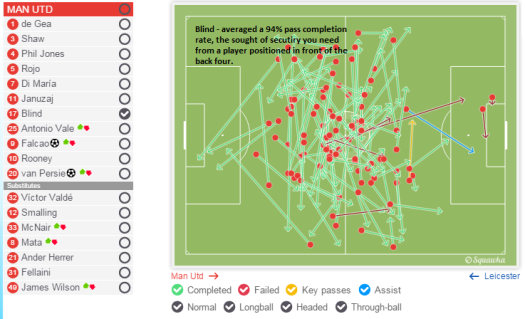 Daley Blind was probably the man of the match. He set up van Persie's goal, retrieving possession and then chipping behind the Leicester defence but most of his work was simple. He patrolled in front of the defence, reading the game so well that most of his work became naturally unspectacular. This made life relatively easy for the defence. The critical statistic is his pass completion average. United averaged 88% pass completion in this game but if you look at the averages across the midfield diamond they were exactly as you would want them to be with greater security the deeper the player. Blind averaged 94% pass completion, Januzaj 87%, Rooney 86% whilst the most advanced player di Maria averaged 69%.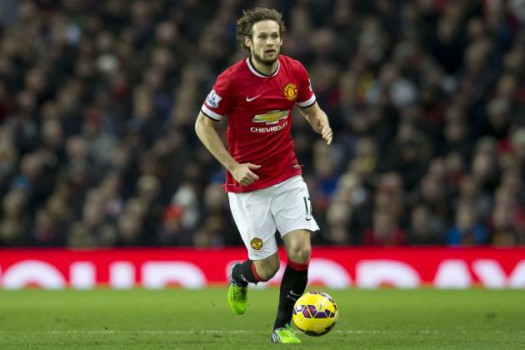 Blind's performance was exemplary.
Angel di Maria and Adnan Januzaj
Di Maria had an excellent game. He was positioned in a deeper and what many would consider a more appropriate position than in recent games. Notionally playing centrally he was effectively given a free role and moved across the attacking line. He was the main, and for long periods United's only creative spark.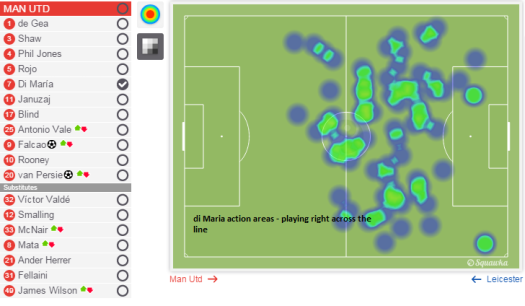 The difference here in United's play and ability to create chances in comparison to recent performances was the inventiveness of di Maria. He was given a free role with the other midfield players effectively watching his back, (It is noticeable that Januzaj was perhaps slightly more adventurous after half time when United had a commanding lead). Every time he got on the ball in the final third and lifted his head his first instinct was to pass or run forward. It is noticeable that Januzaj was perhaps slightly more adventurous after half time when United had a commanding lead.
As alluded to above it was a game of two halves for Januzaj. In the first half he was relatively subdued whilst in the second half he moved wider and was more adventurous, taking people on and hitting a number of hard low crosses. It didn't quite come off for him but this was a promising performance.
Over caution?
Unlike in the game at Leicester United controlled the game having taken a commanding lead. Their play lacked ambition in the second half when they might have gone on to post a statement score line. Were they overcautious? Yes.
Whilst this was a better performance from United, the twin issues of tempo and width persist, and this despite a change to what appears to be many fans preferred team shape; a 4-4-2 diamond.
With the game won in the second half United looked to see the game out and were guilty of playing to many cautious, square balls. Having thrown the game away in the corresponding fixture earlier in the season a degree of caution was perhaps inevitable, but at home against the current bottom team in the division this seemed like over-caution.