It might be trivial in the grand scheme of things, but that title was not my preferred one. Due to publishing regulations, I could not use the once popular chant of our Samba slacker defecating on Cesc Fabregas to my advantage. 'S***ting on Fabregas to s***ting away a career' therefore could not headline this piece.
So we put it to our Facebook fan club to give us their best 'Where's Ando's?' to sum up one of the biggest United falls from grace:
Some of the responses were somewhat emblematic of the immutable jabs at his weight, and in part gave inspiration to the title- 'Ando's in Nandos' was the post with the most endorsement. Bem Brasil was also mentioned, a familar vantage point with home comforts. Others went for the more blunt approach- 'stopping at every cash machine in Manchester, checking his balance and pissing himself laughing', a brusque in nature response that does not mask reality. The final noteworthy answer summed up his current predicament- 'he is in limbo'.
On paper, you would expect a 26 year-old with a European Cup and 4 Premier League medals (how many you got Stevie?) with 8 Brazil caps to be inundated with offers. Theoretically, at that age he would be reaching the peak of his career, really kicking on and making headlines for his performances on the pitch.
The only headlines you will see on his exiled existence these days are parking tickets after, you guessed it, being out for lunch and NO interest in his services whatsoever. When you think off the top of your head about the number of teams, leagues and countries playing professional football, that is a shocking indictment of a cataclysmic demise.
Anderson can only pinpoint a triumvirate of fleeting appearances donning the United badge this season- the first was the charitable phenomenon that swept the nation 'The Ice Bucket Challenge' after which he, rather optimistically, nominated the man who had put untold amounts of faith and dollar into securing his services- Sir Alex Ferguson.
The second of this three part blockbuster was replacing Angel di Maria on his debut at Burnley in a limp goal-less draw. Did anyone else see any Burnley players quaking in their boots at ADM's withdrawal for him? Effectively ditching Scarlett Johansson as your missus for Susan Boyle, no offence to any SuBo fans out there, she has actually made use of what talent she has!
The grand finale was arguably the nadir of his United career- that humiliating 4-0 Capital One Cup exit to MK Dons. He was outran and overpowered by protege Dele Alli that night. Yes he is a fantastic prospect, but he should have been given a footballing lesson, not dishing one out. That he did not even make it off the bench in this month's success at Yeovil spoke volumes. Whether he makes a cameo against Cambridge tomorrow remains to be seen.
This is what it has come to, struggling to make the cut against lowly opposition. Ideally, if he had kicked on as we'd hoped, the only selection debate ahead of Cambridge would he if he needed a rest, not whether he deserves a place in the matchday squad altogether.
A player pouring cold water over Anderson was somewhat symbolically ironic, given that since the early days all he has done is pour cold water on our hopes that he had what it took to be a top midfielder for United.
When he was being monitored United scouts, ironically another Ferguson, tipped Anderson to eclipse the feats expected from the equally unproven Wayne Rooney and Cristiano Ronaldo and, as such, United forked out a bigger sum from the coffers to entice him to Manchester. He was tipped to go all the way and write himself into greatness, he was the new Paul Scholes allegedly. Now United cannot wait to get him off the wage bill quickly enough.
The Berlin wall's collapse was pretty spectacular, Ando's United career has been demolished, for whatever reason, in equally grand fashion but will not be regarded as such when he cuts his ties with us, just an unfulfiled promise.
At 26 years-old, the great midfielders all decided to up the ante and take their games to the next level, the likes of Lampard, Gerrard, Scholes, Zidane, Seedorf, Pirlo, Xavi, Iniesta, I could go on. Sitting at the opposite end to those luminaries, however, is Anderson. Unwanted, swept up on the scrap heap, a future bereft of certainty.
Brazilian legend Tostao even likened the Ando coming to prominence in the same breath as Ronaldinho and Neymar. That, twinned with the predictions he'd outshine Ronaldo and Rooney, has got you all saying 'next gag please'. Almost as conceivable as that flourishing early season partnership he formed with Tom Cleverley, isn't it? Believe me, that did happen.
The player that once played Cesc Fabregas and Gerrard off the park in their own back yards, ergo the chant being invented, is a bygone memory/fantasy. For a player with the budding reputation of a box-to-box enforcer, managing to only complete a mere 20 out of 71 starts is incomprehensible, which adds weight (no pun intended) to the common gripe about his… habits, shall we say.
He was even a virtual stranger at the start of Fergie's final season, emerging onto the field on the opening day away at Everton with 'ANDESRON' on his back.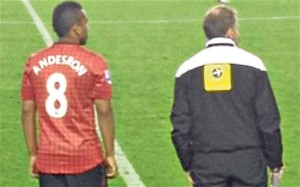 Fast forward 30 months or so, and he has not lost that stranger tag. With United loathed to rip up the remaining 6 months on his existing contract, he is at a crossroads in his career: with reportedly literally no takers whatsoever, his chances for a move look remote to put it kindly.
Fresh scenery in Florence and fresh management in Louis Van Gaal have failed to resusciate a career in a ceaseless coma.
Carrying on with the medical theme, if Ando had given intensive care to his time at United, a completely different story would still be in progress.
Instead, he is counting not only his money, but his days left.
The story upon signing in 2007 was not meant to end this way.