The defeat against Southampton was a bitter pill to swallow from the football side of things. That day was doubly soured for many fans as the highly esteemed fanzine, and a major part of match going fans' match day ritual, Red Issue was published for the final time.
After 295 editions and 26 years of slapstick and highly publicised controversy, the fanzine has now ceased its publication because, in their own typically unique choice of wording, they 'cannot stand the stench' of modern-day football any longer.
Despite the old adage of having to 'embrace change', the modern-day football world of half-half scarves, selfie-sticks, iPads and the lark have been burdensome obstacles for the old-school traditionalists and ones that are virtually impossible to overcome, which is something that has driven Red Issue to such drastic measures.
The decision will undoubtedly be a wrench to its contributors and readers alike, even though Red Issue certainly tested the boundaries with its content it was still hugely popular within the United community with a member of the team going on record upon closure as saying, 'A United employee told us on Warwick Road recently, 'Everyone in the club offices reads Red Issue. It's like the antidote to working there'.
And, in an exclusive interview, we managed to speak to the co-founder of Red Issue 'Zar' to get this overall thoughts on the hard work put into the publication.
What was your involvement with the fanzine and how much pleasure did it give you?
I'd approached Barney (Red News) about being involved with that, but he wasn't interested as it was his baby, so I poached one of his main writers (Veg) and together we started Red Issue.
It was all about the crack at the start spent many nights nearly dying of laughter at some of the gear we were sent but could never use in the early years.
What was it about Red Issue that made it such a popular read?
I'd hope the fact that it was a bit different from your standard rag with the humour taking priority in my time as co-editor.
Had its content differed as its reputation increased?
Yes, of course, probably less offensive after I left.
What was your favourite/most memorable front cover and why?
I never really had one to be honest, the front cover was always an after thought, content was the most important thing, favourite back cover of course was the cow (see below).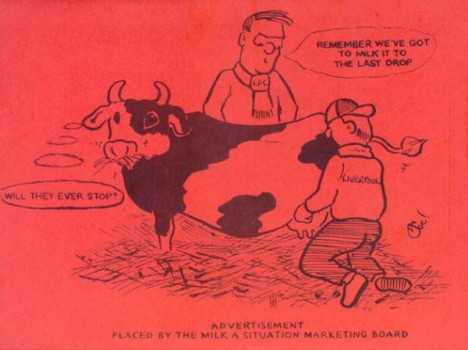 Do you fear for the future of fanzines? Only two United ones (Red News and United We Stand) remain.
Yes, I can't see them lasting as long if they refuse to embrace modern technology, and move on, football has changed for good and there's no going back.
Stretty News would like to thank 'Zar' for giving his time and thoughts to do this interview.