After a cup win at Yeovil United returned to Old Trafford for a potentially testing fixture against Southampton. 3rd against 4th; United were looking to stretch their lead over the visitors in the table to 4 points. Southampton on the other hand could leapfrog United if they won. This game was a genuine "six-pointer".
Changes
Van Gaal made seven changes from the starting eleven at Yeovil. Was this too many? It was a surprise to see Blind and di Maria start after prolonged lay-offs.
Blind certainly looked rusty, his relationship with Shaw was problematic; di Maria had only had half an hour in the previous game against a tiring Yeovil. On van Gaal's own terms one would anticipate that both players would lack "match rhythm".
Strategy and the tactical battle
Van Gaal persists with a three at the back strategy but rather than 3-4-1-2, this was more of a 3-3-2-2 with Carrick sitting in front of the three man defence and the wingbacks alongside him. Ahead of them was Mata, playing deeper than usual to the right and Rooney to the left. Di Maria and van Persie were the front two. Southampton utilized a 4-2-3-1 shape. The two pivots, Schneiderlin and Wanyama stayed in position in front of Alderweireld, (replaced by Gardos on 21minutes) and Fonte. These four did not move much and were able to go man-to-man when necessary with United's front four. Pelle led the line whilst the fullbacks and the three behind Pelle were prepared to move more in response to the game situation.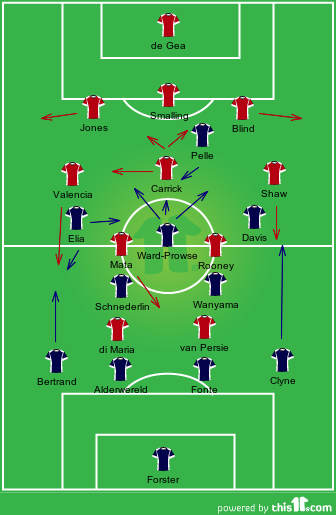 United had 60.7% possession but we would have to question how well their strategy worked because they created very few chances and ended up with a grand total of zero shots on target. Much of United's play was in the deep, with much of the passing being too cautious, methodical and measured to hurt Southampton. United spent a minimal amount of time in the final third where Southampton's pivots and central defenders formed a formidable barrier.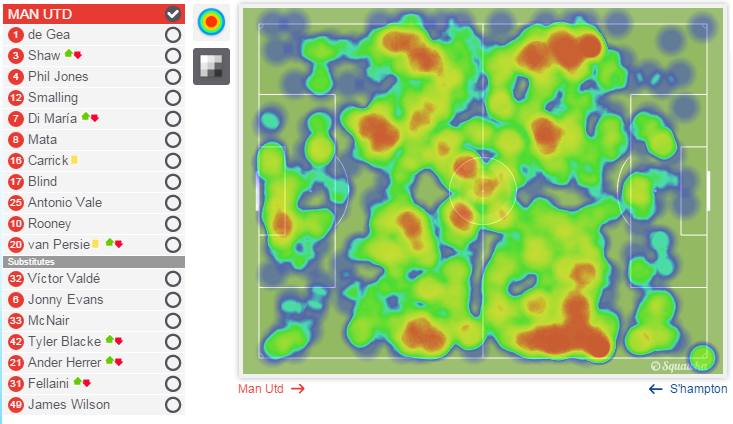 Southampton won the tactical battle because they remained disciplined and United's passing was ineffective. With Southampton defending the area in front of their box across the width the goal United needed to stretch the play wide but with both Shaw and Valencia being too cautious they did not do so.
The return of di Maria
Why did van Gaal chose to play di Maria from the start? Would he have been more effective if introduced later in the game as the opposition tired when his fresh legs might have compensated for his lack of recent game time? Di Maria was played as a forward in this game; under van Gaal he has played in several positions and it is not certain that the manager has decided yet how to get the best out of him.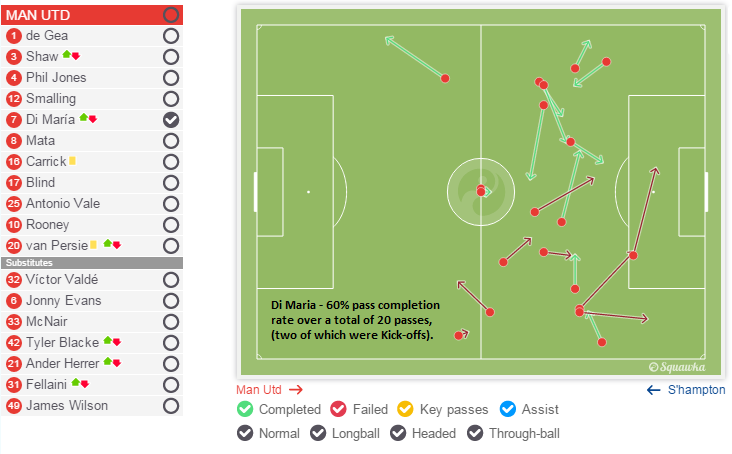 He struggled to make an impact against a fresh alert Southampton. His pass completion rate in the game was a low 60% across 20 passes, (two of which were kick-offs). This compares with van Persie, his forward partner's, completion rate of 80% across 16 passes, (one of which was a kick-off). He is a great player but clearly needs a few games to get back to his best.
We would question whether the position in which he was deployed here suits him? His pace and runs trouble people and pull teams out of shape, but when utilized in an advanced position the space to run often isn't there.
A return of United's early season weaknesses?
A couple of early season problems resurfaced in this game.
Firstly United had difficulties moving the ball out from the back. Southampton stood off the United back three allowing them to have plenty of the ball. It was as if Koeman had decided that these players could not hurt his side. Instead Southampton dropped slightly deeper and crowded the space around Carrick. As the game wore on Mata and Rooney came deeper to try to overcome this problem, but this just left van Persie and di Maria more isolated. The question remains do we have the type of technical defenders needed to make a three at the back strategy work? We could also ask if we have wingbacks that are good enough as well. To overcome these problems and make this strategy work they have to do more. Shaw in particular had a very poor game.
This was generally a tight game with very little space. When Southampton had the ball at the back in contrast to Southampton's strategy United pressed. Southampton's response to United's press was to hit the ball long; United retained the ball with short passing moves and that is why they had the larger share of possession.
This brings us to the second re-occurring problem, the second half wilt. United lost their way from about the hour point. Earlier in the season this problem occurred when United were employing a 4-4-2 diamond but by the hour mark they were in the lead; here it was still 0-0. At about this point Southampton introduced Tadic for Elia and started to press United higher. The bolder approach resulted in Southampton catching United and after a turnover of possession in the United half Southampton scored.
Outfoxed
United's passing was often too slow and they were far too slow in moving the ball forward. Why? Poor or at least ineffective performances by a number of key players and a failure to stretch the opposition wide are the answers. Possession isn't everything and patience isn't always a virtue. Only after going a goal behind did United start to move the ball forward more quickly and this was often in the form of a long ball towards substitute Fellaini. This created a number of chances which with the rub of the green and a little more composure might have seen United snatch a late equalizer. This change of strategy felt like desperation however.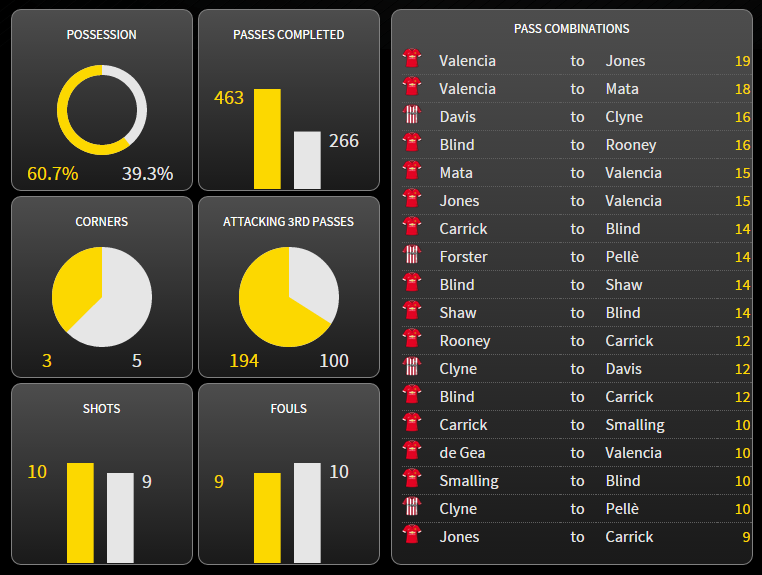 Southampton played a disciplined game and effectively outfoxed United, they were worth their win. United saw plenty of the ball but generally in areas where they were unlikely to hurt the visitors. Possession alone is not enough.