Having never played a competitive game at Huish Park, United went into this third round FA Cup game facing a team that had only scored 5 goals at home so far this season.
Most feel that this is United's only chance of silverware this season and with van Gaal having had Yeovil scouted three times the intent was clear.
Personnel
In: McNair, Blackett, Rafael, Herrera, Wilson and Fletcher
Out: Van Persie, Mata, Young, Carrick, Jones and Evans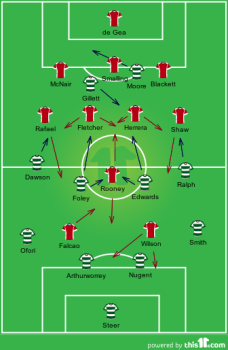 United's wing backs were the dominant feature in the first half but couldn't do anything with the ball. There was too much reliance on them and they weren't having much luck; Rafael in particular fluffed many passes in the final third. He was often free in masses of space but the switch ball from left to right was either too far or not seen.
In the first half United's midfield was ponderous making it easy for Yeovil to mark and press.
This led to an inevitable tiring on Yeovil's part and with the switch to a diamond midfield in the second half where United kept the ball better.
This change due to injuries suffered to Shaw and Rafael saw Mata and Evans come on and United shifted to a 4-4-2 with a midfield diamond. In defence Evans slotted alongside Smalling as McNair and Blackett went wide. Further forward, Rooney went left and Mata forward. This saw the reds take a grip of midfield which was missing in the first half.
United's defence were tested in this game as Yeovil pressed. McNair found it tough but Smalling didn't help and having played at this level you would have thought he'd handle it more than most.
In the last game United lacked pace, di Maria's return was welcome as he drew players out from their defensive shape. Compare this to the more static approach of van Persie and to a lesser extent Falcao who drop.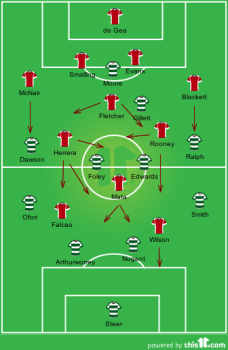 Conclusion:
A cliche but United were in a no win situation in this game. They won, unconvincingly but who cares.
The amendment to the formation saw greater control of the game yet without the killer instinct. This was to be expected from Yeovil who were out to impress. Their work rate saw them drop off and miss opportunities like the one Moore missed.
Despite the half time change it was the introduction of Di Maria which changed things. The pace was missing in the last game against Stoke and the way the Yeovil defence sat back created opportunities.
Of concern are the injuries suffered which van Gaal bemoaned after the game. Cambridge next!