After a draw at Villa Park United were looking to return to winning ways in this Boxing Day fixture. Newcastle's results had dipped recently after a run of good form. They came to Old Trafford looking to atone for defeat in the Tyne Wear derby in their previous fixture.
Formation
Again United set up in a 3-4-1-2 shape with a three man defence and wing backs. A majority of United fans are still unconvinced by this strategy but in this game perhaps for the first time the team were able to use it to dominate play for the whole game. Conceding a late penalty may have spoilt the story, but United had 61.9% possession and looked comfortable even when Newcastle started brightly.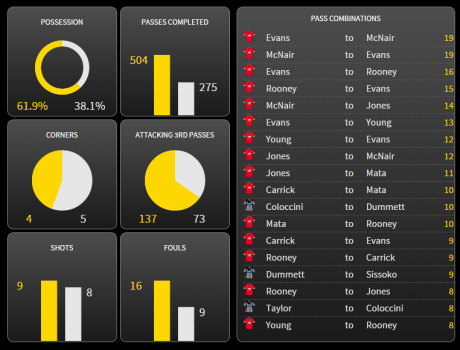 That possession yielded only four shots on target, the same number as Newcastle, but United were clinical enough to finish three of them. United passed the ball comfortably and well and waited in that first half for the visitors to over commit, so creating opportunities for United to pounce. Newcastle's chances came similarly when United defenders over committed to a challenge or chased a tackle; Phil Jones notably being a repeat offender.
Carrick, Rooney and Mata
The spine of United's team played well. Carrick had a reasonably quiet game, or at least his contribution did not grab the headlines, but returning to his defensive midfield role his simple tidy work was a big part of why United achieved that 61.9% possession statistic and why those further forward had licence to move on and off the ball. This is the sort of performance that justifies Sir Alex recent praise of the player. As in previous games when playing this role he dropped into the defensive line to pick up the ball, combine with those around him and start the forward movement of the side.
This platform and stability provided the opportunity for Rooney, playing slightly higher than Carrick, to play a more mobile midfield role. This was perhaps Rooney's best performance since dropping into midfield in recent games. For the first time he resembled a genuine box-to-box midfield player. Often deep involving himself in the early part of moves when United had the ball he was also likely to pop up anywhere in the middle of the pitch; wherever the space presented itself. Several gentlemen of the press have suggested Newcastle allowed him too much room. Maybe, but perhaps it was the case that Rooney found that room. Rooney provided energy and drive through the spine of the side and contributed two goals and an assist.
Rooney found an excellent foil in Mata, also continuing his recent good form. Playing in a higher, generally more static role behind the front two he provided the counterbalance to Rooney movement in a higher area as Carrick did in the deeper area. His vision here was excellent floating passes for those ahead of him and linking superbly with the advancing Rooney. Mata is often criticized for a lack of pace, but playing this less mobile role that doesn't seem to be an issue, his speed of thought and vision made up for a lack of speed in his legs.
Forward Movement
There are signs that van Persie and Falcao are beginning to develop an excellent forward partnership. The crowd long for Falcao to score goals and they will come but his overall contribution to the side is already exemplary. His movement is excellent and on a number of occasions he just failed to connect with a good delivery from a wide area. He will reach a percentage of those balls.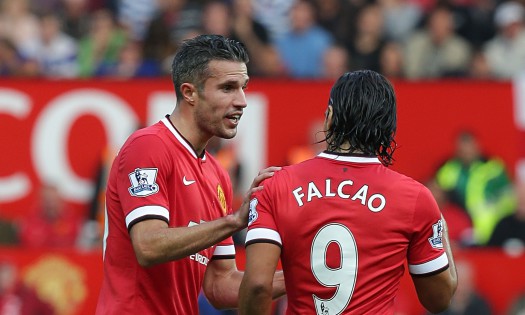 Fortunately his movement and that of the improving van Persie seems to compliment each others, so providing options for Mata and Rooney arriving from deeper. The movement itself also provides space for players to run into. Falcao tends to drop deeper and involve himself more in the build-up play than van Persie, but this challenges defenders, asking them whether they are comfortable to follow into deeper areas. The only issue at the moment is that Falcao seems to need more space on the ball than he is getting in the Premier League. He will adapt in time without a doubt.
Wing backs
Reservations about United's use of a three at the back with wing back strategy have inevitably centered on whether United have defenders comfortable to operate in a three and whether they have players who can successfully operate as wing backs.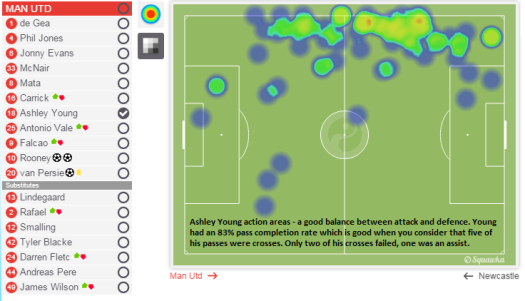 As in recent weeks United deployed Young and Valencia as the wing backs in this game. In a recent interview van Gaal stated that he has to use this strategy at the moment because his specialist fullbacks are injured. What is clear is that Valencia and Young are both learning the wing back role quickly and reasonably well. Ashley Young had another good game here, helping out in defence when required but also getting forward from deep to deliver a number of dangerous crosses. He was one of United's key performers in this game.
A performance that spoke of the van Gaal philosophy.
United only had four shots on target but scored three goals.  Each goal was well taken with good clinical passing moves creating space for the player receiving the final pass into the box. Each player involved was selfless and it is this type of patient, yet urgent play which speaks of the van Gaal philosophy.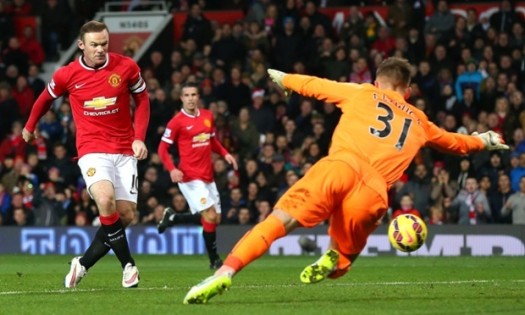 This was a good rather than a great performance; Newcastle were not exactly swept away but United controlled the game pretty much from start to finish and looked comfortable throughout after having taken the lead. The overall performance suggested that the team as a whole is beginning to come to terms with van Gaal's expectations as his comments post match that the performances are improving a little match by match testify.
Rooney, Mata and Carrick were all excellent and their efforts provided a balance through the spine of the team which in combination with the movement of the forwards proved too much for the visitors.