United to win the league?! Unthinkable this time last season but such was the talk that supplemented the pre-match build up, even from ex-reds such as Phil Neville. For this to happen Van Gaal believes that United have to dominate more matches confirming such after the Liverpool match.
"I'm very happy but the next match, against Aston Villa, is very important. It's an away match and we have difficulties with away matches."
Personnel
In: Fletcher and Falcao
Out: Fellaini and Wilson
First half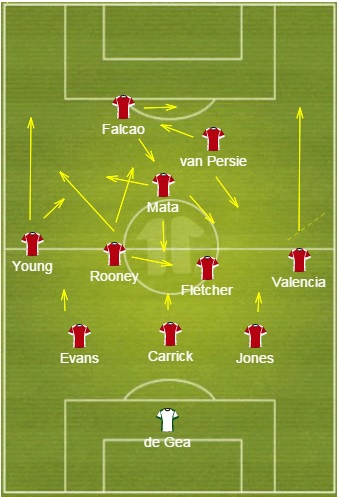 From the start of the game, United knew this would be a game of patience to break through Villa's 5-3-2 formation. We say 5-3-2 because Villa were often pegged back by United. In contrast United used a 3-4-1-2 shape which often narrowed to a 3-2-3-2, with the 2-3 changing to a 1-4 when attacking. Delph and Agbonlahor were key top trying to break down any United build-up. Carrick found this out quickly with Agbonlahor his chief tormentor.
Van Gaal misses Carrick when he's not in midfield, agreed, and the creativity rested on Rooney's shoulders who this time sat alongside Fletcher. His signature ball was a diagonal ball from left to right.
A goal from Aston Villa's Benteke punctuated any momentum United were building. This was a terrific goal from a player who offers Villa a significant threat and lifts them above the relegation fodder. Yet more could have been done from Fletcher by not giving away the cheap free kick which Delph delivered and from Evans doing a better job at marking Benteke.
Following the opening goal Villa's philosophy was to allow United freedom with the ball until they reached the halfway line whereupon they pressed and set out in a 5-1-2-2 formation.
In the first 30 minutes United enjoyed a lot of possession (76%) and were passing accurately, a 91% success rate but the obvious options, between the channels, were not exploited as well as trying to get Young involved as he was often unmarked even when in possession.
At 1-0 down United weren't where they wanted to be.
Second half
Fletcher was replaced with Blackett simply because the game had bypassed the vice captain. The knock on effect was Carrick moving into midfield with Evans moving central of the three man defence. This didn't stop Benteke going to the back post for long/high balls, one brought a great fingertip save from de Gea.
Villa were sitting deep and playing tight, their midfield three forced United out wide and the ball found itself at Young's feet. He was one on one with Lowton, one of the few occasions United had such a situation. Young's pace saw him sail past the defender to put in a great cross to Falcao. BOOM! 1-1 after a trademark header from the Columbian.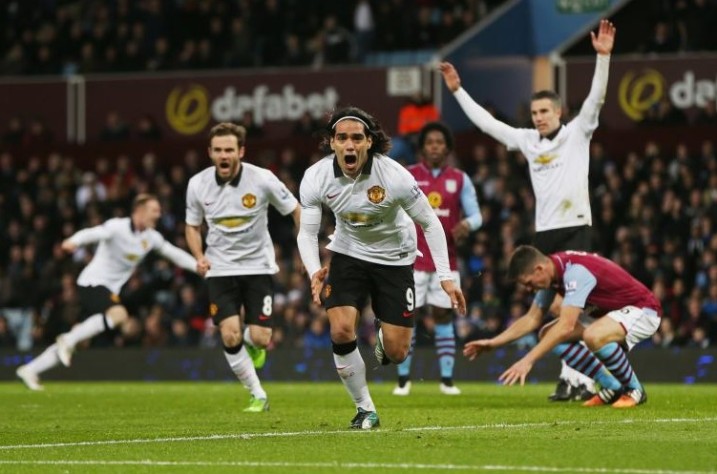 United stepped up a gear and were pressing and searching for another. Mata was doing well in attending to this. However, it didn't mark the turn of fortune for United's crossing; a poor return was had in this game with only a 21.2% success rate.
With a third of the game left to go United substituted van Persie for di Maria. Van Gaal has shown he is bold when making his substitutions, as we saw later on when he brought Wilson on for Valencia. Di Maria found himself on the right initially with Young too (?) before settling on the left after Wilson's introduction.
Then the referee saw it for to send Agbonlahor off for what seemed at first a hasty challenge but through the benefit of replays appeared to be a genuine 50/50. This advantage didn't alter the tempo of the game much as Villa stayed the same but with one up front instead of two. United were now 3-4-3/3-2-4-1. The balls behind the Villa defence weren't apparent and it was tough for United to break it down.
Conclusion
This game was a frustrating affair which saw United battling against a determined Villa game plan, the following stats clearly demonstrated this:-
– Possession: United 65.2% – Villa 34.8%
– Passes Completed: United 526 – Villa 266
– Attacking Third Passes: United 184 – Villa 49
– Villa featured only twice in the top 18 passing combinations
Their deep positioning on the pitch saw the ball from Guzan to Benteke as Villa's second most effective pass combination (reminiscent of England's most successful passing combination of Joe Hart to substitute striker Andy Carroll versus Italy at Euro 2012). Their intentions were clear but in Benteke who showed van Persie like efficiency (see Southampton game) with his finishing Villa must be credited on playing well.
Villa sat deep and attempted to use the break to expose United's back three through the likes of Delph, Agbonlahor, Benteke, Sanchez and Okore. When United were under the cosh the qualities of Fellaini and Herrera were missing, they would have helped what van Gaal alluded to as a lack of aggression despite being the better team. There appeared to be a lack of tempo or flow to United's game and it was in the area of Carrick and Rooney where United looked busiest but in the end it wasn't enough.
Young played well again and it'll be interesting to see if van Gaal opts for Shaw upon his return but as has been United's luck this season Young will no doubt be injured before Shaw's anticipated return in January!
It was Young's assist in the Falcao goal which was pleasing to see, beating a player with pace and finished with a trademark Falcao header.
Whilst it was pleasing to see Di Maria return van Gaal's pre match statement still looms over United.