After a fortunate win against Southampton this match represented an opportunity for United to concretise their position in the Champions League qualifying places whilst confirming Liverpool as mid-table misery.
In fairness both teams were not in the best of form going into this game, but the difference was that United were winning matches. This was principally because whilst Liverpool can't score, United are taking a good proportion of their chances and a combination of luck and the excellence of de Gea has been minimising goals conceded. Putting aside tactical strategies and the detail of who performed their roles well that was this game too in a nutshell. Liverpool people who feel aggrieved that after a tight game United came out on top by a 3 goal margin should reflect that this is the essence of football; take your chances and don't concede many, and that is why United remain third in the table whilst Liverpool are confirmed in their mid-table mediocrity for now.
Three at the back against three at the back
3, that's the magic number…..three at the back against three at the back and 3-0. United edged this tight game by taking their chances. They had more possession whilst the visitors had more chances and more clear cut chances.
Comparing the two clubs use of the tactical system, both back threes looked vulnerable, whilst United's wing backs looked more secure and offered at least as much going forward. United's forwards had the stronger punch.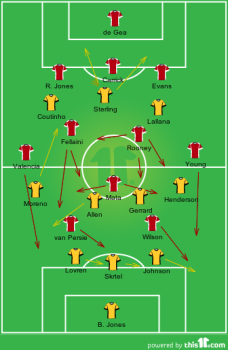 For United Carrick looked our most assure outfield defender; calm and considered. He provided countless interceptions with his reading of the game being excellent as ever. He was also useful on the ball with assured passing. He rarely gives the ball away. Jones and Evans often looked rusty and the United defence were caught out far too often by threaded balls in behind which Sterling could run onto. Carrick alone could do little about these and his other two defensive backs were slow to react, (although Jones, the least fit of the three apparently improved as the game went on). This problem was exacerbated by United's lack of a natural defensive midfield player with Rooney and Fellaini filling in here.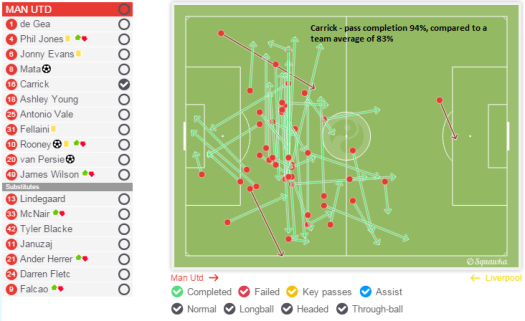 United's strong right against Liverpool's weak left
The most critical difference in the two teams use of a 3 man defensive system was in the wingbacks.
Moreno, who fails to convince as a defender showed himself to be something of an asset going forward, but he left a lot of space behind him on Liverpool's left. When he was called upon to defend he looked poor. To close that space Allen playing as a part of the central midfield pair alongside Gerrard was forced to move across to cover the forward runs of Valencia, who was assisted by van Persie, Fellaini and Mata. Allen fared no better, but in moving across he left room in the middle for Mata or Rooney to exploit. This left Gerrard exposed and while the Liverpool captain did well defensively he failed to have a significant impact on their attacking game.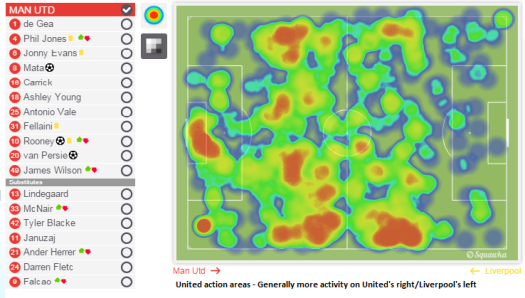 It is clear that United targeted Liverpool's left as being a weakness and Valencia had a good game terrorizing Moreno and Allen. Liverpool weren't helped in the first half by the fact that Coutinho was positioned on the left and he doesn't really offer that much defensively.
Both United's goals came because of this weak left-hand side. The first came directly from Valencia beating Allen with Moreno stranded up field. He pulled the ball back into the space that Allen should have been guarding in the middle for Rooney to fire home. On the second goal no left sided Liverpool player tracked Mata, whether he was off-side or not. You could add the third goal to that in fact as van Persie was left all alone on the left-hand side of the penalty area with space to calmly strike.
Toothless Liverpool vs the excellence of De Gea
Van Persie, Rooney, Mata, Young and Valencia all had good games, Fellaini had a poor first half but improved after the break, as did Jones. But United's stand out performer was David de Gea. He was excellent again making 8 saves, several in one on one situation as Liverpool fed the pace of Sterling to run in behind United's high line in the first half and again in the second when Balotelli joined what felt like a fairground coconut stall at times. You can criticize the Liverpool forwards for profligate shooting but de Gea did not make thing easy for them by staying calm, standing up and making them beat him. They couldn't. The other aspect of his game which was pleasing here was the number of times that he caught rather than punched the ball. This is an aspect of his game which is improving.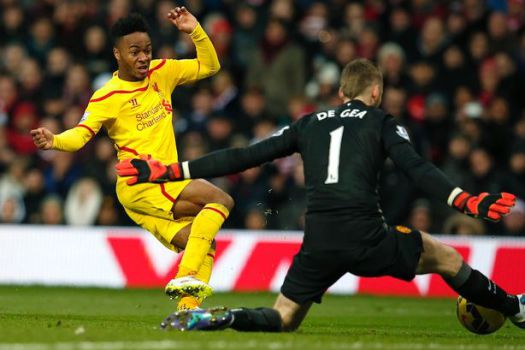 After the match van Gaal bristled at a journalist who asked about contract negotiations with de Gea. United need to secure his services for the long term and quickly.
Van Gaal's mantra – keep the ball
United's weakness playing a back three is that they have a tendency to give the ball away occasionally in their own half by playing square balls across the pitch in front of their defence. This then leaves the back line exposed after the loss of possession. Is this because playing this system the four in front of the three are too square to each other or is it just because of individual errors? When United play the ball up the pitch from the back rather than across the pitch this both beats the press of the opposition and takes play away from the danger zone more quickly.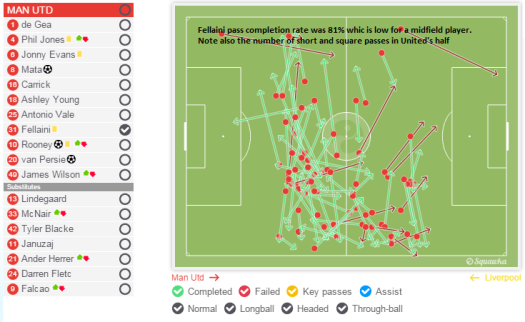 Watching a recording of the game from television again, on several occasions one could hear a voice from the dug-out shouting "keep the ball". We couldn't tell if this was van Gaal or not but it could have been because this is becoming his mantra. This would have been a far more convincing performance had United kept the ball for longer. The main culprit was Fellaini who passes the ball shorter and squarer than is appropriate for a defensive midfield player. A midfield player can do that higher up the pitch but doing so in front of the defence invites the opposition to press and early in the game Fellaini gave the ball away in these areas far too often.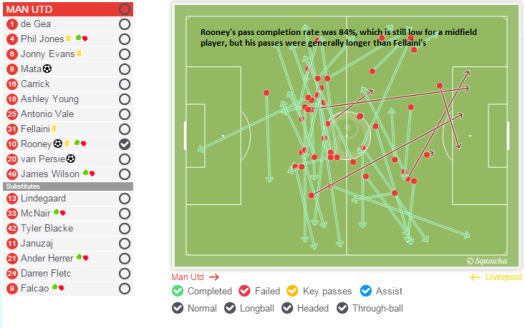 Brendan Rodgers tactical adjustments
In the first half Rodgers played a front three of Coutinho to the left, Lallana to the right and Sterling slightly more advanced through the middle. Sterling got in a couple of times via passes from his colleagues who looked to thread the ball into the channels either side of Carrick. De Gea saved well to prevent him scoring.
Rodgers introduced Balotelli at half time in place of Lallana and Liverpool changed to a front pair of Sterling to the left and Balotelli to the right, (although they did switch sides from time to time), and Coutinho centrally behind. This created more problems for United with Balotelli often acting as a target for Sterling to run off. Carrick coped pretty well against this leaving Jones and Evans to pick up Liverpool's most advanced players but with Carrick always looking to pick up the spare man who was going to pick up Coutinho?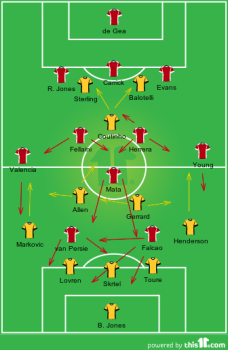 Fortunately Fellaini had a better second half but eventually van Gaal saw fit to remove Wilson and bring Herrera on to help stiffen the centre of midfield. As a consequence United held out and as the game wore on Balotelli seemed to lose interest with his movement getting poorer and poorer. We refer to Balotelli as being the target but actually when he came on at the start of the second half it appeared as if he had been introduced to try and get someone, anyone, sent off. He appeared to use his elbows illegally on at least one occasion, made a number of bad challenges and appeared to dive on a couple of occasions. United received four bookings in the first half; was this a deliberate ploy to try to get someone sent off in the second half in view of United's two goal half-time lead.