United went into this game on the back of perhaps their most rounded performance of the season looking for another three points to maintain a reasonable gap to Southampton. With a visit to St Mary's next a fourth straight win seemed to be a must.
Positional Discipline
United started this game in the same formation in which they had played for most of the game against Hull City three days earlier; 4-1-3-2. Before long however that team shape had changed. On the basis of van Gaal post match comments and on his re-shaping of the team at half-time we can assume that this was not planned.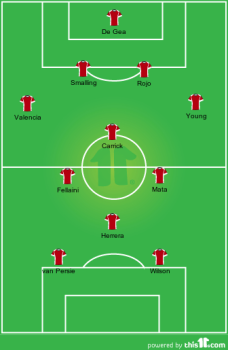 For whatever reason Fellaini dropped too deep in the first half so that he was almost playing as a second pivot alongside Carrick. This left a lot of space in front of Fellaini and to close that space Herrera shuffled across from the centre. United's shape was now almost a 4-2-2-2 and this had an impact on their play. They still dominated possession but were not as effective.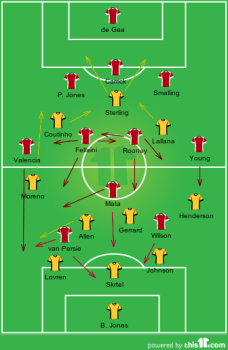 Possession is not enough
This change of shape illustrates that possession itself is not enough. In response to United's domination of possession, (averaging 63% in the first half and 64% overall), Stoke set up defensively as two banks of four. The problem for United was that as a 4-2-2-2 their passing options were significantly reduced and they could not triangulate well to get between the Stoke lines.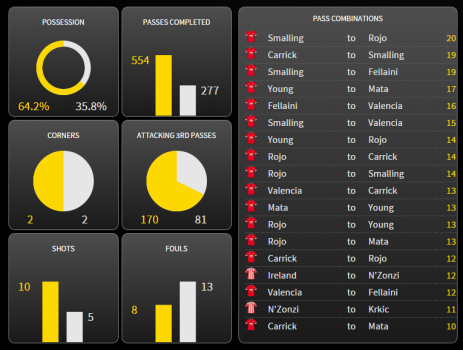 Much of United's passing was in deep areas with forward movement being on the flanks often via Ashley Young. It should be noted that United's goal in the first half came from a cross from the left by Herrera rather than Young but the point is that United were not able to work good passing and possession opportunities centrally in and around the Stoke defensive third. With Mata drifting to the left to develop overloads and Herrera covering the space in front of Fellaini there was a big gap down the centre of the United formation between Carrick and Fellaini in the deep and Wilson and van Persie at the front.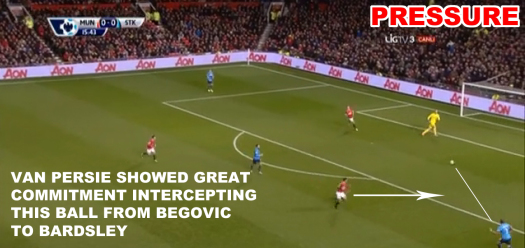 United's best chance in this half came via a turnover of possession rather than good passing after United's pressing forced a poor pass out from Begovic which was intercepted by van Persie. He fed Herrera who blazed high.
Defensive Solidity
This is one of the big talking points currently. People are queuing up to poor scorn on United's defence at the moment and whilst at times they have been poor in defence and have also been over reliant upon the excellence of de Gea they have been noticeably improved of late. It should be pointed out that this was one of the first times this season that United have played an unchanged defensive line up.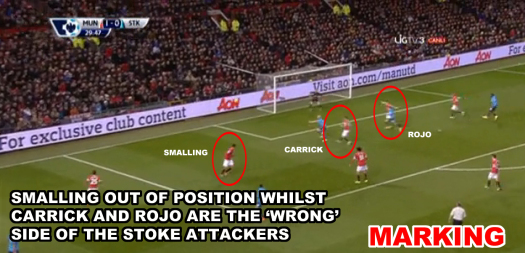 Playing a possession based game and building up from the back United need players in the deep who are comfortable and confident on the ball. This is a high risk strategy if defenders can't be relied upon to retain possession. In the last two games, Carrick, Rojo and Smalling have looked much improved in this respect. They are not there yet, as was evidenced by the Stoke goal, when Fellaini lost the ball several players were out of position. The focus of those players was on getting back into shape and this allowed N'Zonzi the time to finish calmly.
The Reinvention of Marouane Fellaini
It isn't that long ago that many people were writing off Fellaini's career; was he destined to always be associated with the Moyes era? Since the West Bromwich Albion game a few weeks ago he has begun to turn things around however. In truth his form since that game has been patchy but so has the teams as a whole and prior to that game many would have said that his form was flat lining at a low level.
What Fellaini has brought to the United side is a robustness which was lacking. The English League is a physical one where the challenge about physical competitiveness as well as skill. That necessitates players who can't be knocked about, players of some physical stature. Fellaini is never going to be the most cultured player but he isn't the clumsy players many believed in his first year at United and he does provide a contrast to the plethora of diminutive ball players United now possess. Some of those players are terrier-like, but Fellaini's strength is needed to provide some balance. In the last few weeks he has shown himself to be disciplined and capable of playing the sort of possession based football van Gaal demands. His pass completion percentages have been good, (92% against Hull and 86% here against Stoke City). But he had a difficult first half here because despite scoring the opening goal he did not stick to the plan. This affected the whole team.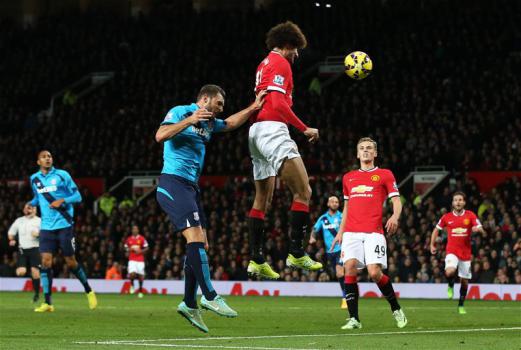 What Fellaini can't do is play a defensive game where he has to cover a lot of ground. He does well when he is covering ground to get forward, (as his goal illustrates), but he can't cover defensively as part of a midfield two which is what he ended up trying to do here in the first half. In that situation he tends to chase the ball like someone running to catch a bus that has just gone. Fellaini is better as part of a midfield three or four where he can occupy a small area, play things simply and then occasionally spring forward almost unexpectedly.
The Reinvention of Ashley Young
Ashley Young is another player many were prepared to write off. Van Gaal on the other hand has chosen to reinvent him as a full back/wing back. Right from pre-season he has been given this role.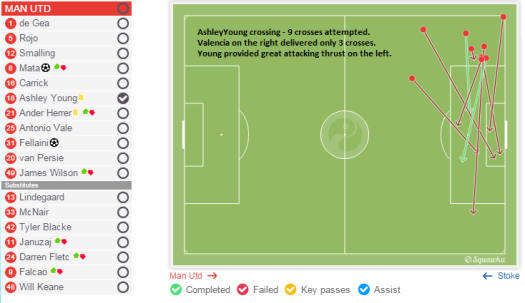 In this game Young played well. We would acknowledge that he didn't have that much to do defensively but he easily covered the occasional threat from Stephen Ireland when necessary. What he did well however was get forward to offer width in attack on the left. In the first half this was one of the areas where United managed to create some danger in the Stoke half and this was largely due to him. His crossing is still pretty poor and he isn't the most dynamic player, but if his positional play can be as disciplined as it was here he may have a role at United playing further back than was envisaged by Sir Alex when he was first signed.
Looking Ahead
So it is third against fourth on Monday night as United travel to Southampton. They lost on Wednesday so United are now only a point behind and can start to think about looking upwards beyond fourth place. They will need to produce a more disciplined performance in that next game given that it is an away game and that it is against an accomplished side, albeit one who have stumbled of late.