United went into this game on the back of a good away win at Arsenal. With two home games in four days they would be looking to build some momentum before going on the road again for a trip to high flying Southampton.
Another Formation
United started the game with another central defensive partnership (Smalling and Rojo), and for most of the match utilized another new formation. In truth United started with a midfield diamond in a 4-4-2. Unusually van Persie started at the tip of the diamond with di Maria and Rooney as the forwards. Mata and Fellaini occupied the outside midfield positions and Carrick sat in front of the back four.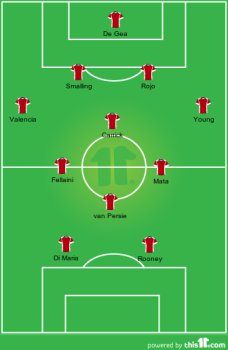 The injury to di Maria after just 14 minutes necessitated a change but van Gaal also shuffled his pack. Van Persie joined Rooney at the front with Mata moving centrally to the number 10 position. Herrera slotted in centrally between Fellaini and Mata but critically the diamond was squashed so that the shape became a 4-1-3-2, and this worked really well.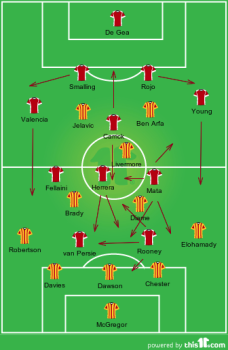 Possession Football
This is the van Gaal credo of course. Whether intentional or not the 4-1-3-2 seemed to give United what they have been missing; balance. The shape combined the adventure of the diamond/two strikers with the solidity of the 4-1-4-1? Was this our most complete performance of the season? Van Gaal has stated this was our best performance; good ball retention, (77% possession), good tempo to our passing and total control of the game.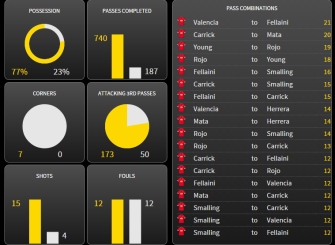 The team worked hard to retain possession, they passed early, well and moved well off the ball. Mata, Herrera and Rooney were all very fluid in their movement, Smalling and Rojo were solid. It was particularly pleasing to see United pass the ball around confidently at the back despite the Hull press. The temptation to play the higher risk, easy option of the long ball was resisted.
Michael Carrick
Carrick has played a couple of games now but this was his best performance since his return from injury. Right at the start of his tenure as manager van Gaal bemoaned Carrick's injury as a big loss and he is clearly van Gaal's type of player. He provided a solid screen to the defence whilst completing the most passes of any Premier league player on Saturday, (108 out of 117 at a completion rate of 92%). Reliable and aware, whilst also a creative force starting moves with imaginative passing and positioning, Carrick appears to be in direct competition with the currently injured Blind for this role. Blind has recently been criticized for over caution in his passing but Carrick gets the balance right.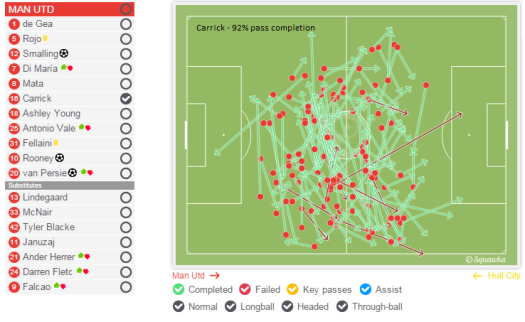 Carrick's performance was a big part of why United played so well here and were so comfortable in possession in deep areas. When United had the ball at the back he would drop in between the two centre backs. The centre backs spread and the full backs pushed up. This took a lot of responsibility for starting moves away from the centre backs and Carrick's movement drew Hull players forward towards the United defence creating space and time for Fellaini and Herrera as well as the fullbacks who were providing more advanced width. All this created positional connections/triangles in the United half which allowed United to develop a passing rhythm which had some forward momentum. As a consequence United had no need to take the easier and safer long ball option. When the play moved up the pitch Carrick advanced into a central midfield position creating overloads here which ensure United always had passing options. Carrick didn't do this on his own of course, but combining with Herrera, (for the first time) and Mata as well as Rooney when he dropped deep United produced a level of fluidity in their play not seen at Old Trafford for several years.
3-4-1-2 anyone?
It was interesting to see Hull City employing the strategy United tried earlier in the season, 3 central defenders and a pair of wingbacks, and it was interesting to see they are experiencing similar problems to those experienced by United.
Hull generally always had numbers back in defence, but despite this it was a feature of the game that United always seemed to have time in and around the Hull box. There was a lack of pressure on the ball. Rooney's goal was the classic example of this. Hull had four men in a line across the edge of the box and they all allowed van Perise the time and space to lay the ball back to Rooney. None of them moved quickly enough to close Rooney down. To a lesser extent the same could be said in respect of the van Persie goal. There were defenders around him but none of them moved to disposes him at the critical moment. Evidence of this is the astonishingly high pass completion rate of Rooney and van Persie, both achieving 95% pass completion.
When United played this system they conceded a number of goal when they too had plenty of defenders around the play but none of them moved to engage the attackers. Does the extra central defender engender an unwarranted sense of security and a lack of defensive urgency?
Van Persie
It is no secret that he has been struggling of late and the manager conceded that he is currently low on confidence. Was the decision to start him in the number 10 role a deliberate ploy to get him more involved in the game after his meager number of touches against Arsenal?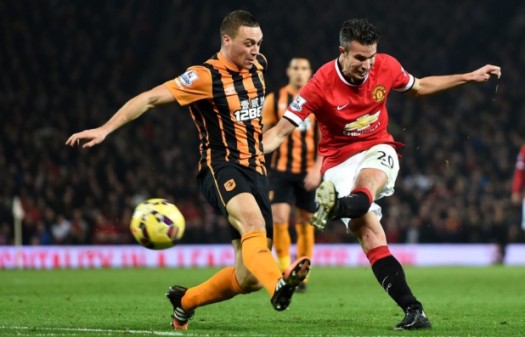 Whether this was the case or not and he only played in that position for 14 minutes van Persie had a much better game here. He tried one audacious header reminiscent of his goal in the World Cup against Spain and not everything he did came off, but his greater application and involvement eventually saw him score from an excellent strike later in the game. Hopefully this will do him the world of good and news of his demise can be assessed as being premature. The elation of his team mates when he scored was also great to see being suggestive of a developing team spirit.
Going for the jugular versus seeing the game out
Having tired Hull out over 70 minutes with almost constant possession United could have gone for the jugular in the last 20 minutes. Why didn't they do so?
Perhaps they were under instructions to see the game out from a winning position. Van Gaal made reference to this need after doing so successfully in the last home game and after this game he expressed his pleasure at seeing the side control the game for ninety minutes. United will face more testing opponents, but it isn't that long ago that they were making heavy weather of fixtures like this and a comfortable win helps to consolidate a hold on fourth place.