Banners like 'come back when you've won 18' are never forgotten and it's even better when Liverpool fans look ridiculous for such shithousery.
Of course, by having 20 league titles since 2013 and Liverpool still on 18 it backfired. Sir Alex Ferguson set out to knock them off their perch and that is exactly what happened.
Oh what a feeling…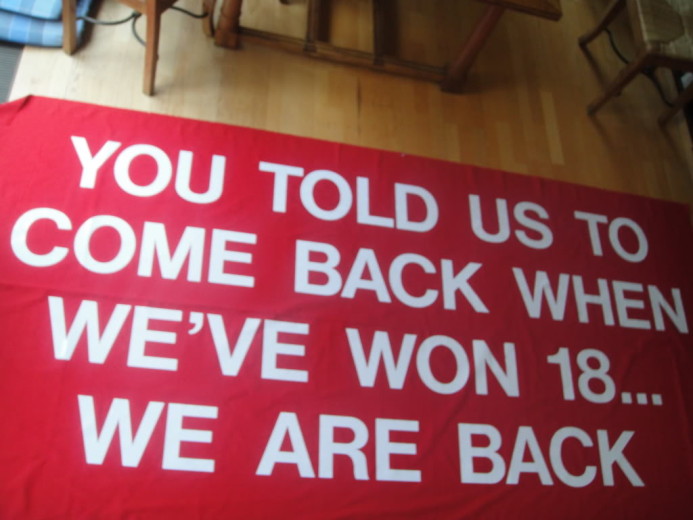 Although last season was a write off there is something worth mentioning in a positive or perhaps more humorous light. David Moyes made himself out to be a laughing stock as far as rival supporters were concerned and they made most of it.
Brendan Rodgers at the time could do no wrong. It was a great season for Liverpool fighting for the title but a slip at the end drew tears around Merseyside.
Luis Suarez and Daniel Sturridge were linking up superbly and they looked a genuine force apart from some, er, slipping, I mean defensive mishaps.
Then throughout social media and various web forums, scripted interactions between Brendan Rodgers and Bill Shankley were being Photoshopped. It was all a bit embarrassing and a few of us, including myself, sat waiting patiently for it all to go arseways.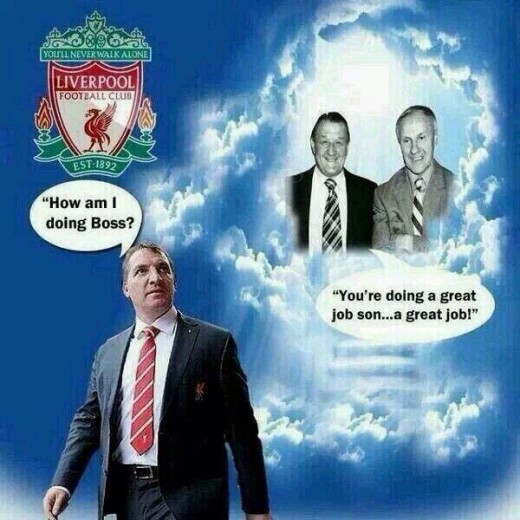 Today, as I write this, Liverpool have lost 4 consecutive games – Newcastle, Real Madrid, Chelsea, Crystal Palace – and three of those were in the Premier League where they are currently positioned twelfth at the bottom half of the table. As a matter of fact, they are closer to relegation now than the top 4.
What has gone wrong? They're still conceding sloppy goals but work in a slower pace than last season. Suarez left and Sturridge has had injury trouble all season which are probably reasons for not only the lack of pace but goals too.
So, what next? I guess you could always call on Kenny or Benitez to solve everything.