Lets be honest, we have been spolit bloody rotten for a long long time. We have seen trophy after trophy after trophy, scaling heights that I don't think will ever be matched or bettered by any future United team but fingers crossed I'm wrong.
Many times, I've read on social media that being a United fan is hard. That always make me laugh and my answer to that is 'no, no it is not', in fact it's the easiest thing in the world to do, however it wasn't always this glamourous particularly during the often dark days of the 70s and 80s when those rogues from Anfield were winning pretty much everything in sight.
Despite the relative lack of success bar 3 FA Cups and the odd Charity Shield, United's support during those 2 decades was incredible. You only have to look at YouTube footage of those years to see this. Indeed our Twitter and Facebook followers that experienced the Tommy Docherty days regularly say that those were the best days to follow United when we used to, quite literally, take over towns.
The Red Army has never been a more appropriate name.
The hooligan element of football during that time is well documented but is something that I won't dwell on as I don't have any personal experiences of it.
Even if the football wasn't always the best, when that Docherty team of 74/75 smashed it up, both on and off the pitch, in Division 2 is widely acknowledged by fans as the most entertaining team we've ever had and I include the 68 European Cup team and the treble winning 99 team in that. The football has often been described as being cavalier and free flowing. Some of those 70s player's names still bring a smile to many a face and are amongst the most popular on our social media feeds. I only have to mention players like Gordon Hill, Steve Coppell, Jimmy Greenhoff, Martin Buchan and Stuart Pearson and it reduces 50 year old men to 10/11 year old boys again.
Reliving their days standing on the old Stretford End or in the United Road stand with their mum / dads / grandparents / aunts / uncles / older brothers drinking Bovril that would be hotter than the sun and having someone use the back of your trousers as a toilet. That is pretty foul by todays sanitised standards but the whole experience was for many, the start of a long standing love affair with our fantastic club.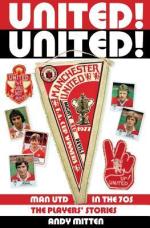 I've barely even scratched the surface on 70s United here but if you want to know more then follow us on Twitter, failing that Andy Mitten has written a fantastic book on that decade which is a great read for any red and Pete Molyneux, a columnist at Stretty News, also has a book documenting his personal experiences of following United all over the country throughout that period which is a real eye opener.
I know I'm not alone but I often wish that I had been born 10 years earlier so that I too could have experienced all this. Oh well if anyone invents a time machine then please let me know and we'll all go back to get a taste of it.
Please follow us on Twitter @UtdBeforeFergie and on Facebook.