With another international break looming United needed to take advantage of this home game against a Crystal Palace side sitting just above the relegation places, especially as it came after a run of games where they had failed to win. With Rojo now injured and Smalling suspended United also had to cope with a selection dilemma at central defence.
Formation
It is notable that every time we have an international break van Gaal subsequently changes formation. In the first few games of the season it was 3-4-1-2, after the first international break it was a 4-4-2 diamond and since the last break it has been a 4-1-4-1/4-3-3 hybrid. Will he change again after this break when players return from injury and suspension?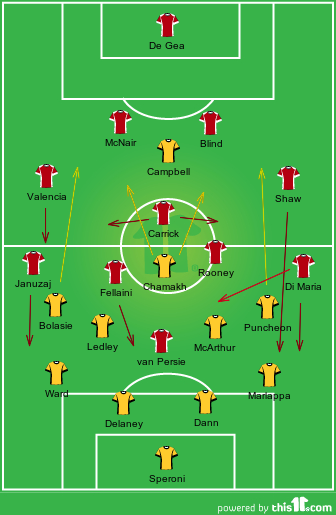 What this clearly suggests is that van Gaal is looking for a system to suit the players he has. He has remarked that the 4-4-2 diamond was not a system we could make work over ninety minutes, but in the medium term there may be more tactical changes if he is successful in bringing a few new faces to the club in January. Everyone is looking at the defence but he may also look to purchase midfield players with greater stamina so he could play any system he deemed suitable for a full match.
A Clean Sheet
Van Gaal chose Blind to partner McNair in central defence, although late in the game Carrick who had been playing at the base of the midfield swapped positions with Blind. At the death McNair was withdrawn with cramp and replaced with Fletcher who then anchored the midfield with the centre back pairing being Blind and Carrick. Albeit only for injury time United now only had one recognised specialist defender on the pitch in Shaw.
All things considered United's defence did well but they did not have that much to do with Palace effectively "parking the bus" and waiting for opportunities to hit United on the break. United had to retain their shape and concentration something that they haven't always done this season. They did that fairly well with Palace only really having one good chance and as a result United kept a first clean sheet in seven games.
Caution
United adopted a fairly cautious approach. After the match van Gaal talked about a greater balance in the team play. We would accept this up to a point, but the approach was cautious. Passing was slow, (acknowledged by van Gaal), direct to feet rather than into space around players and movement ahead of the ball was poor. Players often took an extra touch on the ball a sign that they were prioritising retaining possession ahead of creating chances. Di Maria found little space.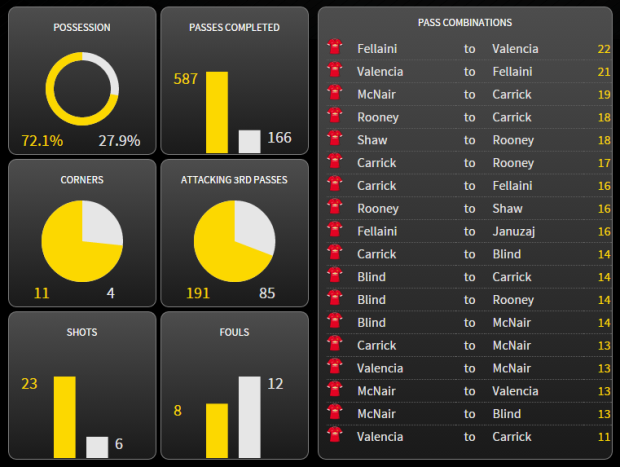 The consequence of this is that United did not really do enough to stretch Palace's two banks of four. United successfully retained possession, (enjoying 72%), but did not stretch Palace.
Palace's two banks of four
There are two conventional ways to overcome a situation where a team defends with two banks of four. The first is to sit deeper yourself and circulate the ball with early accurate passes in an attempt to draw the opponent out and so create space between the lines. This approach requires the opposition to lose discipline and it helps if you have players who can play in tight areas so that you don't have to create that much space.
The alternative approach is to attack with width. Most teams defending in depth tend to defend narrowly and surrender wide space. You must use it. The quality of crosses needs to be good and you need targets in the middle. Playing with one striker you don't naturally have this.
United tried a little of both these approaches against Crystal Palace, but without real conviction. The first method was ineffective because United did not move the ball quickly enough and the second failed because crossing was generally poor.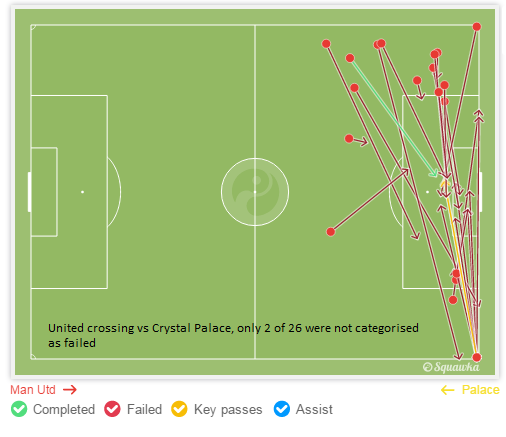 Luke Shaw and Adnan Januzaj
Luke Shaw had a good game here. He was probably United's best player and got the balance between his defensive duties and taking opportunities to push forward in support of the attack right. He is beginning to look like he will become a fixture in United's team for many years to come, but he has to improve his delivery; this pass completion rate was below the team average and both his crosses failed.
Adnan Januzaj playing ahead of Shaw had a poor game. Unlike Di Maria, Januzaj is more likely to stay in a wide position and as a consequence he can both become isolated and his play predictable. More troubling is that in this game he looked off the pace and was clearly not on the same wavelength as those around him.
Midfield balance
For most of the game United fielded a central midfield three of Carrick at the base, Fellaini to the right and Rooney to the left. Fellaini tended to play higher than Rooney from where he had greater opportunity to push forward to support van Persie's forward play. This meant that Rooney has to stay deeper than Fellaini just to cover him. That does not make the most of Rooney's attacking instincts although in this game with Palace sitting back he was not as deep as in the game at City. He failed however to provide a creative spark. Carrick looked a little rusty which is to be expected, but generally did okay. Fellaini's performances have been improved of late but here he too was no more than okay.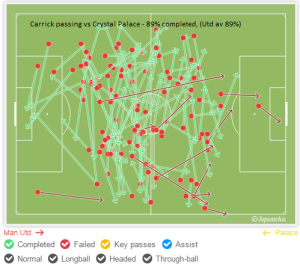 The problem is that collectively the three did not exhibit enough creativity on the ball and Rooney and Fellaini did not co-ordinate well with each other to cover the other's movement. Note the number of midfield passes across the pitch from all three central midfield players.
Is Rooney capable of playing as a midfield player to the standards required? He does have a tendency to give the ball away in central areas, although he did that less here against a less testing opponent than against City, (with a pass completion rate of 91% compared to 75% in the derby).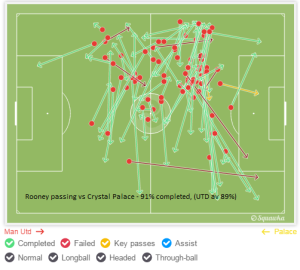 A win is a win
This wasn't a great performance but a win is a win is a win.
United's approach here may have been overcautious but it was a case of job done. United fielded three teenagers (McNair, Januzaj and Shaw) for most of this game and with all those makeshift defenders we should just take the points and move on.