Manchester United Supporters Trust are auctioning a 1973 replica Manchester United home shirt, which was signed by Bobby himself at a private signing. The 1972/73 shirt was the last shirt Bobby wore as a united player before he finshed his career to manage Preston North End.
The auction is taking place on eBay and the starting price is a very reasonable £29.99. Place your bid now before Sunday 8pm GMT when your chance to claim this signed Bobby Charlton shirt is no more.
The shirt comes with a certificate of authenticity.
Item supplied by MUST – the Manchester United Supporters Trust – www.joinMUST.org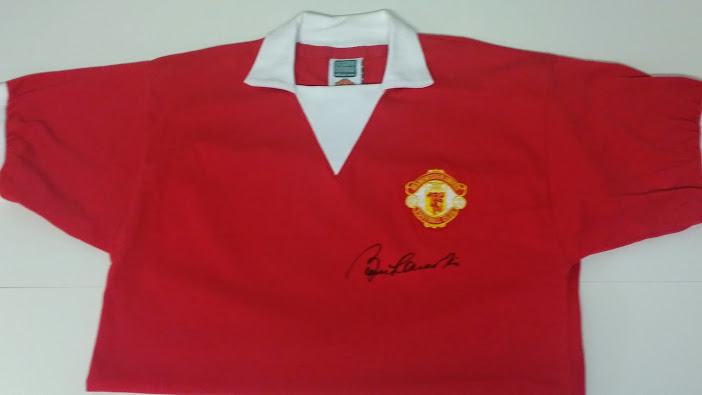 _
Sir Bobby Charlton signed for Manchester United in 1953 at the young age of 15. The Ashington born midfielder became one of the framed Busby Babes amongst a collection of talented footballers who emerged through the youth system under the legendary guidance of Jimmy Murphy.
Throughout Charlton's United career, honours such as 3 First Division titles, 1 European Cup, 1 FA Cup and a World Cup with England were achieved. In 1966, two years before claiming the European Cup, Charlton was awarded the prestigious Ballon d'Or.
To this day Charlton holds the record for the most goals scored in a Manchester United shirt. From 758 appearances, he scored 249 goals. That's 13 more than the king, Denis Law, United's first Ballon d'Or winner in 1964.
_
Buyers/Bidders with less than 3 positive feedback and/or more than one default-strike must contact Manchester United Supporters Trust before initiating a bid/purchase. Due to previous problems with time wasters they have no other choice but to put emphasis on verifying accounts are genuine – otherwise such bids may be cancelled.
If you win with a bid you are making a binding contract and must be prepared to pay for the item. MUST will enforce such contracts legally unless there are genuine reasons for cancelling a bid.