After a run of supposed easy matches, games against the 'top level' have come thick and fast; first Chelsea and now City. In the Chelsea encounter van Gaal noted how United "kept together" and are "believing 'till the end" despite having to chase the game and not taking their chances early on. In the derby such characteristics are the minimum supporters expect.
Personnel
In: Valencia and Rooney
Out: Rafael and Mata
Key Points
United's fullbacks played different roles but City played the same ball behind them – with different results.
This affected the wingers, Januzaj and di Maria, whose positioning was very different.
The continued importance of de Gea.
Smalling failed to heed van Gaal's advice about maintaining a cool head in these type of matches.
United performed very well with 10 men but were more than comfortable with 11.
United's midfield three saw the combination of Aguero and Jovetic not achieve the outcome surely desired by Pellegrini but the effect on Rooney was notable.
City's decision not to play Dzeko was interesting – his partnership with Aguero has been successful for City
The centre back pairing of McNair and Carrick did better than expected.
United's possession and passing stats were impressive.
Van Persie didn't contribute as much as he could have done.
As United started briskly City's tactic became quickly evident; get the ball behind the full backs. Shaw maintained his position much more securely than Valencia who often found himself leaving the greater amount of space behind allowing City, Milner and Aguero in particular, to move into it.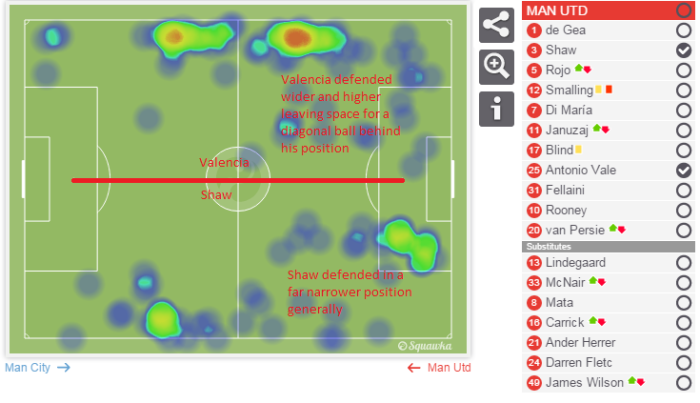 The graphic above shows how this pattern played out in the first 30 minutes whilst the others show Shaw and Valencia's positioning over the course of the game.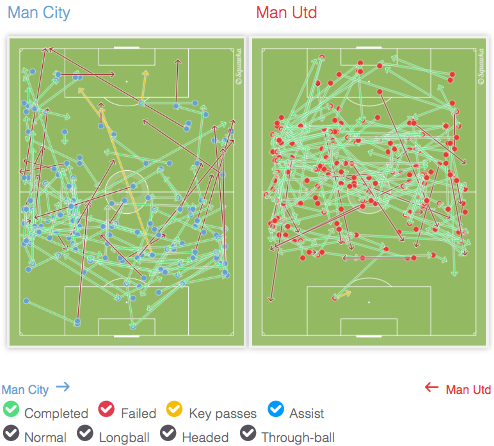 Typical positioning of Valencia and Shaw
The main protagonists of this passing behind were Fernando and Toure as the graphics below show.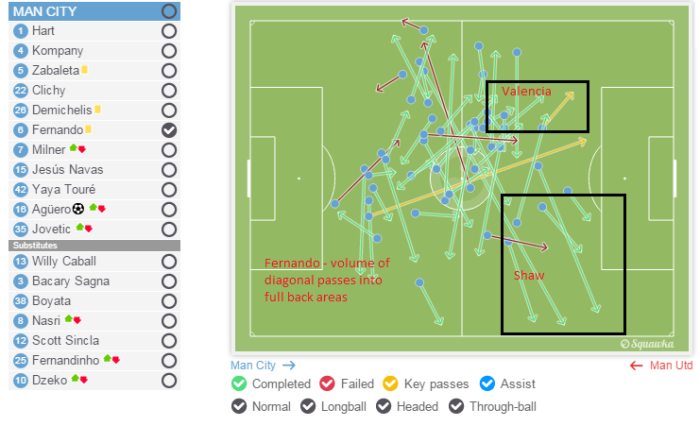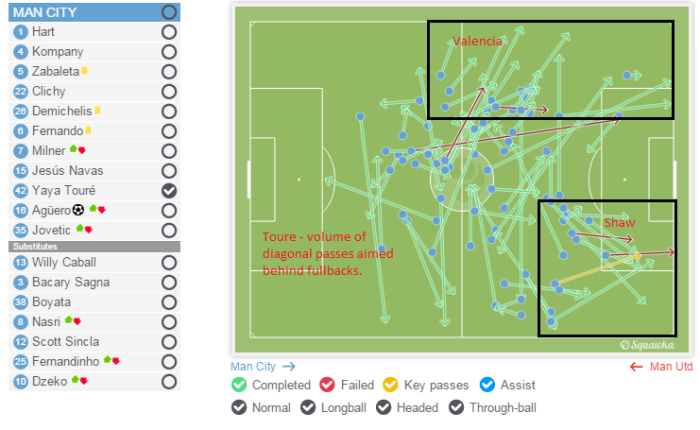 The space this left gave United's central defenders an issue as it meant they had to cover when City took advantage. This in part led to the sending off of Smalling. The image below shows an earlier incident where Valencia comes in, Smalling has gone too high and Aguero takes advantage (not to mention the space Toure can run in to).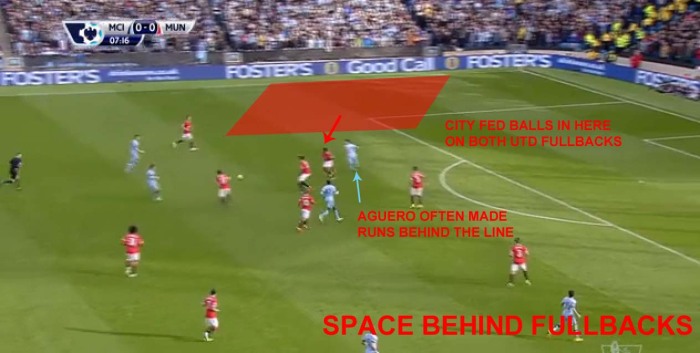 Jamie Jackson of the Guardian questioned Smalling's selection in the defence, "Smalling can operate in Da Silva's position. So why Van Gaal did not shuffle him across to right-back, instead of choosing Valencia, and ask McNair, Carrick or Darren Fletcher to start alongside Rojo in central defence is a puzzle."
It should be argued that in van Gaal's system Valencia offers greater threat going forward, his defensive shortcomings have been highlighted but with the threats City posed his presence in the middle was more appropriate.
Management of the defensive shape is not helped by the constant changing of personnel and you feel that United will be much better with a settled back four plus one that has a composed and solid character leading it.
A settled back line can be helped by the goalkeeper and de Gea made a massive contribution to making sure United stayed in touch.  Two key saves in the first half, (almost) point winners, reminiscent of those that Schmeichel used to make can contribute to any defensive set up feeling more confident.
It was marked to see the difference in the wingers of both teams. City; Milner direct attacking behind Valencia and Navas being stopped by Shaw whilst Januzaj on United's right kept a narrow line as di Maria tucked in. The graphic below shows how much di Maria came into the middle of the pitch.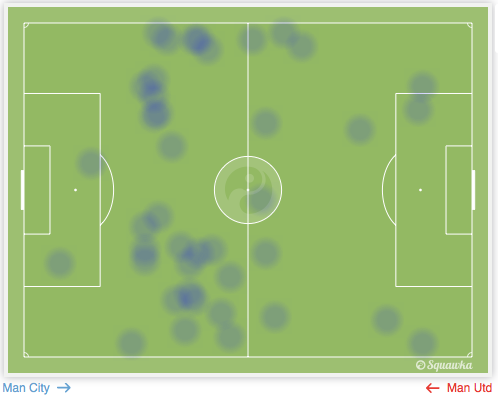 It was the way di Maria tucked in, combined with poor positioning by Valencia, that saw an opening leading to the winning goal for Aguero.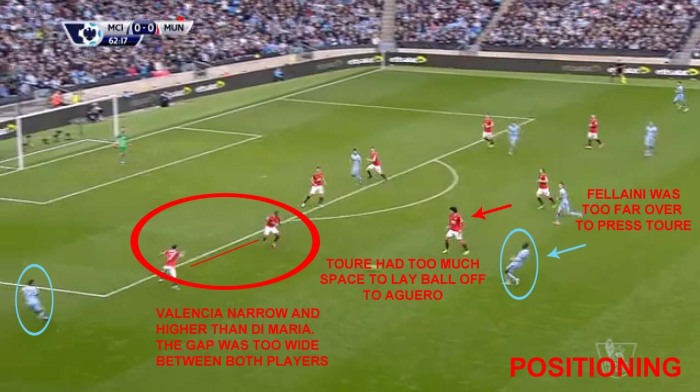 The possession and passing statistics were encouraging. Possession was 52-48% in City's favour, a good effort considering that United played a significant part of the game with 10 men. As Danny Mills noted on the BBC, City dropped back after the sending off, a degree of apprehension at United's abilities and City's recent dip in form as a possible explanation.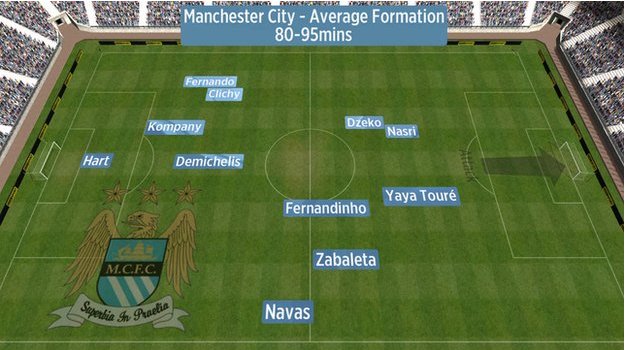 The midfield trio of Fellaini, Rooney and Blind all did well but certain flaws were obvious for each; Blind a lack of pace, Fellaini taking chances and Rooney too many lofted balls to static players rather than balls for players to run onto.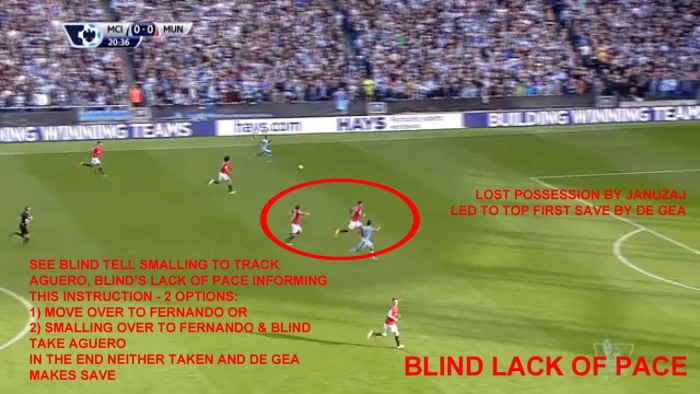 In summary there are encouraging signs and comparisons with United statistics this time last year miss the point. The quality of United's play is improving and the games against Chelsea and City demonstrate that. United need to make sure that they don't only show these type of performances in games against big rivals but against the lesser teams.
As van Gaal said, "willpower [was] unbelievable but in the end we still have zero points, we are close but not close enough today"
Let's hope by the next time we meet City that gap will be a distant memory.