Like all derbies, tensions were high at the Etihad where a second half Sergio Aguero goal proved enough to claim three points for Manchester City.
Chris Smalling's red card immediately put Manchester United's game plan out the window and City began inflicting more pressure. The back four Louis van Gaal started with was inadequately balanced with a makeshift right back but to make it worse Michael Carrick, a central midfielder, replaced Adnan Januzaj and slotted in a centre back once United were down to 10 men.
The sending off came after two stupid bookings. Michael Oliver had a mare throughout as far as both sides were concerned but Smalling deserved what he got. City had approximately 5 penalty shouts but none were given after an array of fouls and hand balls.
Like I said, we can have no complaints about either of Smalling's bookings. The first was as daft, if not worse than the second, standing directly in front of Joe Hart who was attempting to kick the ball out of his hands. If that wasn't enough, on his way back to the other end of the pitch he kicked the ball away in frustration.
A needless yellow card for the centre half.
Following the incident, however, Hart rushed out towards the referee in anger. He was understandably pissed off but went about it the wrong way. Oliver looked shocked as the City goalkeeper went head-to-head with him but that still wasn't enough for the referee to book one of theirs early on.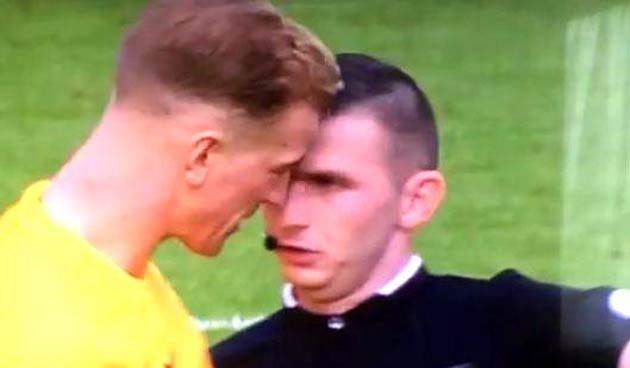 United captain Wayne Rooney had previously questioned Oliver's consistency following a blatant foul from Pablo Zabaleta. This went on, and on, and on. It took 61′ minutes before Martin Demichelis saw a yellow card.
Meanwhile, City fans have complained about Marouane Fellaini spitting on their boy wonder up front. Clutching at straws if you ask me. Here's what Louis van Gaal had to say about it: "Sometimes when you shout there is a little bit of saliva. I don't think he's spitting."
Controversy during a derby? I never…