This was the first of a series of tough games for United against sides expected to be at the business end of the table at the end of the season. It was billed as a meeting of old friends, (Mourinho and van Gaal), as well as United's first big test under the new "trainer/coach". Many expected United to fall flat on their faces against the Premier League pace setters; United's defending would certainly need to improve.
A boost to United's belief
Another tight game and on balance a draw was probably a fair result with United shading the first half and Chelsea being on top in the second. United can take some encouragement and perhaps a boost to their belief from being able to stand toe to toe with the side many see as the best in England currently.
Man marking Fabregas and Matic
Van Gaal pushed Fellaini and Mata forward to pick up Fabregas and Matic. It was usually Fellaini staying close to Fabregas and Mata close to Matic. Each followed their charge around the pitch, even switching sides when the Chelsea men switched. This prevented Chelsea getting into a rhythm and saw a separation between the Chelsea back six and front four. Chelsea resolved this after half-time but initially it meant that Chelsea weren't as compact as usual and United exploited this in the early stages. When United attacked Mata and Fellaini pulled wide and stretched Fabregas and Matic across the pitch, so creating space between the pair. Fellaini's attentions meant that Fabregas had a significantly reduced impact on the game throughout.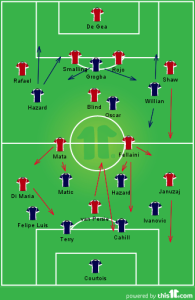 Fellaini
Fellaini had an excellent game. In addition to his role on Fabregas Fellaini pushed forward when United attacked, often playing almost as high as van Persie. This created problems for the Chelsea defence and ultimately lead to an equalizer when his forceful header was parried to van Persie. Fellaini whilst vigilant in his midfield duties took every opportunity to get into the box throughout the game; he got the balance between these two aspects of his game exactly right.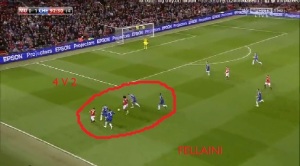 Van Persie
Van Persie was much sharper than in recent weeks and had several good chances to score. Most of United's better attacking endeavors went through him. He ran the channels well. United regularly pushed quick long balls to van Persie who laid these off and then pushed forward making dangerous runs into the spaces created by the movement of Mata and Fabregas. Van Persie could and perhaps should have scored more.
Mourinho's adjustments
In the second half Chelsea became more compact with the front four dropping deeper to help develop play. This allowed Chelsea to retain possession and get into a good rhythm. As a consequence they took control of the game.
Both goals came through set pieces, but generally Chelsea defended set plays and balls delivered from wide areas far better than United with Courtois claiming everything in the air. Defending set plays has been a problem all season for United and remains a concern. Chelsea's undoing was not the referee as many have speculated but Mourinho's over caution when they were on top. His substitutions were aimed at protecting players who had been booked when perhaps he should have been pushing for the killer second goal. This was perhaps gave United the initiative late in the game, but van Gaal's adjustment from a 4-3-3 to a 4-2-3-1/4-4-1-1 was as significant.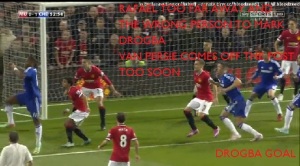 Case for the defence
United's defending was generally better from open play. Shaw was excellent and whilst Rafael had his moments he was up against the excellence of Hazard. At the centre of defence Smalling and Rojo, a new pairing did reasonably well, but as mentioned above the problems for United came from set plays. United struggled at corners and free kicks against high balls that were delivered into the box, often surviving only by over physical means. On the Chelsea goal they are a significant bigger team than United but pairing Rafael against Drogba is a school boy error and an example of a lack of strategy and basic organization.
Snatching a draw from the jaws of defeat
For the second consecutive game United snatched a draw from the jaws of defeat. But that doesn't tell the full story; this was a good performance. The team executed the tactical strategy well, remained compact and from open play their defending was much improved. They were purposeful, urgent and energetic in attack. Against another keeper van Persie may have had a hat trick.
On an individual level several players gave much improved performances; Shaw, Mata, Januzaj and van Persie. This was perhaps Fellaini's best game for United.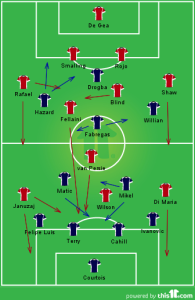 In the tactical battle van Gaal clearly won the first half whilst Mourinho's adjustments meant that Chelsea dominated for 30 minutes after the break. Van Gaal then adjusted again to push for that well deserved equalizer at the death.
Honours even.