It's been ages since the reds last played and with Keane, Ferguson and Moyes stories filling the void we welcomed the resumption of normal service.
In: Januzaj, Jones
Out: Falcao, McNair
Key Points
Four WBA players were vital to their success; Wisdom, allowed too much space to come forward. Gardner and Morrison, industrious, managing the zone in front of the defence stoically and Sessegnon who played very well in the area behind Blind.

Blind had a mixed game. An excellent goal but given an examination in his space management.

Shaw and Di Maria need to improve their combination play. When Shaw did come forward his crossing could have been better.
The pressing towards the end of the first half was neat. It had to be as up to the first WBA goal it had been dump.

What's the case for the defence? There were signs of improvements but more questions than answers. Rafael looked solid up until the second goal, Jones looked rusty but showed less tendency to jump in and Rojo seemed more tenacious whilst positioning badly. Result; a mixed bag.

De Gea's minimal involvement showed how United kept WBA at bay but it did highlight the fact that they were playing on the counter.

Fellaini's by numbers: 83% pass accuracy, 2 shots, 1 goal, 2 chances created, 100% aerial duels won.
Could Fellaini 's early season injury , thus preventing him from being sold (possibly?) be a blessing for him and van Gaal? Well done Fellaini.

Van Gaal's post match comments were fascinating in that he suggested that there's room for a physical player to cope with the 'English Game', like Fellaini and maybe that's what United are missing.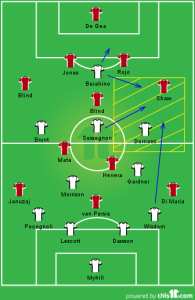 FIRST HALF:
An interesting starting eleven with an even more interesting set up. Herrera and Mata used just ahead and to the side of Blind who acted as the anchor in midfield but the tip in a defensive diamond.
United looked like they weren't at it in the early going. Too much space and dropping too far off. No surprise to see this lead to a WBA goal.
Sessegnon was allowed to drift which started after Shaw was caught out of position. As soon as Wisdom had the ball, behind Di Maria, you could see that Sessegnon was the obvious choice for him to pass to. This was because Rojo initiated a run over but then quickly returned as Blind instead made the run over to cover the space. Sessegnon took advantage with a tremendous goal.
United had to stretch their play, WBA's central defence played deep with Gardner and Morrison in front. The lack of runs behind was clear.
Sessegnon continued to take advantage of the slightly deeper position Jones and Rojo were taking. They were clearly attempting to work out each other's game during the game.
There was an obvious directive for the attacking third to press and when it came off (as it typically did) it was impressive, resulting in WBA giving the ball away. Van Persie should be given credit for his part. He pressed well and occupied a lot of the final third.
Regarding the release of the ball, when de Gea had it WBA marked high, creating a 3 v 2 situation just behind. Yet you must question where was the space and why didn't he exploit this?
Despite this we saw WBA's formation as 4-4-1-1 which stifled the middle of the pitch and saw United put in many crosses. These were not hitting targets and a change was needed.
There was an imbalance between the wingers, Â Di Maria was consistent and dangerous yet Januzaj was the opposite. A simple measure would be for him to release the ball quicker, but to who?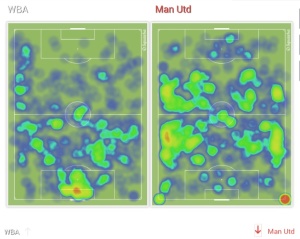 SECOND HALF:
The obvious change at half time saw Herrera taken off for Fellaini. The former Bilbao player appeared to finding this a tough game (he wasn't the only one) and somebody who could bring a robust approach was required.
Fellaini took a higher role and now van Persie had a partner, of sorts, allowing him more freedom. It also brought out the best of Di Maria and Januzaj who were now putting crosses in which had a more realistic target.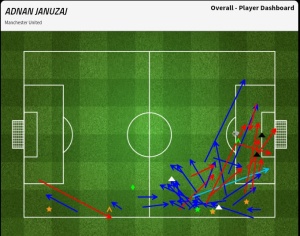 BOOM! You saw it but it was hard to believe it, the first United goal was pure class from Fellaini – he showed strength, the likes of which were absent in the first half. He operated, clearly in the middle strip of the pitch, front to back.
 Like an overbearing girlfriend United were turning the screws and WBA found it difficult to cope. Any out ball was quickly intercepted by Rojo who showed glimpses of improvement. Then United's tempo faded around the 60th minute and WBA got back into it.
Berahino scored after the defensive shape went awry; Rafael played him onside as Jones and Rojo were at odd angles to each other. It did n't look good as Brunt played a through ball into a gaping channel.
When United go behind they look average and short of ideas. In the space of under 18 months United have gone from looking like they can win up until the end to a team that looks lucky to get a draw.
The smart move by Van Gaal of putting Fellaini higher suddenly wasn't as he dropped back as United were a 4-1-4-1.
Then van Gaal introduced Falcao who came on for Mata. Falcao moved up as van Persie dropped deeper. Truth be told, van Persie was taking up this kind of positing way before the substitution. 
Perhaps with an eye on the Chelsea game, Young came on for Di Maria who left clutching this thigh. Suddenly with this substitution questions about the Sir Alex endorsements of the team he left behind came to mind!
Yet Young couldn't arrest United's play which was flat and indirect.
BOOM! Hang on though, from the jaws of defeat, Blind scored a technically stunning goal. WBA felt like 3 points dropped whilst United must take things like that as a small crumb of comfort.
CONCLUSION
Three months in and there's more work to be done but it's not all bad. There were positives but Gary Neville said it best that it was in patches where United played well. Consistency is paramount.
Chelsea is United's next game and the media and 'social media' must be salivating at a possible United catastrophe rather than a competitive match.
The potential for this clearly exists but it'll be great to see how van Gaal lines up against notorious opposition and how the team react to playing top class opposition for the first time this season.
Fellaini showed van Gaal something he didn't realise, that in the Premier League strength and robustness are key. Let's see where that Eureka moment takes us.
@Manutdtactics