United went into this game looking for a second consecutive home win. Last week the concern about the defence was in part as a consequence of injuries and suspensions, this week and for the same reason attention turned to the midfield diamond. How would United cope without Herrera and Rooney?
Starting well but losing control
A pattern has emerged in recent games where United have been assertive early in a game only to fade and see the opposition get the upper hand later in the game. Van Gaal made reference to this issue post match identifying the same pattern in the previous match. In truth this also happened at Leicester and to a degree United also faded against QPR after half time. United need to develop the ability to kill the game by retaining possession.  Early in the game United pass, tackle and move both on and off the ball, creating chances and in the most part controlling the game. In all recent games the quantity and quality of movement has noticeably declined as the game has worn on, making it harder to retain possession. Their off the ball movement is also less intelligent later in games leaving themselves vulnerable after transitions. This all suggests a degree of both physical and mental fatigue.
Lack of width causing problems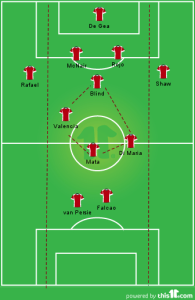 A 4-4-2 diamond formation has a natural lack of attacking width. In defence this can leave the fullbacks exposed, whilst in attack the full backs are required to get forward to compensate. Both Shaw and Rafael provided good attacking width early in this game but both looked vulnerable when Everton asserted themselves. This shape requires the wider midfield players to move back and cover the channel in front of the fullbacks when the opposition has the ball. In higher positions the two forwards should do the same leaving the no 10 to press through the middle of the field.
On United's left for most of the match Everton did not double up on Shaw, presumably as a consequence of concerns about the threat from Di Maria. On the one first half occasion when they did Everton earned a penalty when Hibbert was clumsily tackled by a disorientated Shaw.
On the right Baines threatened Rafael throughout, assisted at various times by Barry, Pienaar, Lukaku, (dropping deep and wide) and later by Oviedo. Whilst conservative in his positioning, more static and deeper that Di Maria, Valencia did not do enough to support Rafael. Everton's equaliser came from a cross delivered from Valencia's channel when Barry and Baines combined with quick though and deed.
Di Maria
Di Maria was excellent again here. Most of United clear cut chances came through his actions. His movement is excellent. He takes the initiative, is alert and his pace makes opponents take a step back. But are United becoming over reliant upon him? We were in this game with the diamond becoming lopsided; Di Maria average position was almost as high as Mata whilst Valencia was much deeper on the opposite side.
In part this distortion of the diamond shape can be attributed to the loss of Herrera in this game, but it is a general concern as United cannot afford to become too predictable. The side needs balance across the width of the pitch.
Tactical chess
This was a tight game which could have gone either way. Everton were neat in possession without really creating many chances early in the game. Herrera has become an important player in breaking up the oppositions play and his presence was missed here. Valencia was too static and proved a less than adequate replacement. For Everton Lukkaku was a disappointment dropping deep and wide to the right. His performance was clumsy and crude at times as he attempted to bully McNair and drag him out of position. McNair coped well. After halftime Naismith played in a higher position and this created a greater threat.
After United's equaliser Martinez made a number of changes introducing Oviedo in place of Pienaar and Osman in place of McGeady. It was now that United's fullbacks came under significant pressure as these two looked to push onto Rafael and Shaw, (and then Blackett), respectively. Van Gaal responded by introducing Wilson in place of Falcao. Falcao had offered little defensively late in the game as Everton asserted themselves. Wilson, notionally a forward played very deep on the United right with van Persie switching to the left. This didn't stem the tide so van Gaal then replaced Valencia with Fellaini. This did not work either and United only escaped because of the late excellence of De Gea.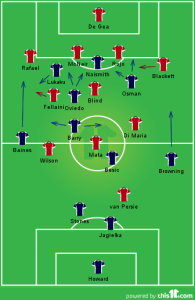 De gea
De Gea didn't actually have to do that much in the game as a whole. His penalty save on halftime was one of his first significant contributions. In the second half he had more to do, but it was only at the end of the game that he was stretched. He made two or three magnificent saves at this point.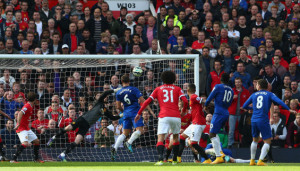 Those saves were critical in achieving the result and as the ability to retain concentration during periods of relative inactivity is a crucial skill for a goalkeeper the plaudits he has received were well deserved.