Midweek football doesn't afford United the opportunity to put bad results behind them quickly, so the game against media darlings West Ham couldn't come soon enough.
Personnel
In: McNair, Shaw
Out: Blackett, Evans
Key Points
Rooney's performance was great with a moment of madness; a similar analysis for his 10 years at United which the game marked. His sending off saw United struggle.
Falcao was impressive, Mark Hughes like in his overall play.
United look suspicious at set pieces and were not helped by de Gea who seemed nervous.
Rafael played very well and carried a threat when he went forward. His part in Rooney's goal was terrific.
Opposite him, Shaw, did well in his competitive debut. Composed and solid he combined well with Rojo and di Maria. The Falklands will be soon be forgotten if this trio strike up a successful working relationship.
First Half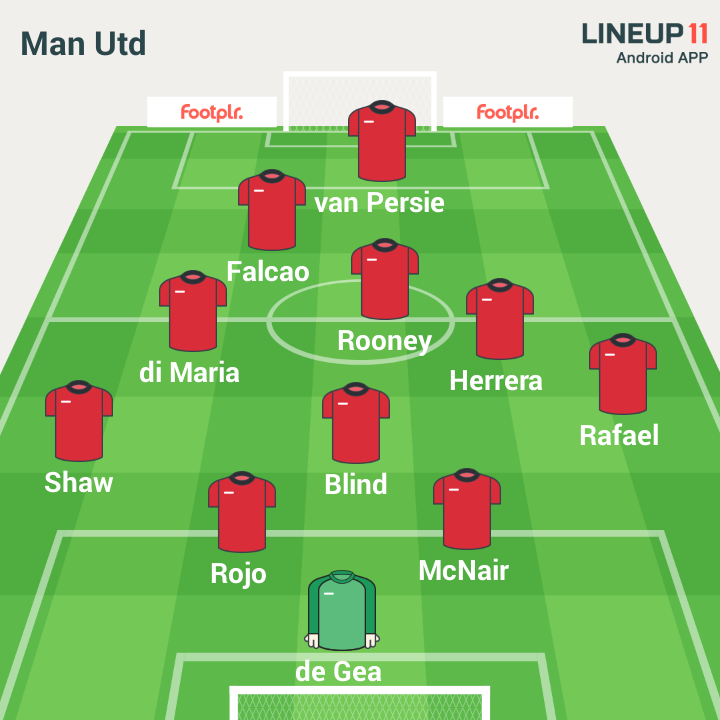 There was an attitude about United's early play with chief protagonists, Rafael, Rooney, van Persie , Herrera and Shaw displaying purpose and covering a lot of the pitch.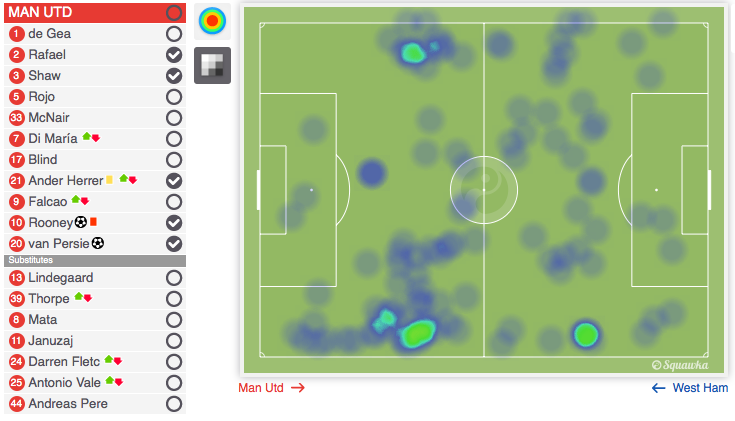 BOOM! It was the right hand side which yielded the first goal, a clever piece of positional play by van Persie. See the image below which shows how far he drags out Cresswell allowing Rafael to attack space beyond. The Brazilian did well to get to this space, a neat chip did the trick. Rooney then made a clever run across the line as Falcao ran to the back post. All round a good goal for Rooney, his 219th in all.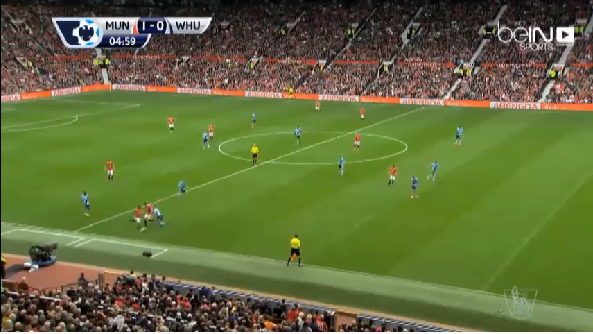 Observations from West Ham's setup, 4-2-3-1, saw an overly keen Song get on Di Maria's case as there was an overall liking for a high press approach. This may answer why Blind's back pass nearly saw E. Valencia equalise.
It was great to see how involved Rooney was. The discussion about his best position is an interesting one; he has more to offer further up the pitch than at the back but is seen as one who doesn't score enough, van Gaal sees Falcao as more clinical for example.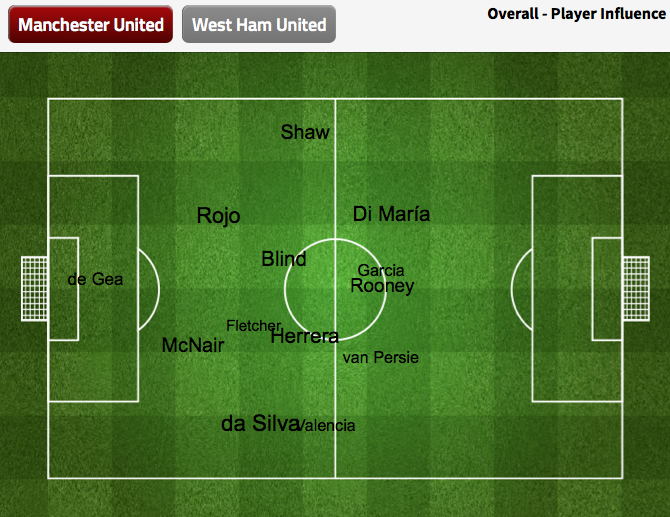 Yet his average positioning saw him take a central position of the front four. Yes a four. He was incredibly close to Falcao. whilst van Persie and di Maria set wide.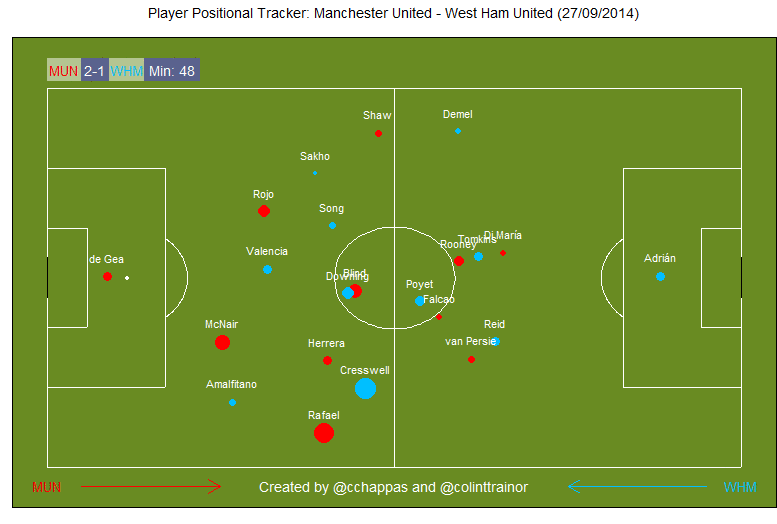 United demonstrated good ball circulation and a nod must be given to Falcao whose performance was reminiscent of Mark Hughes; receiving and holding the ball and drawing players into the game. This allows Rooney more freedom no doubt but also allows van Persie to start on the right and come in, utilising the obvious benefits of his left foot.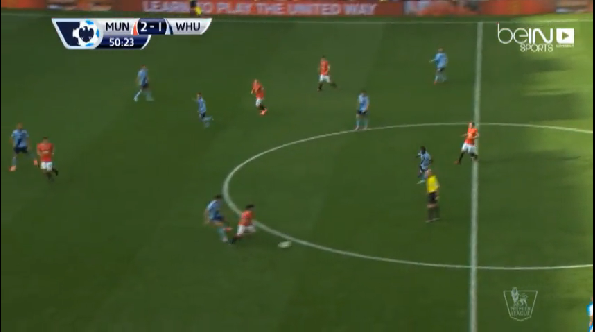 BOOM! These benefits came to fruition in the 21st minute after a press by Rooney and Herrera. The options in the box though are pleasing as van Persie scored his 50th goal in 81 games.
An influential Downing was effective at working the space in front of the United box and it saw Herrera keep narrower. United's diamond was much flatter in this game.
United have looked, and continue to look, shaky on set pieces and this game was no different as West Ham grabbed a goal following an error from de Gea. Whilst it was interesting to see van Persie and Falcao on the posts at corners, the Spaniard's hesitation is one to be watched as this defence would benefit from a confident goalkeeper.
It was good to see Shaw getting a game and he looked useful when going forward but also when defending; he seems composed. Compare that to his opposite number, Creswell and it shows the support Shaw had due to United's formation, di Maria was available whilst Creswell wasn't afforded as much luxury (his passess to the central Downing were West Ham's top passing combination).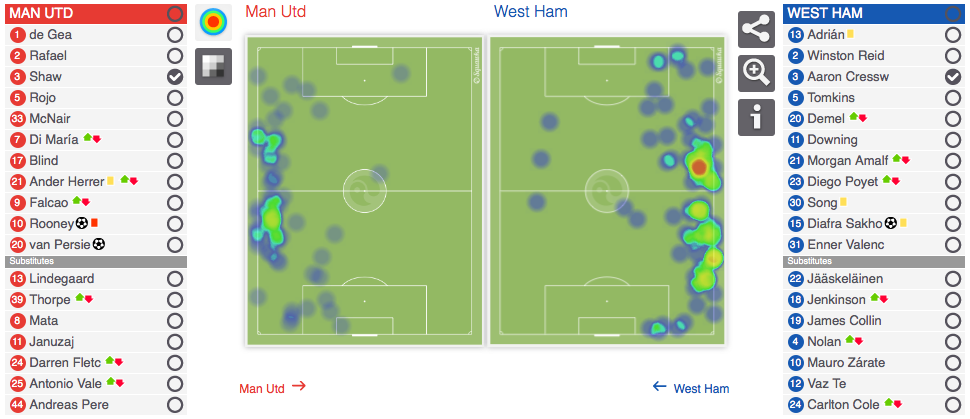 Second Half
In view of previous games, di Maria was relatively quiet but this is where a team comes into play and compared to last season, this side has more threats, allowing for a player or two to be carried in the event of an off game.
Despite earlier criticism de Gea kept United in the game after making a great save from Sakho who struck following a long cross ball. There was space behind the defence for both teams but West Ham continued to try and exploit it throughout the rest of the game.
Then another pivotal moment in a United game saw captain Rooney sent off for a thoughtless kick. This altered United's shape to a 4-4-1, compact and deep, playing into West Ham's hands.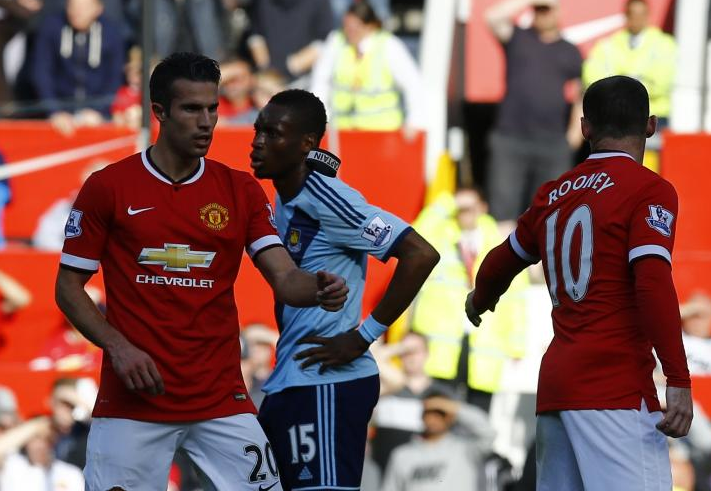 Allardyce introduced Cole who sat atop McNair and Rojo waiting for long balls to him. Van gaal responded with Fletcher coming on for Falcao and the Scot sat in the right hand channel trying to stop Valencia, Creswell and Downing.
United's one up top, van Persie, wasn't having much luck retaining the ball as the reds were under the kosh. As West Ham threw everything at United, Nolan included, 3-4-3 to 3-3-4, United's defensive duo were kept very busy and did well, a standout moment was the fine header by McNair, technically tremendous.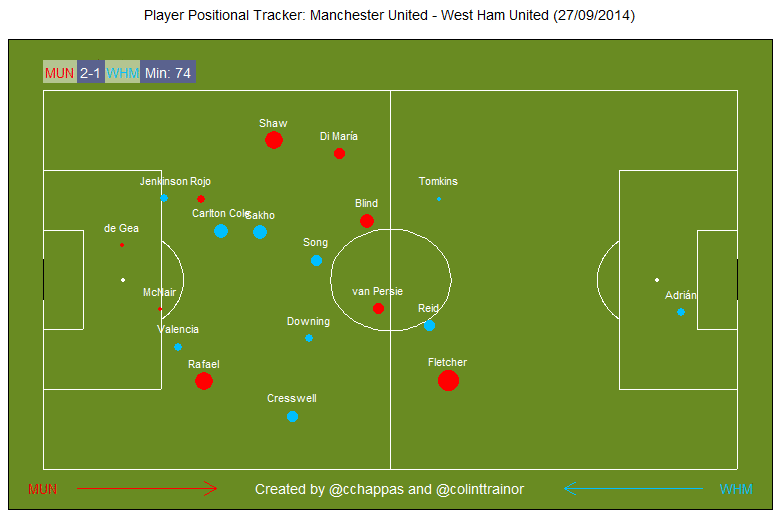 The victory was made sweeter when a Nolan goal was correctly disallowed for offside. Di Maria counted himself lucky as it was he who allowed Jenkinson to go free to make the cross.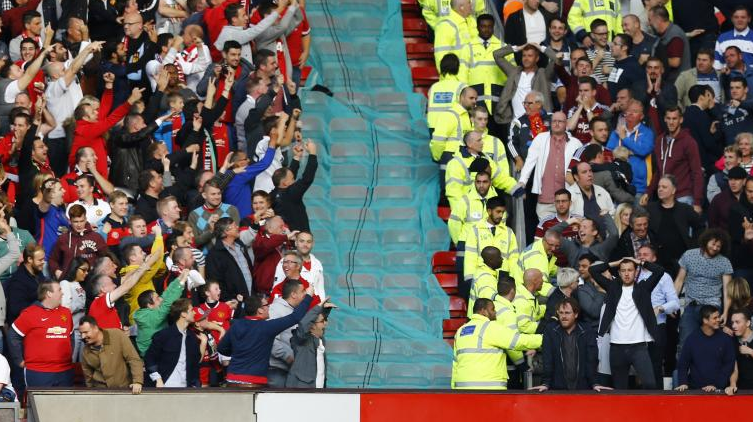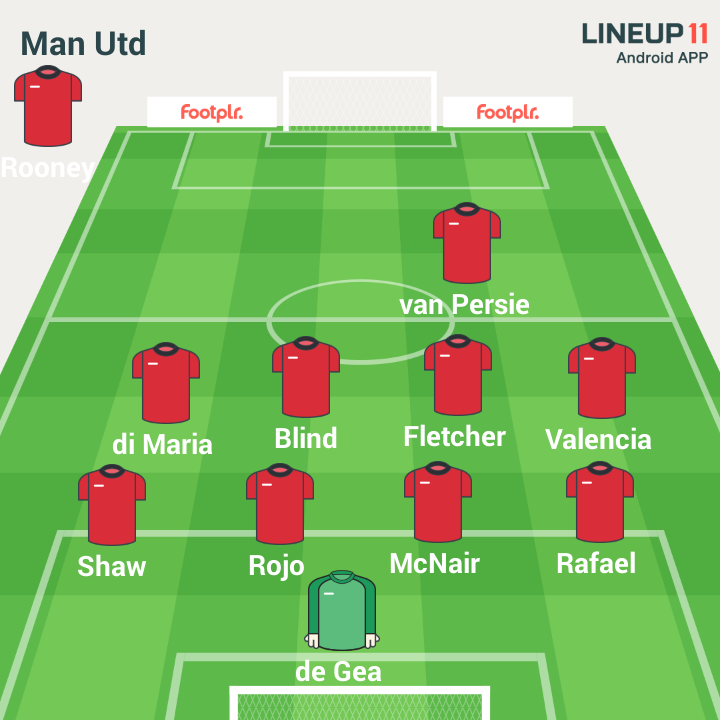 Conclusion
A great start for United, again, concluded with a tense finish, again. The time United spend between games may be a reason to their dynamic if not overly keen starts to matches. Compare this to last year though and at least United are in a position of strength nowadays to defend against something as opposed to chasing games as we did last season.
There was, understandably, a proclivity to sit back when Rooney got sent off but this played into West Ham's hands and it was a relief to see the linesman's flag raised when Nolan stuck the cross home.
Falcao was a joy to watch as he linked play with his ability to hold the ball, draw fouls and integrate teammates into the game. His runs off the ball must also be noted as he creates spaces for others.
Rooney's sending off was a shame as he was United's main man and his goal was very well taken. In the light of his sending off we're keen to see how van Gaal lines his team up against Everton. Will it be as simple as replacing him with Mata or will he opt for a more solid 4-3-3?
___
Read more from manutdtactics here.