Fresh from a confidence boosting 4-0 victory United faced Leicester, the third of three of the promoted teams. Amidst the euphoria it was worth noting that both teams shared the same form going into the game.
Man marking not pressing
Leicester were keen to mark United tightly rather than press. It meant that there were few options for Evans, Blackett and De Gea to pass to.
This wasn't to say there was no pressing, the United forward players were up against a determined team, de Laet was an example of this.
Cambiasso
This Argentine had the greatest impact on the game. Primarily the sole player in front of the Leicester defence he was excellent in nullifying Rooney and any real through ball threat.
His goal summed up his and Leicester's determination and combative approach to the game. The goal though wasn't helped by the defensive chaos; Rafael and Smalling attempted to win the same header, Rooney then made a poor clearance whilst Blackett's positioning saw him too far off the play.
United's Defence
A back four looked on edge throughout, getting behind them presented little challenge to Leicester. The difference in space between theirs and United's was stark. Blackett and either Smalling or Evans were either stretched or staggered in positioning (this happened before the fourth goal), whilst the space behind Rojo was often tested as he tried to push on (quite narrowly). What was essentially a back four was usually a back three with either full back acting offensively.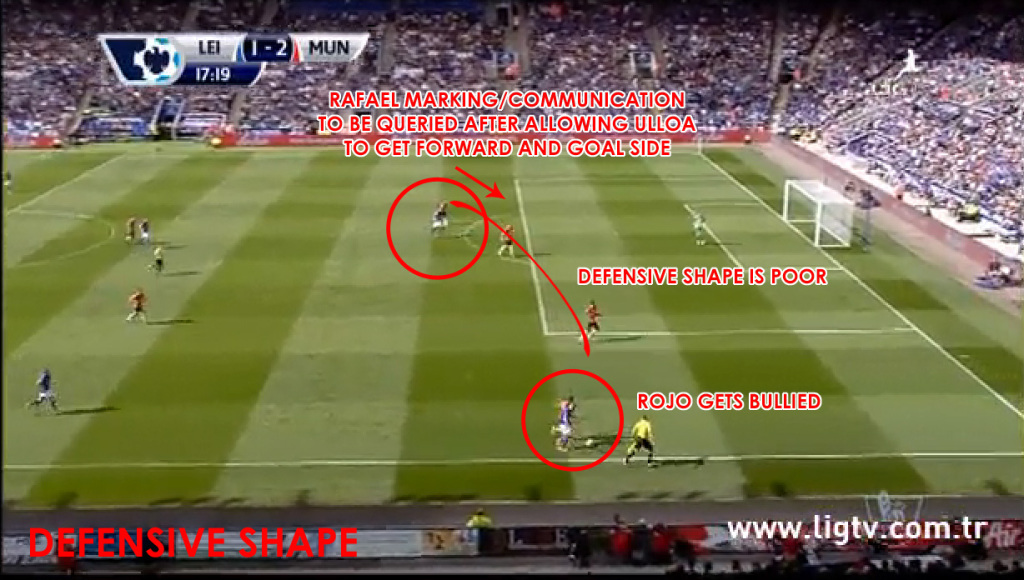 Energy
Whilst it was frustrating that United let the 3-1 lead go there was a distinct drop in confidence and application. It appeared that this type of game took a lot out of them. However, the big thing is that there's a distinct belief between attack and defence.
Referee
Two key decisions went against United; the first, did the ball go out of play and the second how was it not a foul on Rafael?
Pivotal.
Surprised?
Leicester drew against Everton and Arsenal and in all games have been impressive. They were hungry and determined, more often than not appearing more so than United.
This guest contribution was sent in by the generous bunch at manutdtactics.com. You can find more superb content on there.