Yesterday United were brought back down to earth with one hell of a bang. Sure, we all knew that QPR were shit but we also wanted to believe that perhaps we'd set a marker. A point from which to build and gather some points. Victory, however, has a way of clouding judgement and blinding you from issues still very much relevant. While our attack glistened last Sunday, inducing football boners far and wide, there was a hint of the comedic defending we saw yesterday even against QPR's merry band of poor footballers. There was the suggestion that against better opponents, our attack simply wouldn't be enough.
Against Leicester, that thought became a reality. Most of us expected the side to eventually get found out when facing either Chelsea or City in a month or so, with the hope being that the side would have had long enough to gel at that stage so as to produce a more solid display. The Premier League sadly doesn't always go to plan, there are no by-weeks. This season, more than most, we've seen smaller sides quite confidently take on their larger counterparts, with encouraging results. The general consensus on Sunday morning however was that United's top-heavy starting eleven would simply have too much fire power for little ol' Leicester. Leicester get two? No problem, Falcao, RVP et al will score more. This appeared to be quite prophetic an hour into the game, as United both enthralled in attack and floundered at the back.
Up until Leicester's second goal, we looked like we would continue to score more. Indeed, had Falcao's stabbed lob been a half inch lower, we may not even be talking about this. But football isn't about ifs and buts, it's about certainties and goals, and after Leicester's second United lost their shit, totally and utterly. It was a collapse so comprehensive and all-encompassing it was actually hard to not be impressed. Having looked so dynamic and pacey earlier in the game, United now looked nervy and tentative. This was epitomised by Leicester's fourth goal which started with a slip by Juan Mata but was exacerbated by United's incredibly poor positioning. Sure. the side were on the attack but was there really any reason for one of our centre-halves to be over the halfway line? Rhetorical question. It wasn't just Smalling's fault, the whole side lost its shape and composure but it's saying something that Smalling managed to make Evans' (whom he replaced) performance look composed by comparison.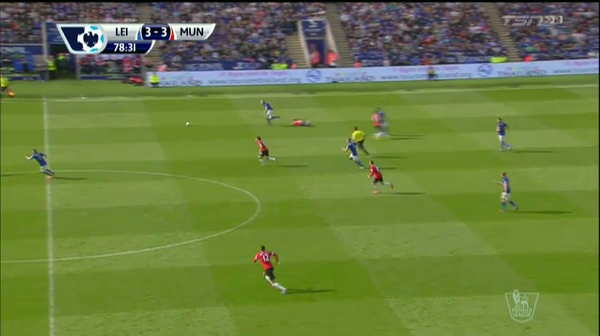 United were seriously shaken at the King Power yesterday, this was illustrated by the total lack of shape. In years gone by United wouldn't have allowed Leicester to equalise from a winning position but if they had, there generally would have been the necessary spirit in the side to discipline Leicester for even entertaining the idea of making a comeback. Roy Keane, Bryan Robson, these are the sort of players that would have grabbed their team mates by the scruff of the neck and produced a second, third and then fourth wind. Anything to get over the line with a win. These were players who by their very presence were captains. Men who, even without the armband, would have led admirably. And that's the point, they led. They didn't just shout and gesticulate angrily at their team mates when things had gone wrong. They were always having a word in the ear, always nipping at opponents. It was active captaincy, not reactive. A true captain leads his team by example at all times, not just when things get shit. He produces when his team mates don't, he has to. Even when not playing great themselves, a good captain will at least try to produce better from his fellow players.
In Wayne Rooney, we don't have that. If you've read any of my writing before you'll know I don't like Rooney. This is a fact of life but my dislike of him doesn't have much influence on my problem with him being captain. Sure, he made a balls of a clearance yesterday which led to Leicester's equaliser, sure he then unleashed verbal fury on his team mates when he should have been looking at himself. But I don't exactly blame him for that. Rooney isn't a captain. He can't change the man he is due to this new role and we shouldn't expect him to be able to. Oddly enough, the old Rooney may have been a more suitable candidate for the captaincy. He was a dick, he had a temper, he got riled up and lost his head. But now Wayne Rooney the brand, the name, is Manchester United's captain. It's also the reason he isn't dropped despite being worse than all of our best forwards and attacking midfielders. His name is a better player than the man actually is. Smoke and mirrors, but that's the way it is and it's hard to see van Gaal changing captains mid-season.
I'm not suggesting Wayne Rooney was at fault for yesterday's defeat. None more so than any other United player anyway. What I am suggesting however is that United need a captain made of stronger stuff than Rooney if we want to avoid events like yesterday's occurring too frequently. There was no leadership when United were under pressure from Nigel Pearson's men, there were just eleven lads on a  pitch not knowing their collective arses from their elbows. Van Gaal made a mistake in withdrawing Angel Di Maria, the best player on the pitch and probably in the league, when his incisiveness was needed more than ever. The Dutchman may have expected Rooney to take control from his deeper role but his now almost completely diminished first touch, combined with Leicester's non-stop pressing, gave him no chance to exert any influence when things had gotten tough. Rooney, a player slowly losing the attributes that once made him potentially great, is not the man to lead United, win or lose. Who then, you may ask, is the man to captain United? Who would have been a better choice?
David de Gea, for one. People have laughed at me for suggesting this before. "A goalie can't be captain! That's stupid you asshole," they've slurred to me in anger. To say a goalie can't be captain is like saying you shouldn't have anyone under 28 in goal. It's bullshit. If your most consistent and impressive player over the past two seasons has been your goalkeeper, why shouldn't he be rewarded with the captaincy? If he's the only player that's consistently met the standards to which the club holds itself, why should not be recognised as a result? There's a theory that a goalkeeper shouldn't be captain because from his position it can be difficult to exert any influence. There may be a degree of sense there but is it possible for de Gea to exert less of an influence than Rooney is currently doing? For a year and a half now, at least, Dave has been one of our best players, and has single-handedly prevented disasters like yesterday happening more frequently. He's kept us in games and has led by example. Simply put, he's the only candidate in my opinion. Sure, he's quite young but he's not a teenager. Sure, he's not English but who cares? He's not as big a name as Rooney but names don't win you games, they just sell you jerseys.
In truth, other candidates are thin on the ground. Jonny Evans, another player who was touted upon van Gaal's arrival will now be lucky to be at United come this time next year. Fabled for as long as I can remember as a potential future captain, Evans appears to currently suffering a crisis of confidence. Perhaps being the senior centre-back in a flailing defence is taking its toll, perhaps he will come back and improve, but it doesn't reflect well on his mental strength that our most experienced defender has also been our worst this term. There is a case for Phil Jones in the future. If he can curb the kamikaze tactics and avoid the treatment table for a sustained period of time there's nothing to suggest he couldn't lead United in the future.
But we need a leader now, captain or no. We need someone to step up from the ashes of yesterday's shambles and take responsibility. Someone to lift the players and make sure this doesn't happen again. Unless this leader steps out from the shadows soon, we may have to wait until January. Because just as solving one problem can often shine light on another one, United's need for a leader has become just as urgent as their need for a central defender, and that's saying something.