When Louis van Gaal took over at Manchester United I did an article for Stretty News about how we could line-up. Now obviously since then a lot of transfer activity has happened, with the signings and departures done I'm going to do another taking all of those into account.
As you know United sprung a few surprises in the transfer market whether that be selling or buying. Louis van Gaal brought in 6 players and there certainly was an exodus at Old Trafford with a lot of first team players moving on. You cannot deny it has been an extremely successful transfer window but United now face a dilemma, there is a overload of world class attacking players while we are lacking in midfield and in defence. An amazing deadline day move for Radamel Falcao has added to this dilemma. One month ago not a single Manchester United fan had envisioned the signings of Angel di Maria & Radamel Falcao. With no Champions League football and after a shocking window last summer it seemed impossible, added to the fact a striker wasn't even really necessary! But how will our new signings fit into the team? I will go through a number of possible starting 11's Manchester United could field this season.
1: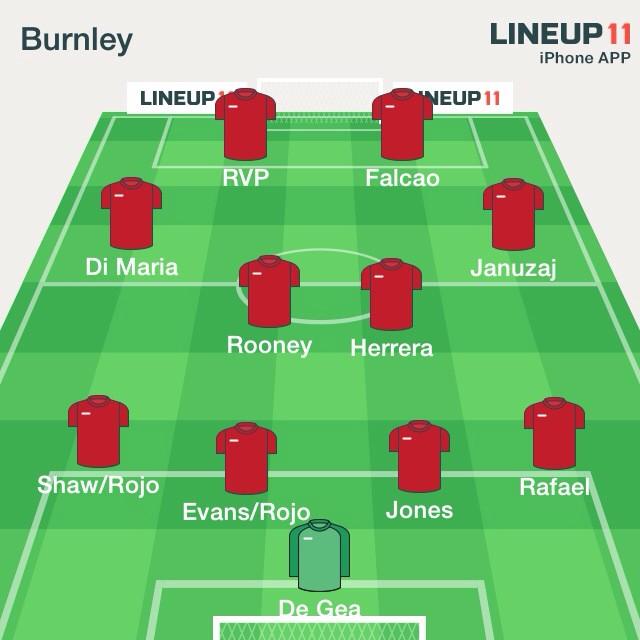 Louis van Gaal used a very untraditional 3-5-2 formation at the World Cup with Holland and since taking over at Manchester United he's continued to use it, so far it hasn't been a success.  In this first possible line-up the 3-5-2 formation has been dropped for a 4-4-2 or 4-2-4. Straight way you'd notice there is no #10 position and instead we'd play two wingers, that would mean dropping Juan Mata. Wayne Rooney has played in midfield before, much to his annoyance, and would be well capable of playing there again. The only worry with a midfield partnership of Rooney-Herrera would be how attacking minded it would be, it'd offer very little protection for the back four and I don't think we can afford that after our defensive frailties already this season. No doubt that's one of the best attacking forces in Europe but I doubt we can afford to field such an attacking squad.
2: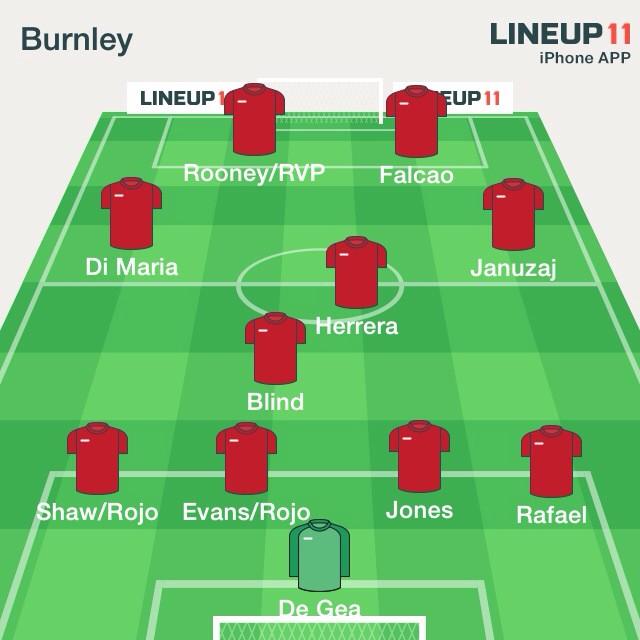 This squad is a much more balanced variation of the first. It would see a midfield partnership of Herrera-Blind where the latter would help provide protection for our defensive. Again this would see wingers favoured over a #10 but would leave one of our strikers out of the squad. It'd never be easy dropping one of Wayne Rooney, Robin van Persie or Radamel Falcao but it would have to be done. Personally I think this formation is much stronger than the first due to the fact it's more balanced and defensive.
3: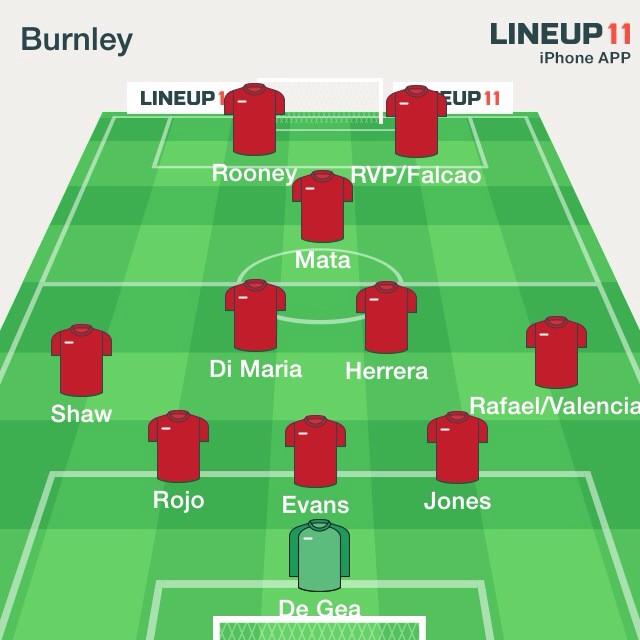 This line-up would see the 3-5-2 formation contiune even with our new signings. It would see Angel di Maria playing a LCM role which he has done before and he's stated he's comfortable playing there. While there's no defensive midfielder there it's needed less in a 3-5-2 because of the extra centre-back. This would see an attacking trio continue but one of the strikers would have to be dropped or another option would be to drop Mata and play Rooney behind Falcao and RVP.
4: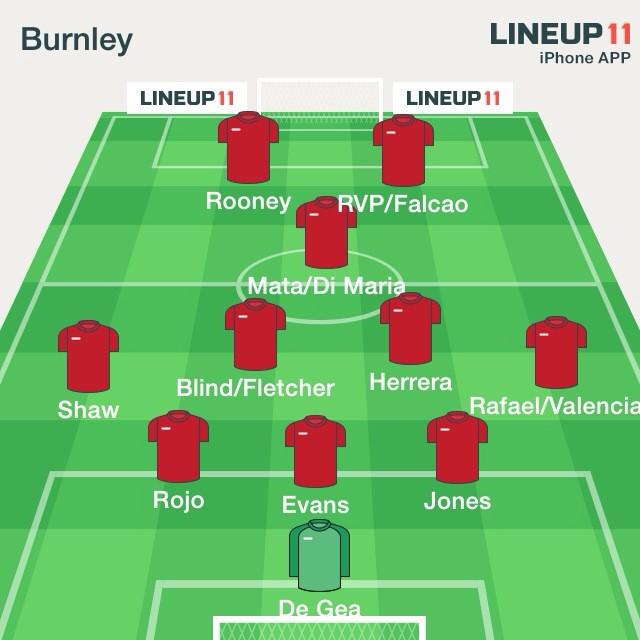 Again this is another variation of the 3-5-2 formation but it does include a defensive midfielder of either Fletcher or Blind. This would force Di Maria to play in the #10 role adding yet another selection dilemma. Personally I feel the first variation shown is much stronger than this one.
5: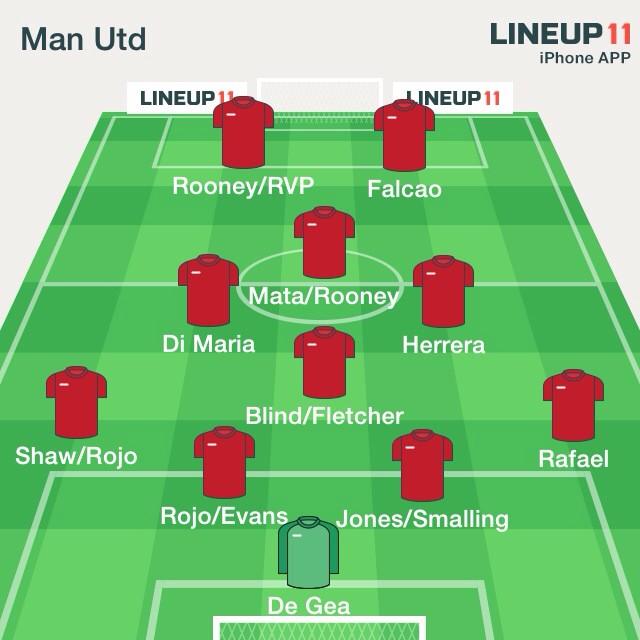 This line-up would see a diamond formation being played, without wingers. Personally I feel this is our strongest line-up possible. Fully fit I think 4 at the back would be by far our strongest, swapping either playing as noted in the graphic. It would see Daley Blind or Darren Fletcher operate as defensive cover at the bottom of the diamond with Di Maria and Herrera in midfield, this would give both the freedom to attack and for ADM to drift out wide. Either Rooney or Mata would occupy the #10 role at the tip of the diamond and you can take your pick of the 2 strikers. If I was manager, despite being given captaincy, I would drop Rooney from the team completely and play Mata as #10 and have a RVP-Falcao striker force.
After going through 5 possible line-ups this is what I feel is our best possible line-up right now.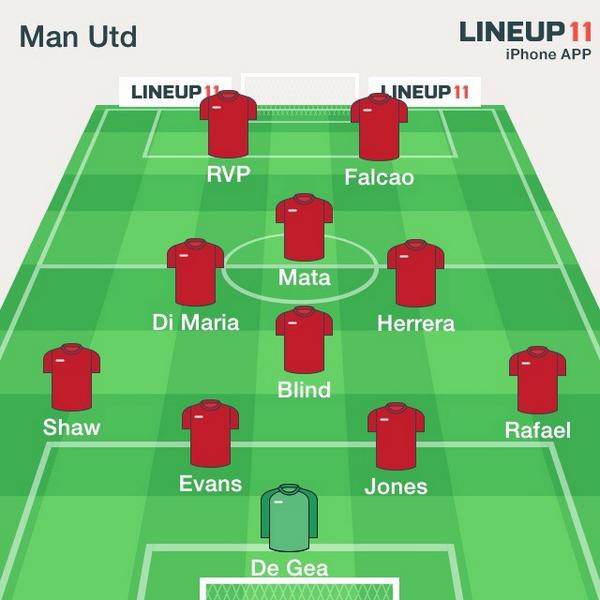 Now I know a lot of United fans would argue that Rooney should not be dropped or that Louis van Gaal wouldn't drop our new captain but this is my personal opinion. Added to that I feel that if Van Gaal felt the need to drop Rooney he wouldn't be afraid to despite him being captain. Time will tell and after all LVG could even decide to keep his 3-5-2 formation.